{"id":4514411118690,"title":"REAQER Hip Thigh Support Brace Groin Compression Wrap for Pulled Groin Sciatic Nerve Pain Hamstring Injury Recovery and Rehab Fits","handle":"reaqer-hip-thigh-support-brace-groin-compression-wrap-for-pulled-groin-sciatic-nerve-pain-hamstring-injury-recovery-and-rehab-fits-both-legs-men-women","description":"\u003cli style=\"list-style: none;\"\u003eFAST RECOVERY–The brace support will increase blood circulation and reduce recovery time by providing a soothing relief to the pain.\u003c\/li\u003e\n\u003cli style=\"list-style: none;\"\u003eFAST PAIN RELIEF – The special design of this brace brings you the most effective groin compression strap for pulled muscle, hip tendonitis, sciatic nerve pain relief,hamstring injury.\u003c\/li\u003e\n\u003cli style=\"list-style: none;\"\u003eDESIGN ADVANTAGE – The groin compression is universal, completely adjustable for right or left leg, men and women\u003c\/li\u003e\n\u003cli style=\"list-style: none;\"\u003eKEEPS YOU MOVING – The strong groin brace and hip flexor support keeps your muscles warm offering hip pain relief without limiting your movements.\u003c\/li\u003e\n\u003cli style=\"list-style: none;\"\u003e100% REFUND-We give you refund if the hip support does not fit you\u003c\/li\u003e\n[TABS]\n\u003ch5\u003e\u003cspan\u003eDescription\u003c\/span\u003e\u003c\/h5\u003e\n\u003ch3 class=\"a-spacing-mini\"\u003eHip Groin Thigh Support\u003c\/h3\u003e\n\u003cp\u003e\u003cimg alt=\"\" src=\"https:\/\/cdn.shopifycdn.net\/s\/files\/1\/2463\/1595\/files\/21_1287b993-cdb4-402d-b594-bf4244ab0862_1024x1024.jpg?v=1603550170\"\u003e\u003c\/p\u003e\n\u003cdiv data-cel-widget=\"aplus-3p-module-b\" data-csa-c-id=\"2lhcai-l0rvdu-wn1b4h-o7gzla\" class=\"celwidget aplus-module 3p-module-b aplus-standard\" cel_widget_id=\"aplus-3p-module-b\"\u003e\n\u003cdiv class=\"aplus-3p-fixed-width\"\u003e\n\u003cp class=\"a-spacing-base\"\u003eREAQER hip support is designed to support the abductor muscles,tendons, and joints around your entire waist, hips, lower back, upper leg, and groin. Instantly improve your mobility and decrease your pain!\u003c\/p\u003e\n\u003c\/div\u003e\n\u003c\/div\u003e\n\u003cdiv data-cel-widget=\"aplus-3p-module-b\" data-csa-c-id=\"h5sise-wwg0i-apa0gf-u8zu5r\" class=\"celwidget aplus-module 3p-module-b aplus-standard\" cel_widget_id=\"aplus-3p-module-b\"\u003e\n\u003cdiv class=\"aplus-3p-fixed-width\"\u003e\n\u003ch3 class=\"a-spacing-mini\"\u003eHigh-quality Materials, Comfortable Experience\u003c\/h3\u003e\n\u003cp\u003e\u003cimg alt=\"\" src=\"https:\/\/cdn.shopifycdn.net\/s\/files\/1\/2463\/1595\/files\/22_18bbecf9-3470-470b-92cc-049981693424_1024x1024.jpg?v=1603550221\"\u003e\u003c\/p\u003e\n\u003cdiv data-cel-widget=\"aplus-3p-module-b\" data-csa-c-id=\"h5sise-wwg0i-apa0gf-u8zu5r\" class=\"celwidget aplus-module 3p-module-b aplus-standard\" cel_widget_id=\"aplus-3p-module-b\"\u003e\n\u003cdiv class=\"aplus-3p-fixed-width\"\u003e\n\u003cp class=\"a-spacing-base\"\u003eThis hip brace is made from neoprene which helps to retain body heat needed to warm muscles, provides soothing compression, and increases blood circulation, which reduces recovery time.\u003c\/p\u003e\n\u003c\/div\u003e\n\u003c\/div\u003e\n\u003cdiv data-cel-widget=\"aplus-3p-module-b\" data-csa-c-id=\"8eossh-b7bq25-144xus-kctr93\" class=\"celwidget aplus-module 3p-module-b aplus-standard\" cel_widget_id=\"aplus-3p-module-b\"\u003e\n\u003cdiv class=\"aplus-3p-fixed-width\"\u003e\n\u003ch3 class=\"a-spacing-mini\"\u003eAdjustable Size, Free Movement\u003c\/h3\u003e\n\u003cp\u003e\u003cimg alt=\"\" src=\"https:\/\/cdn.shopifycdn.net\/s\/files\/1\/2463\/1595\/files\/23_27e19f8b-8b82-4d98-813a-f043e66cdf22_1024x1024.jpg?v=1603550242\"\u003e\u003c\/p\u003e\n\u003cp\u003e\u003cspan\u003eHip brace uses a completely adjustable hook and loop fasteners for both the waist and the thigh to ensure a perfect fit. It doesn't restrict movement during daily exercise.\u003c\/span\u003e\u003c\/p\u003e\n\u003c\/div\u003e\n\u003c\/div\u003e\n\u003c\/div\u003e\n\u003c\/div\u003e\n\u003cp\u003e\u003cimg alt=\"\" src=\"https:\/\/cdn.shopifycdn.net\/s\/files\/1\/2463\/1595\/files\/24_c56f8d23-2c18-4637-9f78-40bcd307cf0f_1024x1024.jpg?v=1603550278\"\u003e\u003c\/p\u003e\n\u003ch5\u003e\u003cspan\u003eReviews\u003c\/span\u003e\u003c\/h5\u003e\n[\/TABS]","published_at":"2020-10-24T21:40:17+08:00","created_at":"2020-10-24T21:40:24+08:00","vendor":"REAQER","type":"Hip Brace","tags":[],"price":1369,"price_min":1369,"price_max":1369,"available":true,"price_varies":false,"compare_at_price":2900,"compare_at_price_min":2900,"compare_at_price_max":2900,"compare_at_price_varies":false,"variants":[{"id":32001267957858,"title":"Gray","option1":"Gray","option2":null,"option3":null,"sku":"B07JD94NSN","requires_shipping":true,"taxable":true,"featured_image":{"id":14432167755874,"product_id":4514411118690,"position":1,"created_at":"2020-10-24T21:40:25+08:00","updated_at":"2020-10-24T21:40:25+08:00","alt":"0","width":951,"height":1500,"src":"https:\/\/cdn.shopify.com\/s\/files\/1\/2463\/1595\/products\/81vPF4oqwVL._AC_SL1500.jpg?v=1603546825","variant_ids":[32001267957858,32001267990626]},"available":true,"name":"REAQER Hip Thigh Support Brace Groin Compression Wrap for Pulled Groin Sciatic Nerve Pain Hamstring Injury Recovery and Rehab Fits - Gray","public_title":"Gray","options":["Gray"],"price":1369,"weight":0,"compare_at_price":2900,"inventory_quantity":9999,"inventory_management":"shopify","inventory_policy":"deny","barcode":"653437641836","featured_media":{"alt":"0","id":6604668502114,"position":1,"preview_image":{"aspect_ratio":0.634,"height":1500,"width":951,"src":"https:\/\/cdn.shopify.com\/s\/files\/1\/2463\/1595\/products\/81vPF4oqwVL._AC_SL1500.jpg?v=1603546825"}},"requires_selling_plan":false,"selling_plan_allocations":[]},{"id":32001267990626,"title":"black","option1":"black","option2":null,"option3":null,"sku":"B07JD94NSN","requires_shipping":true,"taxable":true,"featured_image":{"id":14432167755874,"product_id":4514411118690,"position":1,"created_at":"2020-10-24T21:40:25+08:00","updated_at":"2020-10-24T21:40:25+08:00","alt":"0","width":951,"height":1500,"src":"https:\/\/cdn.shopify.com\/s\/files\/1\/2463\/1595\/products\/81vPF4oqwVL._AC_SL1500.jpg?v=1603546825","variant_ids":[32001267957858,32001267990626]},"available":true,"name":"REAQER Hip Thigh Support Brace Groin Compression Wrap for Pulled Groin Sciatic Nerve Pain Hamstring Injury Recovery and Rehab Fits - black","public_title":"black","options":["black"],"price":1369,"weight":0,"compare_at_price":2900,"inventory_quantity":9996,"inventory_management":"shopify","inventory_policy":"deny","barcode":"653437641836","featured_media":{"alt":"0","id":6604668502114,"position":1,"preview_image":{"aspect_ratio":0.634,"height":1500,"width":951,"src":"https:\/\/cdn.shopify.com\/s\/files\/1\/2463\/1595\/products\/81vPF4oqwVL._AC_SL1500.jpg?v=1603546825"}},"requires_selling_plan":false,"selling_plan_allocations":[]}],"images":["\/\/cdn.shopify.com\/s\/files\/1\/2463\/1595\/products\/81vPF4oqwVL._AC_SL1500.jpg?v=1603546825","\/\/cdn.shopify.com\/s\/files\/1\/2463\/1595\/products\/71qDaQqJDiL._AC_SL1500.jpg?v=1603546825","\/\/cdn.shopify.com\/s\/files\/1\/2463\/1595\/products\/41Lc1kFHrkL._UL1500.jpg?v=1603546825","\/\/cdn.shopify.com\/s\/files\/1\/2463\/1595\/products\/51cchWjvoAL._UL1500.jpg?v=1603546825","\/\/cdn.shopify.com\/s\/files\/1\/2463\/1595\/products\/41bTIKfSamL._UL1500.jpg?v=1603546825","\/\/cdn.shopify.com\/s\/files\/1\/2463\/1595\/products\/41MSy6SidgL._UL1500.jpg?v=1603546825","\/\/cdn.shopify.com\/s\/files\/1\/2463\/1595\/products\/516IsIPa7LL._UL1500.jpg?v=1603546825","\/\/cdn.shopify.com\/s\/files\/1\/2463\/1595\/products\/41ZnMC5GWwL._UL1500.jpg?v=1603546825","\/\/cdn.shopify.com\/s\/files\/1\/2463\/1595\/products\/51kBlqGOHPL.SS40_BG85_85_85_BR-120_PKdp-play-icon-overlay__.jpg._UL1500.jpg?v=1603546825"],"featured_image":"\/\/cdn.shopify.com\/s\/files\/1\/2463\/1595\/products\/81vPF4oqwVL._AC_SL1500.jpg?v=1603546825","options":["Color:"],"media":[{"alt":"0","id":6604668502114,"position":1,"preview_image":{"aspect_ratio":0.634,"height":1500,"width":951,"src":"https:\/\/cdn.shopify.com\/s\/files\/1\/2463\/1595\/products\/81vPF4oqwVL._AC_SL1500.jpg?v=1603546825"},"aspect_ratio":0.634,"height":1500,"media_type":"image","src":"https:\/\/cdn.shopify.com\/s\/files\/1\/2463\/1595\/products\/81vPF4oqwVL._AC_SL1500.jpg?v=1603546825","width":951},{"alt":"1","id":6604668534882,"position":2,"preview_image":{"aspect_ratio":0.598,"height":1500,"width":897,"src":"https:\/\/cdn.shopify.com\/s\/files\/1\/2463\/1595\/products\/71qDaQqJDiL._AC_SL1500.jpg?v=1603546825"},"aspect_ratio":0.598,"height":1500,"media_type":"image","src":"https:\/\/cdn.shopify.com\/s\/files\/1\/2463\/1595\/products\/71qDaQqJDiL._AC_SL1500.jpg?v=1603546825","width":897},{"alt":"2","id":6604668567650,"position":3,"preview_image":{"aspect_ratio":1.0,"height":1500,"width":1500,"src":"https:\/\/cdn.shopify.com\/s\/files\/1\/2463\/1595\/products\/41Lc1kFHrkL._UL1500.jpg?v=1603546825"},"aspect_ratio":1.0,"height":1500,"media_type":"image","src":"https:\/\/cdn.shopify.com\/s\/files\/1\/2463\/1595\/products\/41Lc1kFHrkL._UL1500.jpg?v=1603546825","width":1500},{"alt":"3","id":6604668600418,"position":4,"preview_image":{"aspect_ratio":1.0,"height":1500,"width":1500,"src":"https:\/\/cdn.shopify.com\/s\/files\/1\/2463\/1595\/products\/51cchWjvoAL._UL1500.jpg?v=1603546825"},"aspect_ratio":1.0,"height":1500,"media_type":"image","src":"https:\/\/cdn.shopify.com\/s\/files\/1\/2463\/1595\/products\/51cchWjvoAL._UL1500.jpg?v=1603546825","width":1500},{"alt":"4","id":6604668633186,"position":5,"preview_image":{"aspect_ratio":1.0,"height":1500,"width":1500,"src":"https:\/\/cdn.shopify.com\/s\/files\/1\/2463\/1595\/products\/41bTIKfSamL._UL1500.jpg?v=1603546825"},"aspect_ratio":1.0,"height":1500,"media_type":"image","src":"https:\/\/cdn.shopify.com\/s\/files\/1\/2463\/1595\/products\/41bTIKfSamL._UL1500.jpg?v=1603546825","width":1500},{"alt":"5","id":6604668665954,"position":6,"preview_image":{"aspect_ratio":1.0,"height":1500,"width":1500,"src":"https:\/\/cdn.shopify.com\/s\/files\/1\/2463\/1595\/products\/41MSy6SidgL._UL1500.jpg?v=1603546825"},"aspect_ratio":1.0,"height":1500,"media_type":"image","src":"https:\/\/cdn.shopify.com\/s\/files\/1\/2463\/1595\/products\/41MSy6SidgL._UL1500.jpg?v=1603546825","width":1500},{"alt":"6","id":6604668698722,"position":7,"preview_image":{"aspect_ratio":1.0,"height":1500,"width":1500,"src":"https:\/\/cdn.shopify.com\/s\/files\/1\/2463\/1595\/products\/516IsIPa7LL._UL1500.jpg?v=1603546825"},"aspect_ratio":1.0,"height":1500,"media_type":"image","src":"https:\/\/cdn.shopify.com\/s\/files\/1\/2463\/1595\/products\/516IsIPa7LL._UL1500.jpg?v=1603546825","width":1500},{"alt":"7","id":6604668731490,"position":8,"preview_image":{"aspect_ratio":1.0,"height":1500,"width":1500,"src":"https:\/\/cdn.shopify.com\/s\/files\/1\/2463\/1595\/products\/41ZnMC5GWwL._UL1500.jpg?v=1603546825"},"aspect_ratio":1.0,"height":1500,"media_type":"image","src":"https:\/\/cdn.shopify.com\/s\/files\/1\/2463\/1595\/products\/41ZnMC5GWwL._UL1500.jpg?v=1603546825","width":1500},{"alt":"8","id":6604668764258,"position":9,"preview_image":{"aspect_ratio":1.0,"height":1500,"width":1500,"src":"https:\/\/cdn.shopify.com\/s\/files\/1\/2463\/1595\/products\/51kBlqGOHPL.SS40_BG85_85_85_BR-120_PKdp-play-icon-overlay__.jpg._UL1500.jpg?v=1603546825"},"aspect_ratio":1.0,"height":1500,"media_type":"image","src":"https:\/\/cdn.shopify.com\/s\/files\/1\/2463\/1595\/products\/51kBlqGOHPL.SS40_BG85_85_85_BR-120_PKdp-play-icon-overlay__.jpg._UL1500.jpg?v=1603546825","width":1500}],"requires_selling_plan":false,"selling_plan_groups":[],"content":"\u003cli style=\"list-style: none;\"\u003eFAST RECOVERY–The brace support will increase blood circulation and reduce recovery time by providing a soothing relief to the pain.\u003c\/li\u003e\n\u003cli style=\"list-style: none;\"\u003eFAST PAIN RELIEF – The special design of this brace brings you the most effective groin compression strap for pulled muscle, hip tendonitis, sciatic nerve pain relief,hamstring injury.\u003c\/li\u003e\n\u003cli style=\"list-style: none;\"\u003eDESIGN ADVANTAGE – The groin compression is universal, completely adjustable for right or left leg, men and women\u003c\/li\u003e\n\u003cli style=\"list-style: none;\"\u003eKEEPS YOU MOVING – The strong groin brace and hip flexor support keeps your muscles warm offering hip pain relief without limiting your movements.\u003c\/li\u003e\n\u003cli style=\"list-style: none;\"\u003e100% REFUND-We give you refund if the hip support does not fit you\u003c\/li\u003e\n[TABS]\n\u003ch5\u003e\u003cspan\u003eDescription\u003c\/span\u003e\u003c\/h5\u003e\n\u003ch3 class=\"a-spacing-mini\"\u003eHip Groin Thigh Support\u003c\/h3\u003e\n\u003cp\u003e\u003cimg alt=\"\" src=\"https:\/\/cdn.shopifycdn.net\/s\/files\/1\/2463\/1595\/files\/21_1287b993-cdb4-402d-b594-bf4244ab0862_1024x1024.jpg?v=1603550170\"\u003e\u003c\/p\u003e\n\u003cdiv data-cel-widget=\"aplus-3p-module-b\" data-csa-c-id=\"2lhcai-l0rvdu-wn1b4h-o7gzla\" class=\"celwidget aplus-module 3p-module-b aplus-standard\" cel_widget_id=\"aplus-3p-module-b\"\u003e\n\u003cdiv class=\"aplus-3p-fixed-width\"\u003e\n\u003cp class=\"a-spacing-base\"\u003eREAQER hip support is designed to support the abductor muscles,tendons, and joints around your entire waist, hips, lower back, upper leg, and groin. Instantly improve your mobility and decrease your pain!\u003c\/p\u003e\n\u003c\/div\u003e\n\u003c\/div\u003e\n\u003cdiv data-cel-widget=\"aplus-3p-module-b\" data-csa-c-id=\"h5sise-wwg0i-apa0gf-u8zu5r\" class=\"celwidget aplus-module 3p-module-b aplus-standard\" cel_widget_id=\"aplus-3p-module-b\"\u003e\n\u003cdiv class=\"aplus-3p-fixed-width\"\u003e\n\u003ch3 class=\"a-spacing-mini\"\u003eHigh-quality Materials, Comfortable Experience\u003c\/h3\u003e\n\u003cp\u003e\u003cimg alt=\"\" src=\"https:\/\/cdn.shopifycdn.net\/s\/files\/1\/2463\/1595\/files\/22_18bbecf9-3470-470b-92cc-049981693424_1024x1024.jpg?v=1603550221\"\u003e\u003c\/p\u003e\n\u003cdiv data-cel-widget=\"aplus-3p-module-b\" data-csa-c-id=\"h5sise-wwg0i-apa0gf-u8zu5r\" class=\"celwidget aplus-module 3p-module-b aplus-standard\" cel_widget_id=\"aplus-3p-module-b\"\u003e\n\u003cdiv class=\"aplus-3p-fixed-width\"\u003e\n\u003cp class=\"a-spacing-base\"\u003eThis hip brace is made from neoprene which helps to retain body heat needed to warm muscles, provides soothing compression, and increases blood circulation, which reduces recovery time.\u003c\/p\u003e\n\u003c\/div\u003e\n\u003c\/div\u003e\n\u003cdiv data-cel-widget=\"aplus-3p-module-b\" data-csa-c-id=\"8eossh-b7bq25-144xus-kctr93\" class=\"celwidget aplus-module 3p-module-b aplus-standard\" cel_widget_id=\"aplus-3p-module-b\"\u003e\n\u003cdiv class=\"aplus-3p-fixed-width\"\u003e\n\u003ch3 class=\"a-spacing-mini\"\u003eAdjustable Size, Free Movement\u003c\/h3\u003e\n\u003cp\u003e\u003cimg alt=\"\" src=\"https:\/\/cdn.shopifycdn.net\/s\/files\/1\/2463\/1595\/files\/23_27e19f8b-8b82-4d98-813a-f043e66cdf22_1024x1024.jpg?v=1603550242\"\u003e\u003c\/p\u003e\n\u003cp\u003e\u003cspan\u003eHip brace uses a completely adjustable hook and loop fasteners for both the waist and the thigh to ensure a perfect fit. It doesn't restrict movement during daily exercise.\u003c\/span\u003e\u003c\/p\u003e\n\u003c\/div\u003e\n\u003c\/div\u003e\n\u003c\/div\u003e\n\u003c\/div\u003e\n\u003cp\u003e\u003cimg alt=\"\" src=\"https:\/\/cdn.shopifycdn.net\/s\/files\/1\/2463\/1595\/files\/24_c56f8d23-2c18-4637-9f78-40bcd307cf0f_1024x1024.jpg?v=1603550278\"\u003e\u003c\/p\u003e\n\u003ch5\u003e\u003cspan\u003eReviews\u003c\/span\u003e\u003c\/h5\u003e\n[\/TABS]"}
REAQER Hip Thigh Support Brace Groin Compression Wrap for Pulled Groin Sciatic Nerve Pain Hamstring Injury Recovery and Rehab Fits
REAQER Hip Thigh Support Brace Groin Compression Wrap for Pulled Groin Sciatic Nerve Pain Hamstring Injury Recovery and Rehab Fits
Hip Groin Thigh Support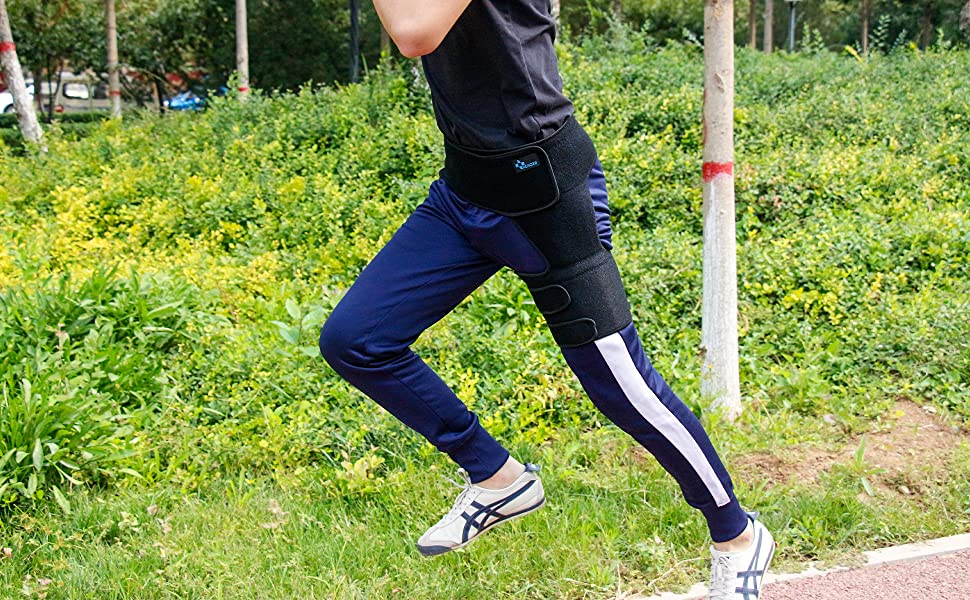 REAQER hip support is designed to support the abductor muscles,tendons, and joints around your entire waist, hips, lower back, upper leg, and groin. Instantly improve your mobility and decrease your pain!
High-quality Materials, Comfortable Experience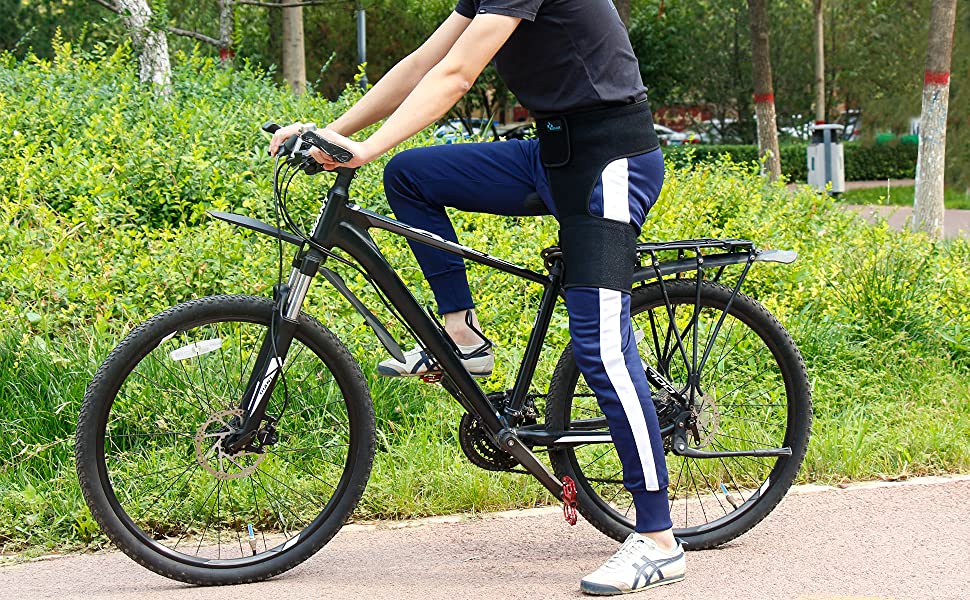 This hip brace is made from neoprene which helps to retain body heat needed to warm muscles, provides soothing compression, and increases blood circulation, which reduces recovery time.
Adjustable Size, Free Movement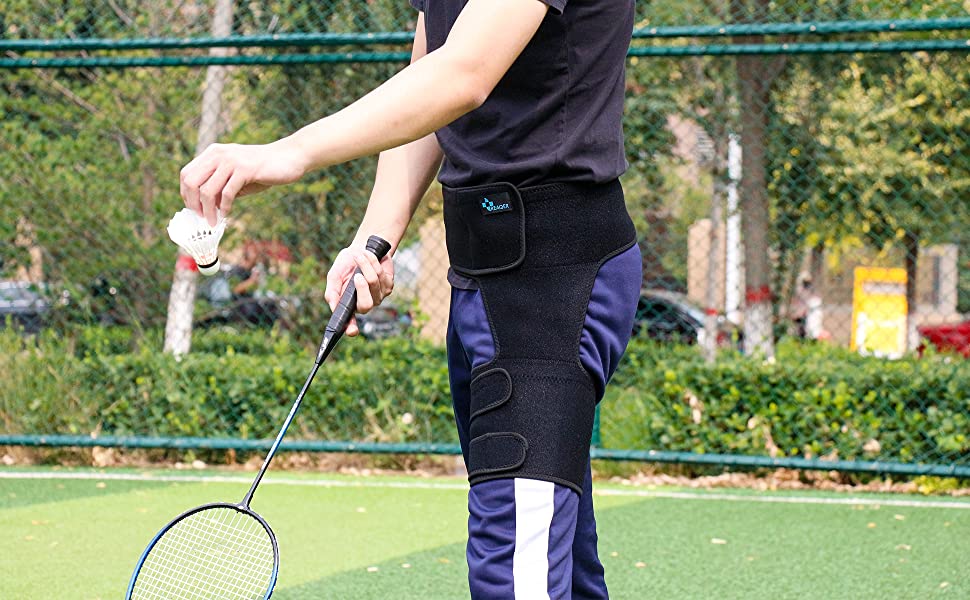 Hip brace uses a completely adjustable hook and loop fasteners for both the waist and the thigh to ensure a perfect fit. It doesn't restrict movement during daily exercise.