{"id":4513664467042,"title":"Vive Knee Ice Pack Wrap - Cold \/ Hot Gel Compression Brace","handle":"vive-knee-ice-pack-wrap-cold-hot-gel-compression-brace","description":"\u003cli style=\"list-style: none;\"\u003e\n\u003cb\u003eSOOTHING KNEE PAIN RELIEF\u003c\/b\u003e: Targeting both the front and back of the knee with adjustable compression and hot or cold therapy, the Vive cold knee brace effectively reduces swelling, pain and inflammation due to muscle fatigue, injury or surgery. The soft knee brace also provides comfortable relief for sprains and strains, ACL, arthritis, sports injuries, surgery and more.\u003c\/li\u003e\n\u003cli style=\"list-style: none;\"\u003e\n\u003cb\u003eHOT OR COLD THERAPY\u003c\/b\u003e: Includes three removable Arctic Flex gel packs for hot or cold therapy. Each pack easily slips into one of three pockets. Two pockets are located on the front of the knee brace and one behind the knee for targeted relief. The nontoxic gel packs are reusable, leakproof and latex-free.\u003c\/li\u003e\n\u003cli style=\"list-style: none;\"\u003e\n\u003cb\u003eFLEXIBLE FIT\u003c\/b\u003e: Secured with a strong fastener system with four adjustable straps, the versatile knee brace fits knee circumferences up to 21". Suitable for both men and women, the soft brace can be worn on the left or right knee.\u003c\/li\u003e\n\u003cli style=\"list-style: none;\"\u003e\n\u003cb\u003eBREATHABLE NEOPRENE BLEND\u003c\/b\u003e: Machine washable for added convenience, the knee wrap is made from a lightweight neoprene blend. Latex-free, the blend is soft and breathable for exceptional comfort.\u003c\/li\u003e\n\u003cli style=\"list-style: none;\"\u003e\n\u003cb\u003eVIVE GUARANTEE\u003c\/b\u003e: 60 day guarantee so you can purchase now with confidence.\u003c\/li\u003e\n[TABS]\n\u003ch5\u003e\u003cspan\u003eDescription\u003c\/span\u003e\u003c\/h5\u003e\n\u003cp\u003e\u003cimg alt=\"\" src=\"https:\/\/cdn.shopifycdn.net\/s\/files\/1\/2463\/1595\/files\/bed5ccc7-ff97-4178-af15-d5a2e9ebdda3.__UX970_V1_1024x1024.jpg?v=1603458309\"\u003e\u003c\/p\u003e\n\u003ch3 class=\"a-spacing-mini\"\u003eKnee Ice Wrap\u003c\/h3\u003e\n\u003cp class=\"a-spacing-base\"\u003e\u003cspan class=\"a-text-bold\"\u003eCold Knee Brace\u003c\/span\u003e\u003c\/p\u003e\n\u003cp class=\"a-spacing-base\"\u003eFeaturing three Arctic Flex gel packs and a soft neoprene blend, the cold knee brace provides targeted hot or cold therapy with customizable compression for pain-relieving support. Each removable gel pack remains flexible when frozen to contour to the knee, reducing pain, swelling and inflammation caused by injury, surgery, arthritis or overuse. Secured with four adjustable straps, the versatile knee brace is reversible for use on the left or right knee. The soft knee brace is constructed with a latex-free neoprene blend that is lightweight and breathable for comfortable fit.\u003c\/p\u003e\n\u003cp class=\"a-spacing-base\"\u003e\u003cspan class=\"a-text-bold\"\u003eSoothing Pain Relief:\u003c\/span\u003e\u003c\/p\u003e\n\u003cp class=\"a-spacing-base\"\u003eTargeting both the front and back of the knee with adjustable compression and hot or cold therapy, the Vive cold knee brace effectively reduces swelling, pain and inflammation due to muscle fatigue, injury or surgery. The soft knee brace also provides comfortable relief for sprains and strains, ACL, arthritis, sports injuries, surgery and more.\u003c\/p\u003e\n\u003cp class=\"a-spacing-base\"\u003e\u003cspan class=\"a-text-bold\"\u003eHot or Cold Therapy:\u003c\/span\u003e\u003c\/p\u003e\n\u003cp class=\"a-spacing-base\"\u003eIncludes three removable Arctic Flex gel packs for hot or cold therapy. Each pack easily slips into one of three pockets. Two pockets are located on the front of the knee brace and one behind the knee for targeted relief. The nontoxic gel packs are reusable, leakproof and latex-free.\u003c\/p\u003e\n\u003cp class=\"a-spacing-base\"\u003e\u003cspan class=\"a-text-bold\"\u003eFlexible Fit:\u003c\/span\u003e\u003c\/p\u003e\n\u003cp class=\"a-spacing-base\"\u003eSecured with a strong fastener system with four adjustable straps, the versatile knee brace fits knee circumferences up to 21". Suitable for both men and women, the soft brace can be worn on the left or right knee. Machine washable for added convenience, the knee wrap is made from a lightweight neoprene blend. Latex-free, the blend is soft and breathable for exceptional comfort.\u003c\/p\u003e\n\u003cp class=\"a-spacing-base\"\u003e\u003cspan class=\"a-text-bold\"\u003eWhat's Included:\u003c\/span\u003e\u003c\/p\u003e\n\u003cp class=\"a-spacing-base\"\u003e \u003c\/p\u003e\n\u003cul class=\"a-unordered-list a-vertical\"\u003e\n\u003cli\u003e\u003cspan class=\"a-list-item\"\u003eCold Knee Brace\u003c\/span\u003e\u003c\/li\u003e\n\u003c\/ul\u003e\n\u003cp\u003e\u003cbr\u003e\u003c\/p\u003e\n\u003ch5\u003e\u003cspan\u003eReviews\u003c\/span\u003e\u003c\/h5\u003e\n[\/TABS]","published_at":"2020-10-23T21:02:09+08:00","created_at":"2020-10-23T21:02:16+08:00","vendor":"Vive","type":"Knee Brace","tags":[],"price":3800,"price_min":3800,"price_max":3800,"available":true,"price_varies":false,"compare_at_price":6700,"compare_at_price_min":6700,"compare_at_price_max":6700,"compare_at_price_varies":false,"variants":[{"id":31999607537762,"title":"Default Title","option1":"Default Title","option2":null,"option3":null,"sku":"B079JX3J4W","requires_shipping":true,"taxable":true,"featured_image":null,"available":true,"name":"Vive Knee Ice Pack Wrap - Cold \/ Hot Gel Compression Brace","public_title":null,"options":["Default Title"],"price":3800,"weight":0,"compare_at_price":6700,"inventory_quantity":9998,"inventory_management":"shopify","inventory_policy":"deny","barcode":"818323022155","requires_selling_plan":false,"selling_plan_allocations":[]}],"images":["\/\/cdn.shopify.com\/s\/files\/1\/2463\/1595\/products\/41Oj4rBdTWL._UL1500.jpg?v=1603458136","\/\/cdn.shopify.com\/s\/files\/1\/2463\/1595\/products\/51cPTWteSaL._UL1500.jpg?v=1603458137","\/\/cdn.shopify.com\/s\/files\/1\/2463\/1595\/products\/51CXlifbzuL._UL1500.jpg?v=1603458137","\/\/cdn.shopify.com\/s\/files\/1\/2463\/1595\/products\/51NzXkkIcJL._UL1500.jpg?v=1603458137","\/\/cdn.shopify.com\/s\/files\/1\/2463\/1595\/products\/61BFLcal-CL._UL1500.jpg?v=1603458137","\/\/cdn.shopify.com\/s\/files\/1\/2463\/1595\/products\/41iR5ZlVrdL._UL1500.jpg?v=1603458137","\/\/cdn.shopify.com\/s\/files\/1\/2463\/1595\/products\/61EJaOAx3IL.SS40_BG85_85_85_BR-120_PKdp-play-icon-overlay__.jpg._UL1500.jpg?v=1603458137"],"featured_image":"\/\/cdn.shopify.com\/s\/files\/1\/2463\/1595\/products\/41Oj4rBdTWL._UL1500.jpg?v=1603458136","options":["Title"],"media":[{"alt":"0","id":6601959997538,"position":1,"preview_image":{"aspect_ratio":1.0,"height":1500,"width":1500,"src":"https:\/\/cdn.shopify.com\/s\/files\/1\/2463\/1595\/products\/41Oj4rBdTWL._UL1500.jpg?v=1603458136"},"aspect_ratio":1.0,"height":1500,"media_type":"image","src":"https:\/\/cdn.shopify.com\/s\/files\/1\/2463\/1595\/products\/41Oj4rBdTWL._UL1500.jpg?v=1603458136","width":1500},{"alt":"1","id":6601960030306,"position":2,"preview_image":{"aspect_ratio":1.0,"height":1500,"width":1500,"src":"https:\/\/cdn.shopify.com\/s\/files\/1\/2463\/1595\/products\/51cPTWteSaL._UL1500.jpg?v=1603458137"},"aspect_ratio":1.0,"height":1500,"media_type":"image","src":"https:\/\/cdn.shopify.com\/s\/files\/1\/2463\/1595\/products\/51cPTWteSaL._UL1500.jpg?v=1603458137","width":1500},{"alt":"2","id":6601960063074,"position":3,"preview_image":{"aspect_ratio":1.0,"height":1500,"width":1500,"src":"https:\/\/cdn.shopify.com\/s\/files\/1\/2463\/1595\/products\/51CXlifbzuL._UL1500.jpg?v=1603458137"},"aspect_ratio":1.0,"height":1500,"media_type":"image","src":"https:\/\/cdn.shopify.com\/s\/files\/1\/2463\/1595\/products\/51CXlifbzuL._UL1500.jpg?v=1603458137","width":1500},{"alt":"3","id":6601960095842,"position":4,"preview_image":{"aspect_ratio":1.0,"height":1500,"width":1500,"src":"https:\/\/cdn.shopify.com\/s\/files\/1\/2463\/1595\/products\/51NzXkkIcJL._UL1500.jpg?v=1603458137"},"aspect_ratio":1.0,"height":1500,"media_type":"image","src":"https:\/\/cdn.shopify.com\/s\/files\/1\/2463\/1595\/products\/51NzXkkIcJL._UL1500.jpg?v=1603458137","width":1500},{"alt":"4","id":6601960128610,"position":5,"preview_image":{"aspect_ratio":1.0,"height":1500,"width":1500,"src":"https:\/\/cdn.shopify.com\/s\/files\/1\/2463\/1595\/products\/61BFLcal-CL._UL1500.jpg?v=1603458137"},"aspect_ratio":1.0,"height":1500,"media_type":"image","src":"https:\/\/cdn.shopify.com\/s\/files\/1\/2463\/1595\/products\/61BFLcal-CL._UL1500.jpg?v=1603458137","width":1500},{"alt":"5","id":6601960161378,"position":6,"preview_image":{"aspect_ratio":1.0,"height":1500,"width":1500,"src":"https:\/\/cdn.shopify.com\/s\/files\/1\/2463\/1595\/products\/41iR5ZlVrdL._UL1500.jpg?v=1603458137"},"aspect_ratio":1.0,"height":1500,"media_type":"image","src":"https:\/\/cdn.shopify.com\/s\/files\/1\/2463\/1595\/products\/41iR5ZlVrdL._UL1500.jpg?v=1603458137","width":1500},{"alt":"6","id":6601960194146,"position":7,"preview_image":{"aspect_ratio":1.0,"height":1500,"width":1500,"src":"https:\/\/cdn.shopify.com\/s\/files\/1\/2463\/1595\/products\/61EJaOAx3IL.SS40_BG85_85_85_BR-120_PKdp-play-icon-overlay__.jpg._UL1500.jpg?v=1603458137"},"aspect_ratio":1.0,"height":1500,"media_type":"image","src":"https:\/\/cdn.shopify.com\/s\/files\/1\/2463\/1595\/products\/61EJaOAx3IL.SS40_BG85_85_85_BR-120_PKdp-play-icon-overlay__.jpg._UL1500.jpg?v=1603458137","width":1500}],"requires_selling_plan":false,"selling_plan_groups":[],"content":"\u003cli style=\"list-style: none;\"\u003e\n\u003cb\u003eSOOTHING KNEE PAIN RELIEF\u003c\/b\u003e: Targeting both the front and back of the knee with adjustable compression and hot or cold therapy, the Vive cold knee brace effectively reduces swelling, pain and inflammation due to muscle fatigue, injury or surgery. The soft knee brace also provides comfortable relief for sprains and strains, ACL, arthritis, sports injuries, surgery and more.\u003c\/li\u003e\n\u003cli style=\"list-style: none;\"\u003e\n\u003cb\u003eHOT OR COLD THERAPY\u003c\/b\u003e: Includes three removable Arctic Flex gel packs for hot or cold therapy. Each pack easily slips into one of three pockets. Two pockets are located on the front of the knee brace and one behind the knee for targeted relief. The nontoxic gel packs are reusable, leakproof and latex-free.\u003c\/li\u003e\n\u003cli style=\"list-style: none;\"\u003e\n\u003cb\u003eFLEXIBLE FIT\u003c\/b\u003e: Secured with a strong fastener system with four adjustable straps, the versatile knee brace fits knee circumferences up to 21". Suitable for both men and women, the soft brace can be worn on the left or right knee.\u003c\/li\u003e\n\u003cli style=\"list-style: none;\"\u003e\n\u003cb\u003eBREATHABLE NEOPRENE BLEND\u003c\/b\u003e: Machine washable for added convenience, the knee wrap is made from a lightweight neoprene blend. Latex-free, the blend is soft and breathable for exceptional comfort.\u003c\/li\u003e\n\u003cli style=\"list-style: none;\"\u003e\n\u003cb\u003eVIVE GUARANTEE\u003c\/b\u003e: 60 day guarantee so you can purchase now with confidence.\u003c\/li\u003e\n[TABS]\n\u003ch5\u003e\u003cspan\u003eDescription\u003c\/span\u003e\u003c\/h5\u003e\n\u003cp\u003e\u003cimg alt=\"\" src=\"https:\/\/cdn.shopifycdn.net\/s\/files\/1\/2463\/1595\/files\/bed5ccc7-ff97-4178-af15-d5a2e9ebdda3.__UX970_V1_1024x1024.jpg?v=1603458309\"\u003e\u003c\/p\u003e\n\u003ch3 class=\"a-spacing-mini\"\u003eKnee Ice Wrap\u003c\/h3\u003e\n\u003cp class=\"a-spacing-base\"\u003e\u003cspan class=\"a-text-bold\"\u003eCold Knee Brace\u003c\/span\u003e\u003c\/p\u003e\n\u003cp class=\"a-spacing-base\"\u003eFeaturing three Arctic Flex gel packs and a soft neoprene blend, the cold knee brace provides targeted hot or cold therapy with customizable compression for pain-relieving support. Each removable gel pack remains flexible when frozen to contour to the knee, reducing pain, swelling and inflammation caused by injury, surgery, arthritis or overuse. Secured with four adjustable straps, the versatile knee brace is reversible for use on the left or right knee. The soft knee brace is constructed with a latex-free neoprene blend that is lightweight and breathable for comfortable fit.\u003c\/p\u003e\n\u003cp class=\"a-spacing-base\"\u003e\u003cspan class=\"a-text-bold\"\u003eSoothing Pain Relief:\u003c\/span\u003e\u003c\/p\u003e\n\u003cp class=\"a-spacing-base\"\u003eTargeting both the front and back of the knee with adjustable compression and hot or cold therapy, the Vive cold knee brace effectively reduces swelling, pain and inflammation due to muscle fatigue, injury or surgery. The soft knee brace also provides comfortable relief for sprains and strains, ACL, arthritis, sports injuries, surgery and more.\u003c\/p\u003e\n\u003cp class=\"a-spacing-base\"\u003e\u003cspan class=\"a-text-bold\"\u003eHot or Cold Therapy:\u003c\/span\u003e\u003c\/p\u003e\n\u003cp class=\"a-spacing-base\"\u003eIncludes three removable Arctic Flex gel packs for hot or cold therapy. Each pack easily slips into one of three pockets. Two pockets are located on the front of the knee brace and one behind the knee for targeted relief. The nontoxic gel packs are reusable, leakproof and latex-free.\u003c\/p\u003e\n\u003cp class=\"a-spacing-base\"\u003e\u003cspan class=\"a-text-bold\"\u003eFlexible Fit:\u003c\/span\u003e\u003c\/p\u003e\n\u003cp class=\"a-spacing-base\"\u003eSecured with a strong fastener system with four adjustable straps, the versatile knee brace fits knee circumferences up to 21". Suitable for both men and women, the soft brace can be worn on the left or right knee. Machine washable for added convenience, the knee wrap is made from a lightweight neoprene blend. Latex-free, the blend is soft and breathable for exceptional comfort.\u003c\/p\u003e\n\u003cp class=\"a-spacing-base\"\u003e\u003cspan class=\"a-text-bold\"\u003eWhat's Included:\u003c\/span\u003e\u003c\/p\u003e\n\u003cp class=\"a-spacing-base\"\u003e \u003c\/p\u003e\n\u003cul class=\"a-unordered-list a-vertical\"\u003e\n\u003cli\u003e\u003cspan class=\"a-list-item\"\u003eCold Knee Brace\u003c\/span\u003e\u003c\/li\u003e\n\u003c\/ul\u003e\n\u003cp\u003e\u003cbr\u003e\u003c\/p\u003e\n\u003ch5\u003e\u003cspan\u003eReviews\u003c\/span\u003e\u003c\/h5\u003e\n[\/TABS]"}
Vive Knee Ice Pack Wrap - Cold / Hot Gel Compression Brace
Vive Knee Ice Pack Wrap - Cold / Hot Gel Compression Brace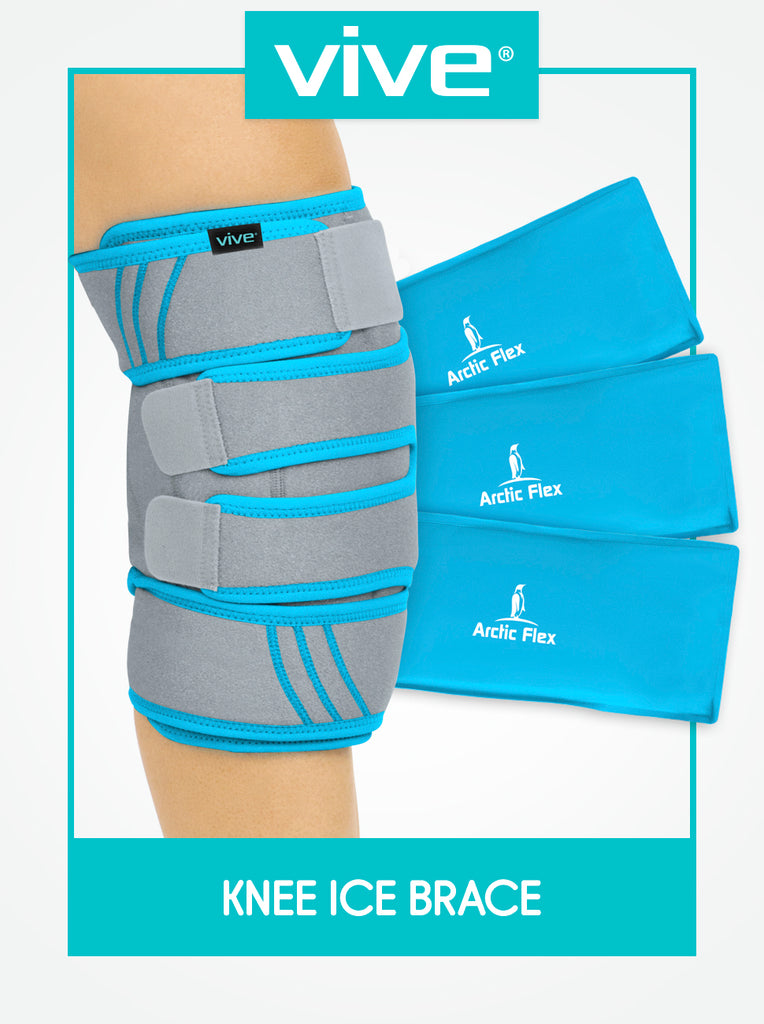 Knee Ice Wrap
Cold Knee Brace
Featuring three Arctic Flex gel packs and a soft neoprene blend, the cold knee brace provides targeted hot or cold therapy with customizable compression for pain-relieving support. Each removable gel pack remains flexible when frozen to contour to the knee, reducing pain, swelling and inflammation caused by injury, surgery, arthritis or overuse. Secured with four adjustable straps, the versatile knee brace is reversible for use on the left or right knee. The soft knee brace is constructed with a latex-free neoprene blend that is lightweight and breathable for comfortable fit.
Soothing Pain Relief:
Targeting both the front and back of the knee with adjustable compression and hot or cold therapy, the Vive cold knee brace effectively reduces swelling, pain and inflammation due to muscle fatigue, injury or surgery. The soft knee brace also provides comfortable relief for sprains and strains, ACL, arthritis, sports injuries, surgery and more.
Hot or Cold Therapy:
Includes three removable Arctic Flex gel packs for hot or cold therapy. Each pack easily slips into one of three pockets. Two pockets are located on the front of the knee brace and one behind the knee for targeted relief. The nontoxic gel packs are reusable, leakproof and latex-free.
Flexible Fit:
Secured with a strong fastener system with four adjustable straps, the versatile knee brace fits knee circumferences up to 21". Suitable for both men and women, the soft brace can be worn on the left or right knee. Machine washable for added convenience, the knee wrap is made from a lightweight neoprene blend. Latex-free, the blend is soft and breathable for exceptional comfort.
What's Included: