{"id":5981896868020,"title":"Unloader Knee Brace for Osteoarthritis \u0026 Preventive Protection from Knee Joint Pain\/Degeneration - (Lateral\/Outside)","handle":"orthomen-unloader-knee-brace-for-osteoarthritis-preventive-protection-from-knee-joint-pain-degeneration-lateral-outside","description":"\u003cli style=\"list-style: none;\" data-mce-style=\"list-style: none;\"\u003e*Exceptionally light weight, low profile, and easy to use design.\u003c\/li\u003e\n\u003cli style=\"list-style: none;\" data-mce-style=\"list-style: none;\"\u003e*Unique varus\/valgus angle adjustment to provide compartmental off-loading and optimize pain relief.\u003c\/li\u003e\n\u003cli style=\"list-style: none;\" data-mce-style=\"list-style: none;\"\u003e*3 points of leverage for reducing pressure outside the knee joint.\u003c\/li\u003e\n\u003cli style=\"list-style: none;\" data-mce-style=\"list-style: none;\"\u003e*Condyle pads for increased comfort, stability and pain control.\u003c\/li\u003e\n\u003cli style=\"list-style: none;\" data-mce-style=\"list-style: none;\"\u003e*Quick release buckles for easy donning and doffing.\u003c\/li\u003e\n[TABS]\n\u003ch5\u003e\u003cspan\u003eDescription\u003c\/span\u003e\u003c\/h5\u003e\n\u003cp\u003e\u003cimg src=\"https:\/\/cdn.shopifycdn.net\/s\/files\/1\/2463\/1595\/files\/11_6b98dd72-432b-4b91-955a-9542b2039a86_1024x1024.jpg?v=1603606717\" alt=\"\" data-mce-src=\"https:\/\/cdn.shopifycdn.net\/s\/files\/1\/2463\/1595\/files\/11_6b98dd72-432b-4b91-955a-9542b2039a86_1024x1024.jpg?v=1603606717\"\u003e\u003c\/p\u003e\n\u003cp\u003e\u003cimg src=\"https:\/\/cdn.shopifycdn.net\/s\/files\/1\/2463\/1595\/files\/12_e297da28-5853-4a1a-a7a3-5aba3b527c98_1024x1024.jpg?v=1603606738\" alt=\"\" data-mce-src=\"https:\/\/cdn.shopifycdn.net\/s\/files\/1\/2463\/1595\/files\/12_e297da28-5853-4a1a-a7a3-5aba3b527c98_1024x1024.jpg?v=1603606738\"\u003e\u003c\/p\u003e\n\u003ch3 class=\"a-spacing-mini\"\u003eFeatures:\u003c\/h3\u003e\n\u003cp class=\"a-spacing-base\"\u003e \u003c\/p\u003e\n\u003cul class=\"a-unordered-list a-vertical\"\u003e\n\u003cli\u003e\u003cspan class=\"a-list-item\"\u003eExceptionally light weight, low profile, and easy to use design.\u003c\/span\u003e\u003c\/li\u003e\n\u003cli\u003e\u003cspan class=\"a-list-item\"\u003eUnique varus\/valgus angle adjustment to provide compartmental off-loading and optimize pain relief.\u003c\/span\u003e\u003c\/li\u003e\n\u003cli\u003e\u003cspan class=\"a-list-item\"\u003e3 points of leverage for reducing pressure outside the knee joint.\u003c\/span\u003e\u003c\/li\u003e\n\u003cli\u003e\u003cspan class=\"a-list-item\"\u003eCondyle pads for increased comfort, stability and pain control.\u003c\/span\u003e\u003c\/li\u003e\n\u003cli\u003e\u003cspan class=\"a-list-item\"\u003eQuick release buckles for easy donning and doffing.\u003c\/span\u003e\u003c\/li\u003e\n\u003cli\u003e\u003cspan class=\"a-list-item\"\u003eSilicone gripped liners and strap pads to help prevent migration.\u003c\/span\u003e\u003c\/li\u003e\n\u003cli\u003e\u003cspan class=\"a-list-item\"\u003eOptional suspension wrap (included) for optimal fixation.\u003c\/span\u003e\u003c\/li\u003e\n\u003cli\u003e\u003cspan class=\"a-list-item\"\u003eOptional flexion\/extension stops for range of motion control.\u003c\/span\u003e\u003c\/li\u003e\n\u003c\/ul\u003e\n\u003cp\u003e\u003cspan class=\"a-list-item\"\u003e\u003cimg src=\"https:\/\/cdn.shopifycdn.net\/s\/files\/1\/2463\/1595\/files\/13_43bd90bb-73c6-4437-91b8-90aa470bd0bf_1024x1024.jpg?v=1603606765\" alt=\"\" data-mce-src=\"https:\/\/cdn.shopifycdn.net\/s\/files\/1\/2463\/1595\/files\/13_43bd90bb-73c6-4437-91b8-90aa470bd0bf_1024x1024.jpg?v=1603606765\"\u003e\u003c\/span\u003e\u003c\/p\u003e\n\u003cp\u003e\u003cspan class=\"a-list-item\"\u003e\u003cimg src=\"https:\/\/cdn.shopifycdn.net\/s\/files\/1\/2463\/1595\/files\/14_d18949d9-81eb-4f06-ad89-086d522bd2e8_1024x1024.jpg?v=1603606786\" alt=\"\" data-mce-src=\"https:\/\/cdn.shopifycdn.net\/s\/files\/1\/2463\/1595\/files\/14_d18949d9-81eb-4f06-ad89-086d522bd2e8_1024x1024.jpg?v=1603606786\"\u003e\u003c\/span\u003e\u003c\/p\u003e\n\u003cdiv class=\"apm-lefttwothirdswrap apm-floatleft\"\u003e\n\u003cdiv class=\"apm-centerthirdcol\"\u003e\n\u003ch3 class=\"a-spacing-mini\"\u003eProduct Description\u003c\/h3\u003e\n\u003cp class=\"a-spacing-base\"\u003eDesigned for reducing knee pain caused by unicompartmental osteoarthritis of the knee and often helps delay the need for surgery.\u003c\/p\u003e\n\u003cp class=\"a-spacing-base\"\u003eThe unloading \/ offloader one (OR036B) is a comfortable, lightweight, low-profile brace with 3 points of leverage for reducing pressure Outside\/Lateral the knee joint.\u003c\/p\u003e\n\u003cp class=\"a-spacing-base\"\u003eIt's universal; fitting a wide variety of patients easily. The strapping system allows for full adjustment, but also features quick snaps for quick and easy application.\u003c\/p\u003e\n\u003c\/div\u003e\n\u003c\/div\u003e\n\u003cdiv class=\"apm-rightthirdcol\"\u003e\n\u003cdiv class=\"apm-rightthirdcol-inner\"\u003e\n\u003ch4\u003eIndications:\u003c\/h4\u003e\n\u003cdiv class=\"a-box a-spacing-small a-color-alternate-background apm-listbox\"\u003e\n\u003cdiv class=\"a-box-inner\"\u003e\n\u003cul class=\"a-unordered-list a-vertical\"\u003e\n\u003cli\u003e\u003cspan class=\"a-list-item\"\u003e\u003cspan class=\"a-size-base\"\u003eArthritis Pain\u003c\/span\u003e\u003c\/span\u003e\u003c\/li\u003e\n\u003cli\u003e\u003cspan class=\"a-list-item\"\u003e\u003cspan class=\"a-size-base\"\u003eMeniscal cartilage derangement\u003c\/span\u003e\u003c\/span\u003e\u003c\/li\u003e\n\u003cli\u003e\u003cspan class=\"a-list-item\"\u003e\u003cspan class=\"a-size-base\"\u003eMild to severe unicompartmental osteoarthritis\u003c\/span\u003e\u003c\/span\u003e\u003c\/li\u003e\n\u003cli\u003e\u003cspan class=\"a-list-item\"\u003e\u003cspan class=\"a-size-base\"\u003eUnicompartmental knee conditions requiring load reduction, such as Articular Cartilage Defect Repair\u003c\/span\u003e\u003c\/span\u003e\u003c\/li\u003e\n\u003cli\u003e\u003cspan class=\"a-list-item\"\u003e\u003cspan class=\"a-size-base\"\u003eAll non-contact activities\u003c\/span\u003e\u003c\/span\u003e\u003c\/li\u003e\n\u003c\/ul\u003e\n\u003c\/div\u003e\n\u003c\/div\u003e\n\u003c\/div\u003e\n\u003c\/div\u003e\n\u003cp\u003e\u003cbr\u003e\u003c\/p\u003e\n\u003ch5\u003e\u003cspan\u003eReviews\u003c\/span\u003e\u003c\/h5\u003e\n[\/TABS]","published_at":"2020-10-25T14:14:50+08:00","created_at":"2020-10-25T14:15:00+08:00","vendor":"Orthomen","type":"Knee Brace","tags":[],"price":7979,"price_min":7979,"price_max":7979,"available":true,"price_varies":false,"compare_at_price":38400,"compare_at_price_min":38400,"compare_at_price_max":38400,"compare_at_price_varies":false,"variants":[{"id":37144771494068,"title":"Left (Lateral)","option1":"Left (Lateral)","option2":null,"option3":null,"sku":"B085XSDN3W","requires_shipping":true,"taxable":true,"featured_image":{"id":21562165887156,"product_id":5981896868020,"position":2,"created_at":"2020-10-25T14:15:00+08:00","updated_at":"2020-10-25T14:16:54+08:00","alt":"3","width":874,"height":1200,"src":"https:\/\/cdn.shopify.com\/s\/files\/1\/2463\/1595\/products\/618ZrQlrehL._AC_SL1200.jpg?v=1603606614","variant_ids":[37144771494068]},"available":true,"name":"Unloader Knee Brace for Osteoarthritis \u0026 Preventive Protection from Knee Joint Pain\/Degeneration - (Lateral\/Outside) - Left (Lateral)","public_title":"Left (Lateral)","options":["Left (Lateral)"],"price":7979,"weight":0,"compare_at_price":38400,"inventory_quantity":9968,"inventory_management":"shopify","inventory_policy":"deny","barcode":"682670851832","featured_media":{"alt":"3","id":13737522200756,"position":2,"preview_image":{"aspect_ratio":0.728,"height":1200,"width":874,"src":"https:\/\/cdn.shopify.com\/s\/files\/1\/2463\/1595\/products\/618ZrQlrehL._AC_SL1200.jpg?v=1603606614"}},"requires_selling_plan":false,"selling_plan_allocations":[]},{"id":37144771592372,"title":"Right(Lateral)","option1":"Right(Lateral)","option2":null,"option3":null,"sku":"B085XSDN3W","requires_shipping":true,"taxable":true,"featured_image":{"id":21562165788852,"product_id":5981896868020,"position":1,"created_at":"2020-10-25T14:15:00+08:00","updated_at":"2020-10-25T14:16:54+08:00","alt":"0","width":908,"height":1200,"src":"https:\/\/cdn.shopify.com\/s\/files\/1\/2463\/1595\/products\/61K83C5MNGL._AC_SL1200.jpg?v=1603606614","variant_ids":[37144771592372]},"available":true,"name":"Unloader Knee Brace for Osteoarthritis \u0026 Preventive Protection from Knee Joint Pain\/Degeneration - (Lateral\/Outside) - Right(Lateral)","public_title":"Right(Lateral)","options":["Right(Lateral)"],"price":7979,"weight":0,"compare_at_price":38400,"inventory_quantity":9966,"inventory_management":"shopify","inventory_policy":"deny","barcode":"682670851832","featured_media":{"alt":"0","id":13737522102452,"position":1,"preview_image":{"aspect_ratio":0.757,"height":1200,"width":908,"src":"https:\/\/cdn.shopify.com\/s\/files\/1\/2463\/1595\/products\/61K83C5MNGL._AC_SL1200.jpg?v=1603606614"}},"requires_selling_plan":false,"selling_plan_allocations":[]}],"images":["\/\/cdn.shopify.com\/s\/files\/1\/2463\/1595\/products\/61K83C5MNGL._AC_SL1200.jpg?v=1603606614","\/\/cdn.shopify.com\/s\/files\/1\/2463\/1595\/products\/618ZrQlrehL._AC_SL1200.jpg?v=1603606614","\/\/cdn.shopify.com\/s\/files\/1\/2463\/1595\/products\/41BEUMTPyZL._UL1500.jpg?v=1603606614","\/\/cdn.shopify.com\/s\/files\/1\/2463\/1595\/products\/513xJr_2BXP2L._UL1500.jpg?v=1603606614","\/\/cdn.shopify.com\/s\/files\/1\/2463\/1595\/products\/51rJ_2B7hKMwL._UL1500.jpg?v=1603606614","\/\/cdn.shopify.com\/s\/files\/1\/2463\/1595\/products\/51cKTkjZbNL._UL1500.jpg?v=1603606614","\/\/cdn.shopify.com\/s\/files\/1\/2463\/1595\/products\/41kC7fwwE7L._UL1500.jpg?v=1603606614","\/\/cdn.shopify.com\/s\/files\/1\/2463\/1595\/products\/51VRF6P0lJL._UL1500.jpg?v=1603606614","\/\/cdn.shopify.com\/s\/files\/1\/2463\/1595\/products\/81ODbgiHTuL.SS40_BG85_85_85_BR-120_PKdp-play-icon-overlay__.jpg._UL1500.jpg?v=1603606614"],"featured_image":"\/\/cdn.shopify.com\/s\/files\/1\/2463\/1595\/products\/61K83C5MNGL._AC_SL1200.jpg?v=1603606614","options":["Style:"],"media":[{"alt":"0","id":13737522102452,"position":1,"preview_image":{"aspect_ratio":0.757,"height":1200,"width":908,"src":"https:\/\/cdn.shopify.com\/s\/files\/1\/2463\/1595\/products\/61K83C5MNGL._AC_SL1200.jpg?v=1603606614"},"aspect_ratio":0.757,"height":1200,"media_type":"image","src":"https:\/\/cdn.shopify.com\/s\/files\/1\/2463\/1595\/products\/61K83C5MNGL._AC_SL1200.jpg?v=1603606614","width":908},{"alt":"3","id":13737522200756,"position":2,"preview_image":{"aspect_ratio":0.728,"height":1200,"width":874,"src":"https:\/\/cdn.shopify.com\/s\/files\/1\/2463\/1595\/products\/618ZrQlrehL._AC_SL1200.jpg?v=1603606614"},"aspect_ratio":0.728,"height":1200,"media_type":"image","src":"https:\/\/cdn.shopify.com\/s\/files\/1\/2463\/1595\/products\/618ZrQlrehL._AC_SL1200.jpg?v=1603606614","width":874},{"alt":"4","id":13737522233524,"position":3,"preview_image":{"aspect_ratio":1.0,"height":1500,"width":1500,"src":"https:\/\/cdn.shopify.com\/s\/files\/1\/2463\/1595\/products\/41BEUMTPyZL._UL1500.jpg?v=1603606614"},"aspect_ratio":1.0,"height":1500,"media_type":"image","src":"https:\/\/cdn.shopify.com\/s\/files\/1\/2463\/1595\/products\/41BEUMTPyZL._UL1500.jpg?v=1603606614","width":1500},{"alt":"5","id":13737522266292,"position":4,"preview_image":{"aspect_ratio":1.0,"height":1500,"width":1500,"src":"https:\/\/cdn.shopify.com\/s\/files\/1\/2463\/1595\/products\/513xJr_2BXP2L._UL1500.jpg?v=1603606614"},"aspect_ratio":1.0,"height":1500,"media_type":"image","src":"https:\/\/cdn.shopify.com\/s\/files\/1\/2463\/1595\/products\/513xJr_2BXP2L._UL1500.jpg?v=1603606614","width":1500},{"alt":"6","id":13737522299060,"position":5,"preview_image":{"aspect_ratio":1.0,"height":1500,"width":1500,"src":"https:\/\/cdn.shopify.com\/s\/files\/1\/2463\/1595\/products\/51rJ_2B7hKMwL._UL1500.jpg?v=1603606614"},"aspect_ratio":1.0,"height":1500,"media_type":"image","src":"https:\/\/cdn.shopify.com\/s\/files\/1\/2463\/1595\/products\/51rJ_2B7hKMwL._UL1500.jpg?v=1603606614","width":1500},{"alt":"7","id":13737522331828,"position":6,"preview_image":{"aspect_ratio":1.0,"height":1500,"width":1500,"src":"https:\/\/cdn.shopify.com\/s\/files\/1\/2463\/1595\/products\/51cKTkjZbNL._UL1500.jpg?v=1603606614"},"aspect_ratio":1.0,"height":1500,"media_type":"image","src":"https:\/\/cdn.shopify.com\/s\/files\/1\/2463\/1595\/products\/51cKTkjZbNL._UL1500.jpg?v=1603606614","width":1500},{"alt":"8","id":13737522364596,"position":7,"preview_image":{"aspect_ratio":1.0,"height":1500,"width":1500,"src":"https:\/\/cdn.shopify.com\/s\/files\/1\/2463\/1595\/products\/41kC7fwwE7L._UL1500.jpg?v=1603606614"},"aspect_ratio":1.0,"height":1500,"media_type":"image","src":"https:\/\/cdn.shopify.com\/s\/files\/1\/2463\/1595\/products\/41kC7fwwE7L._UL1500.jpg?v=1603606614","width":1500},{"alt":"9","id":13737522397364,"position":8,"preview_image":{"aspect_ratio":1.0,"height":1500,"width":1500,"src":"https:\/\/cdn.shopify.com\/s\/files\/1\/2463\/1595\/products\/51VRF6P0lJL._UL1500.jpg?v=1603606614"},"aspect_ratio":1.0,"height":1500,"media_type":"image","src":"https:\/\/cdn.shopify.com\/s\/files\/1\/2463\/1595\/products\/51VRF6P0lJL._UL1500.jpg?v=1603606614","width":1500},{"alt":"10","id":13737522430132,"position":9,"preview_image":{"aspect_ratio":1.0,"height":1500,"width":1500,"src":"https:\/\/cdn.shopify.com\/s\/files\/1\/2463\/1595\/products\/81ODbgiHTuL.SS40_BG85_85_85_BR-120_PKdp-play-icon-overlay__.jpg._UL1500.jpg?v=1603606614"},"aspect_ratio":1.0,"height":1500,"media_type":"image","src":"https:\/\/cdn.shopify.com\/s\/files\/1\/2463\/1595\/products\/81ODbgiHTuL.SS40_BG85_85_85_BR-120_PKdp-play-icon-overlay__.jpg._UL1500.jpg?v=1603606614","width":1500}],"requires_selling_plan":false,"selling_plan_groups":[],"content":"\u003cli style=\"list-style: none;\" data-mce-style=\"list-style: none;\"\u003e*Exceptionally light weight, low profile, and easy to use design.\u003c\/li\u003e\n\u003cli style=\"list-style: none;\" data-mce-style=\"list-style: none;\"\u003e*Unique varus\/valgus angle adjustment to provide compartmental off-loading and optimize pain relief.\u003c\/li\u003e\n\u003cli style=\"list-style: none;\" data-mce-style=\"list-style: none;\"\u003e*3 points of leverage for reducing pressure outside the knee joint.\u003c\/li\u003e\n\u003cli style=\"list-style: none;\" data-mce-style=\"list-style: none;\"\u003e*Condyle pads for increased comfort, stability and pain control.\u003c\/li\u003e\n\u003cli style=\"list-style: none;\" data-mce-style=\"list-style: none;\"\u003e*Quick release buckles for easy donning and doffing.\u003c\/li\u003e\n[TABS]\n\u003ch5\u003e\u003cspan\u003eDescription\u003c\/span\u003e\u003c\/h5\u003e\n\u003cp\u003e\u003cimg src=\"https:\/\/cdn.shopifycdn.net\/s\/files\/1\/2463\/1595\/files\/11_6b98dd72-432b-4b91-955a-9542b2039a86_1024x1024.jpg?v=1603606717\" alt=\"\" data-mce-src=\"https:\/\/cdn.shopifycdn.net\/s\/files\/1\/2463\/1595\/files\/11_6b98dd72-432b-4b91-955a-9542b2039a86_1024x1024.jpg?v=1603606717\"\u003e\u003c\/p\u003e\n\u003cp\u003e\u003cimg src=\"https:\/\/cdn.shopifycdn.net\/s\/files\/1\/2463\/1595\/files\/12_e297da28-5853-4a1a-a7a3-5aba3b527c98_1024x1024.jpg?v=1603606738\" alt=\"\" data-mce-src=\"https:\/\/cdn.shopifycdn.net\/s\/files\/1\/2463\/1595\/files\/12_e297da28-5853-4a1a-a7a3-5aba3b527c98_1024x1024.jpg?v=1603606738\"\u003e\u003c\/p\u003e\n\u003ch3 class=\"a-spacing-mini\"\u003eFeatures:\u003c\/h3\u003e\n\u003cp class=\"a-spacing-base\"\u003e \u003c\/p\u003e\n\u003cul class=\"a-unordered-list a-vertical\"\u003e\n\u003cli\u003e\u003cspan class=\"a-list-item\"\u003eExceptionally light weight, low profile, and easy to use design.\u003c\/span\u003e\u003c\/li\u003e\n\u003cli\u003e\u003cspan class=\"a-list-item\"\u003eUnique varus\/valgus angle adjustment to provide compartmental off-loading and optimize pain relief.\u003c\/span\u003e\u003c\/li\u003e\n\u003cli\u003e\u003cspan class=\"a-list-item\"\u003e3 points of leverage for reducing pressure outside the knee joint.\u003c\/span\u003e\u003c\/li\u003e\n\u003cli\u003e\u003cspan class=\"a-list-item\"\u003eCondyle pads for increased comfort, stability and pain control.\u003c\/span\u003e\u003c\/li\u003e\n\u003cli\u003e\u003cspan class=\"a-list-item\"\u003eQuick release buckles for easy donning and doffing.\u003c\/span\u003e\u003c\/li\u003e\n\u003cli\u003e\u003cspan class=\"a-list-item\"\u003eSilicone gripped liners and strap pads to help prevent migration.\u003c\/span\u003e\u003c\/li\u003e\n\u003cli\u003e\u003cspan class=\"a-list-item\"\u003eOptional suspension wrap (included) for optimal fixation.\u003c\/span\u003e\u003c\/li\u003e\n\u003cli\u003e\u003cspan class=\"a-list-item\"\u003eOptional flexion\/extension stops for range of motion control.\u003c\/span\u003e\u003c\/li\u003e\n\u003c\/ul\u003e\n\u003cp\u003e\u003cspan class=\"a-list-item\"\u003e\u003cimg src=\"https:\/\/cdn.shopifycdn.net\/s\/files\/1\/2463\/1595\/files\/13_43bd90bb-73c6-4437-91b8-90aa470bd0bf_1024x1024.jpg?v=1603606765\" alt=\"\" data-mce-src=\"https:\/\/cdn.shopifycdn.net\/s\/files\/1\/2463\/1595\/files\/13_43bd90bb-73c6-4437-91b8-90aa470bd0bf_1024x1024.jpg?v=1603606765\"\u003e\u003c\/span\u003e\u003c\/p\u003e\n\u003cp\u003e\u003cspan class=\"a-list-item\"\u003e\u003cimg src=\"https:\/\/cdn.shopifycdn.net\/s\/files\/1\/2463\/1595\/files\/14_d18949d9-81eb-4f06-ad89-086d522bd2e8_1024x1024.jpg?v=1603606786\" alt=\"\" data-mce-src=\"https:\/\/cdn.shopifycdn.net\/s\/files\/1\/2463\/1595\/files\/14_d18949d9-81eb-4f06-ad89-086d522bd2e8_1024x1024.jpg?v=1603606786\"\u003e\u003c\/span\u003e\u003c\/p\u003e\n\u003cdiv class=\"apm-lefttwothirdswrap apm-floatleft\"\u003e\n\u003cdiv class=\"apm-centerthirdcol\"\u003e\n\u003ch3 class=\"a-spacing-mini\"\u003eProduct Description\u003c\/h3\u003e\n\u003cp class=\"a-spacing-base\"\u003eDesigned for reducing knee pain caused by unicompartmental osteoarthritis of the knee and often helps delay the need for surgery.\u003c\/p\u003e\n\u003cp class=\"a-spacing-base\"\u003eThe unloading \/ offloader one (OR036B) is a comfortable, lightweight, low-profile brace with 3 points of leverage for reducing pressure Outside\/Lateral the knee joint.\u003c\/p\u003e\n\u003cp class=\"a-spacing-base\"\u003eIt's universal; fitting a wide variety of patients easily. The strapping system allows for full adjustment, but also features quick snaps for quick and easy application.\u003c\/p\u003e\n\u003c\/div\u003e\n\u003c\/div\u003e\n\u003cdiv class=\"apm-rightthirdcol\"\u003e\n\u003cdiv class=\"apm-rightthirdcol-inner\"\u003e\n\u003ch4\u003eIndications:\u003c\/h4\u003e\n\u003cdiv class=\"a-box a-spacing-small a-color-alternate-background apm-listbox\"\u003e\n\u003cdiv class=\"a-box-inner\"\u003e\n\u003cul class=\"a-unordered-list a-vertical\"\u003e\n\u003cli\u003e\u003cspan class=\"a-list-item\"\u003e\u003cspan class=\"a-size-base\"\u003eArthritis Pain\u003c\/span\u003e\u003c\/span\u003e\u003c\/li\u003e\n\u003cli\u003e\u003cspan class=\"a-list-item\"\u003e\u003cspan class=\"a-size-base\"\u003eMeniscal cartilage derangement\u003c\/span\u003e\u003c\/span\u003e\u003c\/li\u003e\n\u003cli\u003e\u003cspan class=\"a-list-item\"\u003e\u003cspan class=\"a-size-base\"\u003eMild to severe unicompartmental osteoarthritis\u003c\/span\u003e\u003c\/span\u003e\u003c\/li\u003e\n\u003cli\u003e\u003cspan class=\"a-list-item\"\u003e\u003cspan class=\"a-size-base\"\u003eUnicompartmental knee conditions requiring load reduction, such as Articular Cartilage Defect Repair\u003c\/span\u003e\u003c\/span\u003e\u003c\/li\u003e\n\u003cli\u003e\u003cspan class=\"a-list-item\"\u003e\u003cspan class=\"a-size-base\"\u003eAll non-contact activities\u003c\/span\u003e\u003c\/span\u003e\u003c\/li\u003e\n\u003c\/ul\u003e\n\u003c\/div\u003e\n\u003c\/div\u003e\n\u003c\/div\u003e\n\u003c\/div\u003e\n\u003cp\u003e\u003cbr\u003e\u003c\/p\u003e\n\u003ch5\u003e\u003cspan\u003eReviews\u003c\/span\u003e\u003c\/h5\u003e\n[\/TABS]"}
Unloader Knee Brace for Osteoarthritis & Preventive Protection from Knee Joint Pain/Degeneration - (Lateral/Outside)
Unloader Knee Brace for Osteoarthritis & Preventive Protection from Knee Joint Pain/Degeneration - (Lateral/Outside)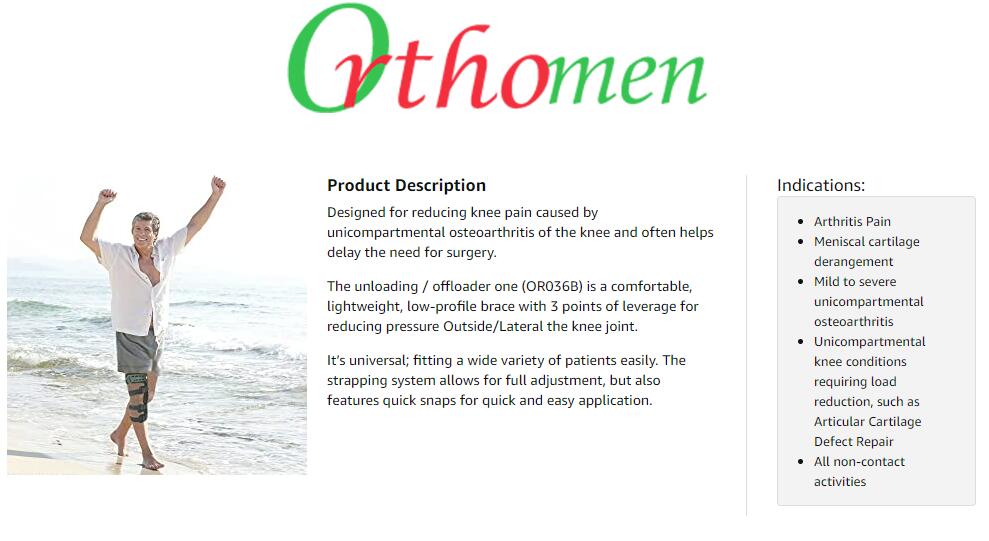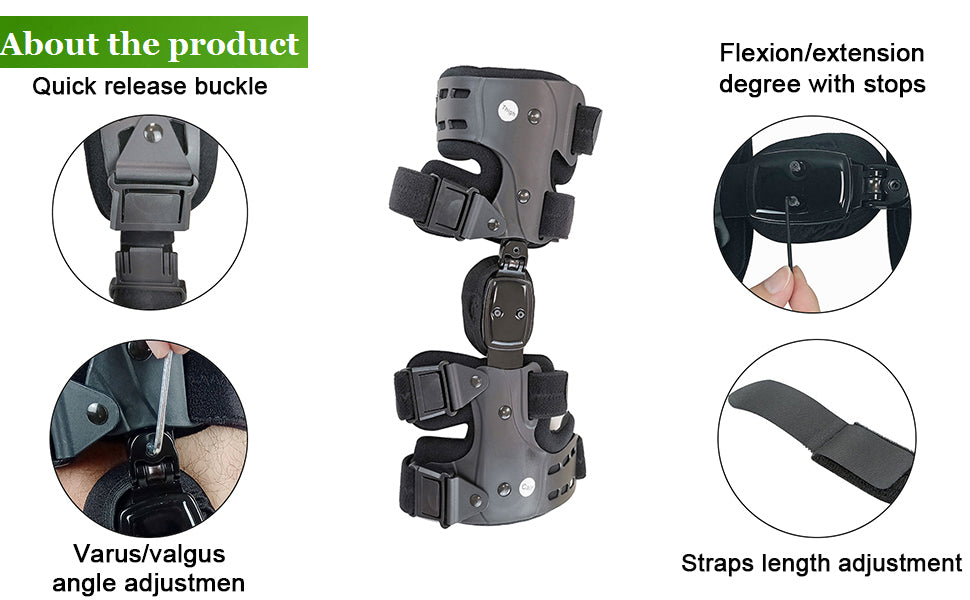 Features:
Exceptionally light weight, low profile, and easy to use design.

Unique varus/valgus angle adjustment to provide compartmental off-loading and optimize pain relief.

3 points of leverage for reducing pressure outside the knee joint.

Condyle pads for increased comfort, stability and pain control.

Quick release buckles for easy donning and doffing.

Silicone gripped liners and strap pads to help prevent migration.

Optional suspension wrap (included) for optimal fixation.

Optional flexion/extension stops for range of motion control.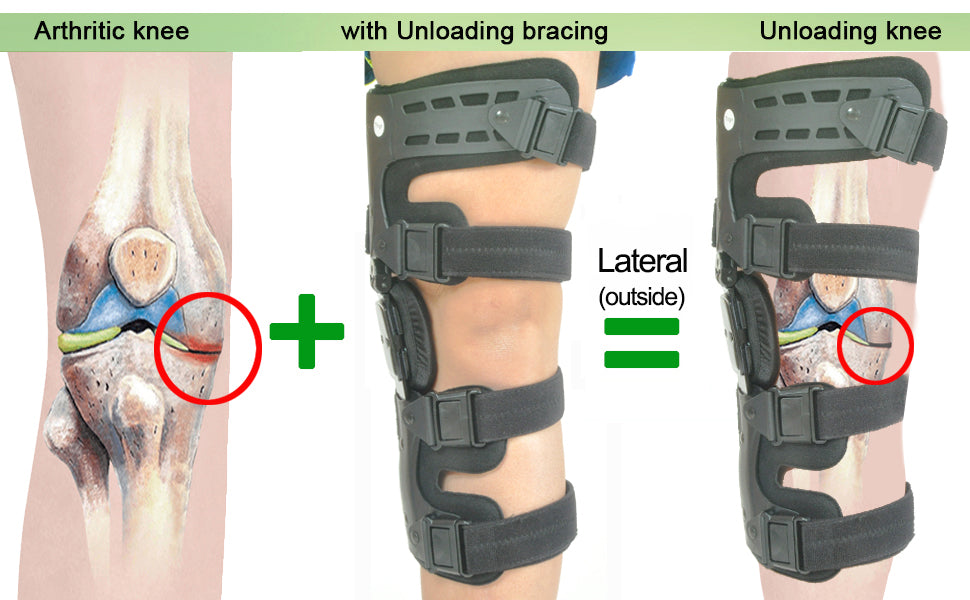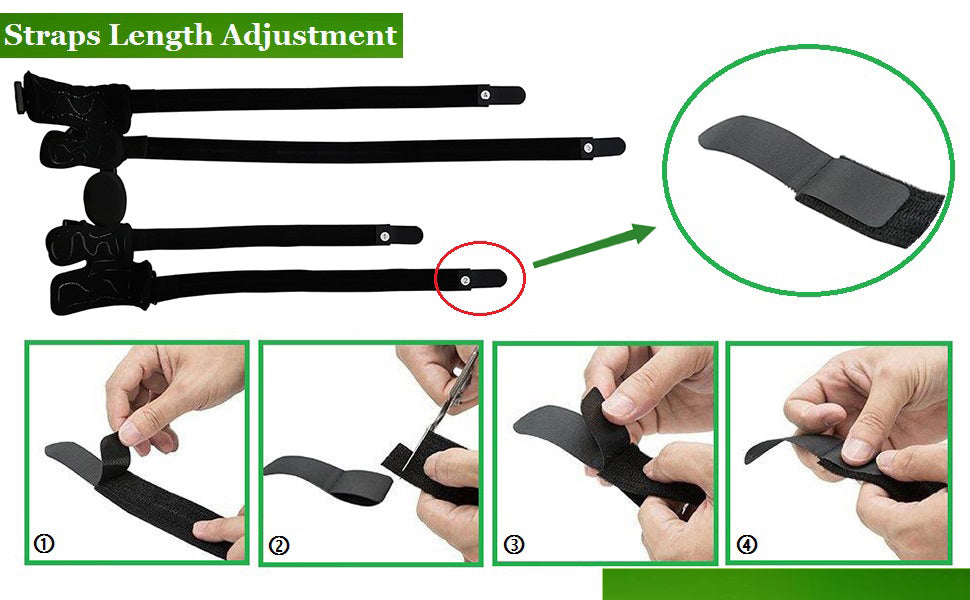 Product Description
Designed for reducing knee pain caused by unicompartmental osteoarthritis of the knee and often helps delay the need for surgery.
The unloading / offloader one (OR036B) is a comfortable, lightweight, low-profile brace with 3 points of leverage for reducing pressure Outside/Lateral the knee joint.
It's universal; fitting a wide variety of patients easily. The strapping system allows for full adjustment, but also features quick snaps for quick and easy application.
Indications:
Arthritis Pain

Meniscal cartilage derangement

Mild to severe unicompartmental osteoarthritis

Unicompartmental knee conditions requiring load reduction, such as Articular Cartilage Defect Repair

All non-contact activities