{"id":5981898408116,"title":"KneeRover Economy Knee Scooter Steerable Knee Walker Crutch Alternative with Dual Braking System in Matte Black","handle":"kneerover-economy-knee-scooter-steerable-knee-walker-crutch-alternative-with-dual-braking-system-in-matte-black","description":"\u003cli style=\"list-style: none;\"\u003e\n\u003cb\u003eAFFORDABLE MOBILITY SOLUTION\u003c\/b\u003e: KneeRover Economy Knee Scooter delivers one of the best knee walker values in the industry and is ideal for individuals recovering from a broken foot, broken ankle, broken leg, foot surgery, ankle surgery, leg amputation, other lower leg injuries or medical conditions.\u003c\/li\u003e\n\u003cli style=\"list-style: none;\"\u003e\n\u003cb\u003eEXCELLENT CRUTCH ALTERNATIVE\u003c\/b\u003e: More comfortable and stable than crutches, this affordable knee walker is made for both indoor and outdoor use, with four wheels for easy steering and balance..\u003c\/li\u003e\n\u003cli style=\"list-style: none;\"\u003e\n\u003cb\u003eSTABILITY AND CONTROL\u003c\/b\u003e: These easy to maneuver steerable knee scooter walkers feature four 7.5\" rubber wheels, Dual adjustable locking handbrakes and dual rear on-wheel brakes.\u003c\/li\u003e\n\u003cli style=\"list-style: none;\"\u003e\n\u003cb\u003eFULLY ADJUSTABLE AND COMPACT\u003c\/b\u003e: The Economy Steerable Knee Scooter also features handlebars with a quick release folding mechanism for easy transport and storage. Kneewalker has handlebars and padded knee platform that easily adjust for a comfortable fit.\u003c\/li\u003e\n\u003cli style=\"list-style: none;\"\u003e\n\u003cb\u003eLIGHTWEIGHT AND DURABLE\u003c\/b\u003e: This steerable kneewalker weighs only 21 pounds and offers a robust 300 lb weight capacity, making it easier for patient use. The Economy knee scooter is recommended for individuals with heights 4' 6\" to 6' 6\". Perfect for kids and adults.\u003c\/li\u003e\n[TABS]\n\u003ch5\u003e\u003cspan\u003eDescription\u003c\/span\u003e\u003c\/h5\u003e\n\u003cp\u003e\u003cimg alt=\"\" src=\"https:\/\/cdn.shopifycdn.net\/s\/files\/1\/2463\/1595\/files\/14_f4eee8e7-7285-46e1-b409-4e9968e0812d_1024x1024.jpg?v=1603608754\"\u003e\u003c\/p\u003e\n\u003cp\u003e\u003cimg alt=\"\" src=\"https:\/\/cdn.shopifycdn.net\/s\/files\/1\/2463\/1595\/files\/15_ca4b1f49-6d69-4837-8400-d7268a1d62df_1024x1024.jpg?v=1603608783\"\u003e\u003c\/p\u003e\n\u003cp\u003e\u003cimg alt=\"\" src=\"https:\/\/cdn.shopifycdn.net\/s\/files\/1\/2463\/1595\/files\/16_e9c9dbf4-e25c-4672-8ba3-8960ef701102_1024x1024.jpg?v=1603608799\"\u003e\u003c\/p\u003e\n\u003cp\u003e\u003cb\u003eALL NEW ECONOMY KNEE SCOOTER WALKER BY KNEEROVER\u003c\/b\u003e\u003cbr\u003e\u003cbr\u003e\u003cspan\u003eThe Economy Knee Scooter Walker provides a more reliable and comfortable alternative to crutches for patients needing an effective mobility solution at an affordable price.\u003c\/span\u003e\u003cbr\u003e\u003cbr\u003e\u003cspan\u003eThe steerable economy knee walker delivers one of the best kneewalker values in the industry and is ideal for for individuals recovering from a broken foot, broken ankle, broken leg, foot surgery, ankle surgery, leg amputation, other lower leg injuries or medical conditions like ulcers.\u003c\/span\u003e\u003cbr\u003e\u003cbr\u003e\u003cspan\u003eSturdy dual bar frame, DUAL adjustable locking handbrakes and rear on-wheel brakes deliver excellent stability and control.\u003c\/span\u003e\u003cbr\u003e\u003cbr\u003e\u003cspan\u003eIdeal for indoor and outdoor use, the steerable knee scooter walker features four smooth 7.5\" diameter rubber wheels.\u003c\/span\u003e\u003cbr\u003e\u003cbr\u003e\u003cspan\u003eCompatible with both the right and left legs, the KneeRover Economy Knee Scooter kneeling walker is lightweight and portable thanks to its simple folding mechanism that utilizes an easy to use thumb-release lever. Additionally, these knee walkers feature tool-free assembly and setup.\u003c\/span\u003e\u003cbr\u003e\u003cbr\u003e\u003cb\u003eSpecifications:\u003c\/b\u003e\u003cbr\u003e\u003cspan\u003eColor:Matte Black\u003c\/span\u003e\u003cbr\u003e\u003cspan\u003eProduct Weight: 21 lbs\u003c\/span\u003e\u003cbr\u003e\u003cspan\u003eWeight Capacity: 300 lbs\u003c\/span\u003e\u003cbr\u003e\u003cspan\u003eOverall Length: 31\"\u003c\/span\u003e\u003cbr\u003e\u003cspan\u003eHandlebar Height Range: 29\" to 37\"\u003c\/span\u003e\u003cbr\u003e\u003cspan\u003eOverall Height w\/ handlebar folded and seat removed: 16.5 inches\u003c\/span\u003e\u003cbr\u003e\u003cspan\u003eKnee Support Height Range is 16- 22 inches\u003c\/span\u003e\u003cbr\u003e\u003cspan\u003eKnee pad: 7\" width x 12.75\" length\u003c\/span\u003e\u003cbr\u003e\u003cspan\u003eFront Axle Width: 16\"\u003c\/span\u003e\u003cbr\u003e\u003cspan\u003eDUAL Rear on-Wheel Brakes\u003c\/span\u003e\u003cbr\u003e\u003cbr\u003e\u003cbr\u003e\u003cb\u003eNEED MORE ACCESSORIES OR PARTS FOR YOUR KNEE WALKER?\u003c\/b\u003e\u003cspan\u003e When considering an accessory or part for your kneewalker scooter, we recommend the full line of KneeRover accessories available on Amazon - including Knee Walker Backpacks, Sheepette and Memory Foam knee pad covers, cup holder, LED head light, baskets.\u003c\/span\u003e\u003c\/p\u003e\n\u003ch5\u003e\u003cspan\u003eReviews\u003c\/span\u003e\u003c\/h5\u003e\n[\/TABS]","published_at":"2020-10-25T14:34:10+08:00","created_at":"2020-10-25T14:34:17+08:00","vendor":"KneeRover","type":"Rollators \u0026 Walkers","tags":[],"price":17900,"price_min":17900,"price_max":17900,"available":true,"price_varies":false,"compare_at_price":29900,"compare_at_price_min":29900,"compare_at_price_max":29900,"compare_at_price_varies":false,"variants":[{"id":37144785911988,"title":"Default Title","option1":"Default Title","option2":null,"option3":null,"sku":"B01H0S9AXM","requires_shipping":true,"taxable":true,"featured_image":null,"available":true,"name":"KneeRover Economy Knee Scooter Steerable Knee Walker Crutch Alternative with Dual Braking System in Matte Black","public_title":null,"options":["Default Title"],"price":17900,"weight":0,"compare_at_price":29900,"inventory_quantity":9999,"inventory_management":"shopify","inventory_policy":"deny","barcode":"042822172138","requires_selling_plan":false,"selling_plan_allocations":[]}],"images":["\/\/cdn.shopify.com\/s\/files\/1\/2463\/1595\/products\/411_2Bh_2Bfde8L._UL1500.jpg?v=1603607657","\/\/cdn.shopify.com\/s\/files\/1\/2463\/1595\/products\/61CDoC0fNvL._UL1500.jpg?v=1603607657","\/\/cdn.shopify.com\/s\/files\/1\/2463\/1595\/products\/41XOThsY83L._UL1500.jpg?v=1603607657","\/\/cdn.shopify.com\/s\/files\/1\/2463\/1595\/products\/51kQCaX2pRL._UL1500.jpg?v=1603607657","\/\/cdn.shopify.com\/s\/files\/1\/2463\/1595\/products\/41WlsC3mb_2BL._UL1500.jpg?v=1603607657","\/\/cdn.shopify.com\/s\/files\/1\/2463\/1595\/products\/512zTxWH4dL._UL1500.jpg?v=1603607657","\/\/cdn.shopify.com\/s\/files\/1\/2463\/1595\/products\/61QKW8q2IXL.SS40_BG85_85_85_BR-120_PKdp-play-icon-overlay__.jpg._UL1500.jpg?v=1603607657"],"featured_image":"\/\/cdn.shopify.com\/s\/files\/1\/2463\/1595\/products\/411_2Bh_2Bfde8L._UL1500.jpg?v=1603607657","options":["Title"],"media":[{"alt":"0","id":13737530097844,"position":1,"preview_image":{"aspect_ratio":0.936,"height":1500,"width":1404,"src":"https:\/\/cdn.shopify.com\/s\/files\/1\/2463\/1595\/products\/411_2Bh_2Bfde8L._UL1500.jpg?v=1603607657"},"aspect_ratio":0.936,"height":1500,"media_type":"image","src":"https:\/\/cdn.shopify.com\/s\/files\/1\/2463\/1595\/products\/411_2Bh_2Bfde8L._UL1500.jpg?v=1603607657","width":1404},{"alt":"1","id":13737530130612,"position":2,"preview_image":{"aspect_ratio":1.025,"height":1464,"width":1500,"src":"https:\/\/cdn.shopify.com\/s\/files\/1\/2463\/1595\/products\/61CDoC0fNvL._UL1500.jpg?v=1603607657"},"aspect_ratio":1.025,"height":1464,"media_type":"image","src":"https:\/\/cdn.shopify.com\/s\/files\/1\/2463\/1595\/products\/61CDoC0fNvL._UL1500.jpg?v=1603607657","width":1500},{"alt":"2","id":13737530163380,"position":3,"preview_image":{"aspect_ratio":0.948,"height":1500,"width":1422,"src":"https:\/\/cdn.shopify.com\/s\/files\/1\/2463\/1595\/products\/41XOThsY83L._UL1500.jpg?v=1603607657"},"aspect_ratio":0.948,"height":1500,"media_type":"image","src":"https:\/\/cdn.shopify.com\/s\/files\/1\/2463\/1595\/products\/41XOThsY83L._UL1500.jpg?v=1603607657","width":1422},{"alt":"3","id":13737530196148,"position":4,"preview_image":{"aspect_ratio":1.035,"height":1449,"width":1500,"src":"https:\/\/cdn.shopify.com\/s\/files\/1\/2463\/1595\/products\/51kQCaX2pRL._UL1500.jpg?v=1603607657"},"aspect_ratio":1.035,"height":1449,"media_type":"image","src":"https:\/\/cdn.shopify.com\/s\/files\/1\/2463\/1595\/products\/51kQCaX2pRL._UL1500.jpg?v=1603607657","width":1500},{"alt":"4","id":13737530228916,"position":5,"preview_image":{"aspect_ratio":0.898,"height":1500,"width":1347,"src":"https:\/\/cdn.shopify.com\/s\/files\/1\/2463\/1595\/products\/41WlsC3mb_2BL._UL1500.jpg?v=1603607657"},"aspect_ratio":0.898,"height":1500,"media_type":"image","src":"https:\/\/cdn.shopify.com\/s\/files\/1\/2463\/1595\/products\/41WlsC3mb_2BL._UL1500.jpg?v=1603607657","width":1347},{"alt":"5","id":13737530261684,"position":6,"preview_image":{"aspect_ratio":1.362,"height":1101,"width":1500,"src":"https:\/\/cdn.shopify.com\/s\/files\/1\/2463\/1595\/products\/512zTxWH4dL._UL1500.jpg?v=1603607657"},"aspect_ratio":1.362,"height":1101,"media_type":"image","src":"https:\/\/cdn.shopify.com\/s\/files\/1\/2463\/1595\/products\/512zTxWH4dL._UL1500.jpg?v=1603607657","width":1500},{"alt":"6","id":13737530294452,"position":7,"preview_image":{"aspect_ratio":1.0,"height":1500,"width":1500,"src":"https:\/\/cdn.shopify.com\/s\/files\/1\/2463\/1595\/products\/61QKW8q2IXL.SS40_BG85_85_85_BR-120_PKdp-play-icon-overlay__.jpg._UL1500.jpg?v=1603607657"},"aspect_ratio":1.0,"height":1500,"media_type":"image","src":"https:\/\/cdn.shopify.com\/s\/files\/1\/2463\/1595\/products\/61QKW8q2IXL.SS40_BG85_85_85_BR-120_PKdp-play-icon-overlay__.jpg._UL1500.jpg?v=1603607657","width":1500}],"requires_selling_plan":false,"selling_plan_groups":[],"content":"\u003cli style=\"list-style: none;\"\u003e\n\u003cb\u003eAFFORDABLE MOBILITY SOLUTION\u003c\/b\u003e: KneeRover Economy Knee Scooter delivers one of the best knee walker values in the industry and is ideal for individuals recovering from a broken foot, broken ankle, broken leg, foot surgery, ankle surgery, leg amputation, other lower leg injuries or medical conditions.\u003c\/li\u003e\n\u003cli style=\"list-style: none;\"\u003e\n\u003cb\u003eEXCELLENT CRUTCH ALTERNATIVE\u003c\/b\u003e: More comfortable and stable than crutches, this affordable knee walker is made for both indoor and outdoor use, with four wheels for easy steering and balance..\u003c\/li\u003e\n\u003cli style=\"list-style: none;\"\u003e\n\u003cb\u003eSTABILITY AND CONTROL\u003c\/b\u003e: These easy to maneuver steerable knee scooter walkers feature four 7.5\" rubber wheels, Dual adjustable locking handbrakes and dual rear on-wheel brakes.\u003c\/li\u003e\n\u003cli style=\"list-style: none;\"\u003e\n\u003cb\u003eFULLY ADJUSTABLE AND COMPACT\u003c\/b\u003e: The Economy Steerable Knee Scooter also features handlebars with a quick release folding mechanism for easy transport and storage. Kneewalker has handlebars and padded knee platform that easily adjust for a comfortable fit.\u003c\/li\u003e\n\u003cli style=\"list-style: none;\"\u003e\n\u003cb\u003eLIGHTWEIGHT AND DURABLE\u003c\/b\u003e: This steerable kneewalker weighs only 21 pounds and offers a robust 300 lb weight capacity, making it easier for patient use. The Economy knee scooter is recommended for individuals with heights 4' 6\" to 6' 6\". Perfect for kids and adults.\u003c\/li\u003e\n[TABS]\n\u003ch5\u003e\u003cspan\u003eDescription\u003c\/span\u003e\u003c\/h5\u003e\n\u003cp\u003e\u003cimg alt=\"\" src=\"https:\/\/cdn.shopifycdn.net\/s\/files\/1\/2463\/1595\/files\/14_f4eee8e7-7285-46e1-b409-4e9968e0812d_1024x1024.jpg?v=1603608754\"\u003e\u003c\/p\u003e\n\u003cp\u003e\u003cimg alt=\"\" src=\"https:\/\/cdn.shopifycdn.net\/s\/files\/1\/2463\/1595\/files\/15_ca4b1f49-6d69-4837-8400-d7268a1d62df_1024x1024.jpg?v=1603608783\"\u003e\u003c\/p\u003e\n\u003cp\u003e\u003cimg alt=\"\" src=\"https:\/\/cdn.shopifycdn.net\/s\/files\/1\/2463\/1595\/files\/16_e9c9dbf4-e25c-4672-8ba3-8960ef701102_1024x1024.jpg?v=1603608799\"\u003e\u003c\/p\u003e\n\u003cp\u003e\u003cb\u003eALL NEW ECONOMY KNEE SCOOTER WALKER BY KNEEROVER\u003c\/b\u003e\u003cbr\u003e\u003cbr\u003e\u003cspan\u003eThe Economy Knee Scooter Walker provides a more reliable and comfortable alternative to crutches for patients needing an effective mobility solution at an affordable price.\u003c\/span\u003e\u003cbr\u003e\u003cbr\u003e\u003cspan\u003eThe steerable economy knee walker delivers one of the best kneewalker values in the industry and is ideal for for individuals recovering from a broken foot, broken ankle, broken leg, foot surgery, ankle surgery, leg amputation, other lower leg injuries or medical conditions like ulcers.\u003c\/span\u003e\u003cbr\u003e\u003cbr\u003e\u003cspan\u003eSturdy dual bar frame, DUAL adjustable locking handbrakes and rear on-wheel brakes deliver excellent stability and control.\u003c\/span\u003e\u003cbr\u003e\u003cbr\u003e\u003cspan\u003eIdeal for indoor and outdoor use, the steerable knee scooter walker features four smooth 7.5\" diameter rubber wheels.\u003c\/span\u003e\u003cbr\u003e\u003cbr\u003e\u003cspan\u003eCompatible with both the right and left legs, the KneeRover Economy Knee Scooter kneeling walker is lightweight and portable thanks to its simple folding mechanism that utilizes an easy to use thumb-release lever. Additionally, these knee walkers feature tool-free assembly and setup.\u003c\/span\u003e\u003cbr\u003e\u003cbr\u003e\u003cb\u003eSpecifications:\u003c\/b\u003e\u003cbr\u003e\u003cspan\u003eColor:Matte Black\u003c\/span\u003e\u003cbr\u003e\u003cspan\u003eProduct Weight: 21 lbs\u003c\/span\u003e\u003cbr\u003e\u003cspan\u003eWeight Capacity: 300 lbs\u003c\/span\u003e\u003cbr\u003e\u003cspan\u003eOverall Length: 31\"\u003c\/span\u003e\u003cbr\u003e\u003cspan\u003eHandlebar Height Range: 29\" to 37\"\u003c\/span\u003e\u003cbr\u003e\u003cspan\u003eOverall Height w\/ handlebar folded and seat removed: 16.5 inches\u003c\/span\u003e\u003cbr\u003e\u003cspan\u003eKnee Support Height Range is 16- 22 inches\u003c\/span\u003e\u003cbr\u003e\u003cspan\u003eKnee pad: 7\" width x 12.75\" length\u003c\/span\u003e\u003cbr\u003e\u003cspan\u003eFront Axle Width: 16\"\u003c\/span\u003e\u003cbr\u003e\u003cspan\u003eDUAL Rear on-Wheel Brakes\u003c\/span\u003e\u003cbr\u003e\u003cbr\u003e\u003cbr\u003e\u003cb\u003eNEED MORE ACCESSORIES OR PARTS FOR YOUR KNEE WALKER?\u003c\/b\u003e\u003cspan\u003e When considering an accessory or part for your kneewalker scooter, we recommend the full line of KneeRover accessories available on Amazon - including Knee Walker Backpacks, Sheepette and Memory Foam knee pad covers, cup holder, LED head light, baskets.\u003c\/span\u003e\u003c\/p\u003e\n\u003ch5\u003e\u003cspan\u003eReviews\u003c\/span\u003e\u003c\/h5\u003e\n[\/TABS]"}
KneeRover Economy Knee Scooter Steerable Knee Walker Crutch Alternative with Dual Braking System in Matte Black
KneeRover Economy Knee Scooter Steerable Knee Walker Crutch Alternative with Dual Braking System in Matte Black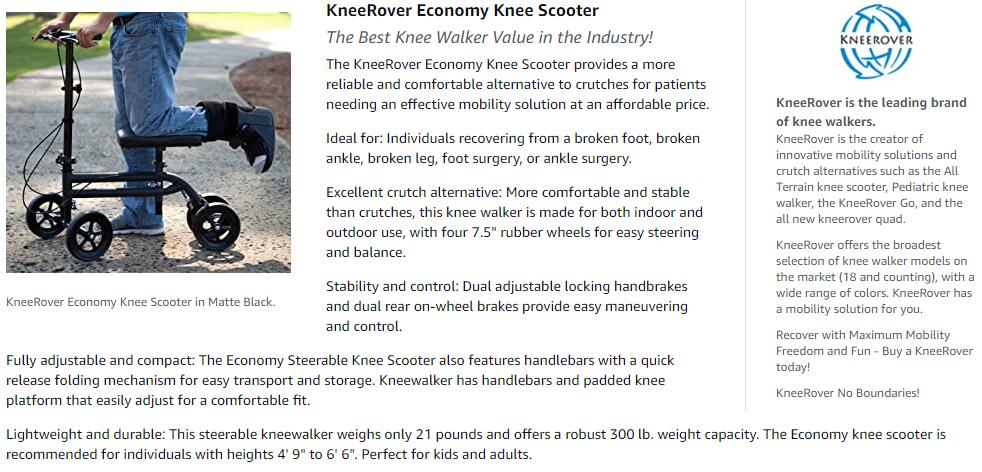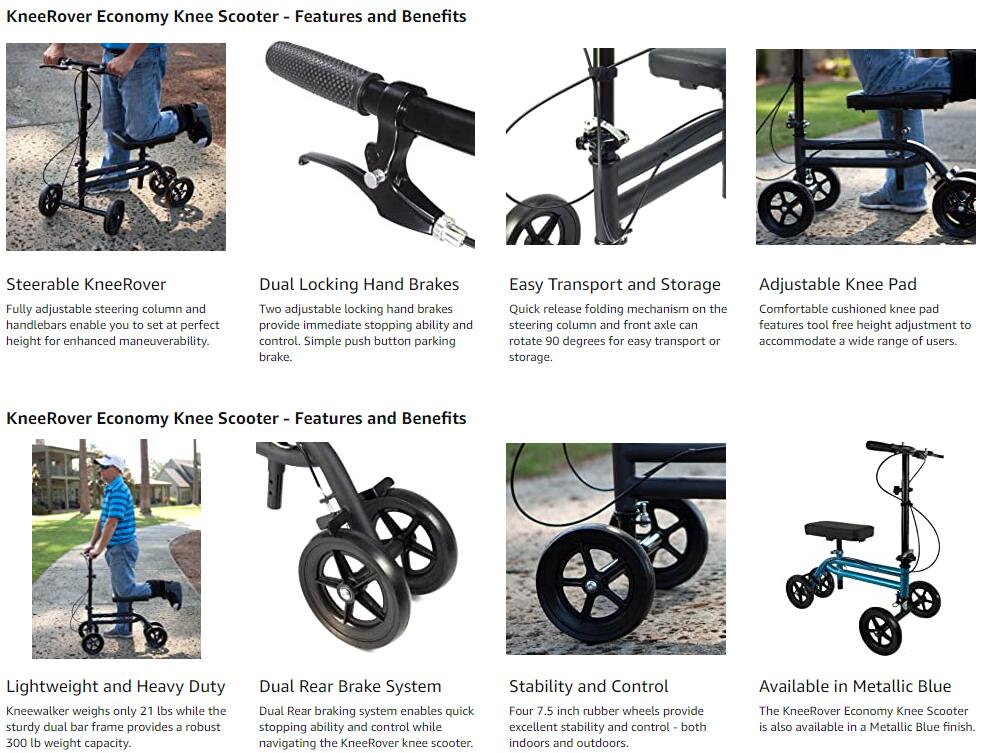 ALL NEW ECONOMY KNEE SCOOTER WALKER BY KNEEROVER

The Economy Knee Scooter Walker provides a more reliable and comfortable alternative to crutches for patients needing an effective mobility solution at an affordable price.

The steerable economy knee walker delivers one of the best kneewalker values in the industry and is ideal for for individuals recovering from a broken foot, broken ankle, broken leg, foot surgery, ankle surgery, leg amputation, other lower leg injuries or medical conditions like ulcers.

Sturdy dual bar frame, DUAL adjustable locking handbrakes and rear on-wheel brakes deliver excellent stability and control.

Ideal for indoor and outdoor use, the steerable knee scooter walker features four smooth 7.5" diameter rubber wheels.

Compatible with both the right and left legs, the KneeRover Economy Knee Scooter kneeling walker is lightweight and portable thanks to its simple folding mechanism that utilizes an easy to use thumb-release lever. Additionally, these knee walkers feature tool-free assembly and setup.

Specifications:
Color:Matte Black
Product Weight: 21 lbs
Weight Capacity: 300 lbs
Overall Length: 31"
Handlebar Height Range: 29" to 37"
Overall Height w/ handlebar folded and seat removed: 16.5 inches
Knee Support Height Range is 16- 22 inches
Knee pad: 7" width x 12.75" length
Front Axle Width: 16"
DUAL Rear on-Wheel Brakes


NEED MORE ACCESSORIES OR PARTS FOR YOUR KNEE WALKER? When considering an accessory or part for your kneewalker scooter, we recommend the full line of KneeRover accessories available on Amazon - including Knee Walker Backpacks, Sheepette and Memory Foam knee pad covers, cup holder, LED head light, baskets.