{"id":4513672593506,"title":"Hinged ROM Elbow Brace with Sling, Adjustable Post OP Elbow Brace Stabilizer Splint Arm Injury Recovery Support","handle":"hinged-rom-elbow-bracee-post-op-stabilizer-splint-arm-injury-recovery-support","description":"\u003cli style=\"list-style: none;\"\u003e*High strength aluminum bar with four padded Velcro straps, helps relieve pain from injured arm and provides stabilization and comfort.\u003c\/li\u003e\n\u003cli style=\"list-style: none;\"\u003e*Breathable and soft laminated foam material offers air permeability and moisture vapor transfer.\u003c\/li\u003e\n\u003cli style=\"list-style: none;\"\u003e*Rotate and press-lock setting to control range of motion. Flexion is limited to the range of 0°–120 °and 0°–60°of extension, adjustments in 15 degree increments.\u003c\/li\u003e\n\u003cli style=\"list-style: none;\"\u003e*Indicated for elbow injuries, elbow\/arm post-operative rehabilitation, dislocations, ligament injury, fractures, arthritis and more.\u003c\/li\u003e\n\u003cli style=\"list-style: none;\"\u003e\n\u003cb\u003e*Size\u003c\/b\u003e: Measure forearm circumference, size is up to 12.6".The length of the elbow brace is 13.5-17"(34-43 cm).\u003c\/li\u003e\n[TABS]\n\u003ch5\u003e\u003cspan\u003eDescription\u003c\/span\u003e\u003c\/h5\u003e\n\u003cp\u003e\u003cb\u003e\u003cspan\u003eUnavoidable Elbow injuries becomes the leading causes of chronic problem worldwide. Elbow braces prevent unnecessary movements from injuries and decrease the risk of tendonitis, especially some with interior pad to be ideal for managing debilitating health condition.\u003c\/span\u003e\u003c\/b\u003e\u003c\/p\u003e\n\u003cp\u003e\u003cb\u003e\u003cspan\u003e\u003cimg src=\"https:\/\/cdn.shopifycdn.net\/s\/files\/1\/2463\/1595\/files\/1_bf7a7a64-22c6-4a03-afae-228cbf481c89_1024x1024.jpg?v=1603461135\" alt=\"\"\u003e\u003c\/span\u003e\u003c\/b\u003e\u003c\/p\u003e\n\u003cp\u003e\u003cb\u003e\u003cspan\u003e\u003cimg src=\"https:\/\/cdn.shopifycdn.net\/s\/files\/1\/2463\/1595\/files\/2_f83d27c4-7e42-4076-82a7-4a3bc3cd75bd_1024x1024.jpg?v=1603461189\" alt=\"\"\u003e\u003c\/span\u003e\u003c\/b\u003e\u003c\/p\u003e\n\u003cp\u003e\u003cb\u003e\u003cspan\u003e\u003cimg src=\"https:\/\/cdn.shopifycdn.net\/s\/files\/1\/2463\/1595\/files\/3_e8656687-39fd-40f4-93cf-51af11934cdd_1024x1024.jpg?v=1603461208\" alt=\"\"\u003e\u003c\/span\u003e\u003c\/b\u003e\u003c\/p\u003e\n\u003cp\u003e\u003cb\u003eWeight:\u003c\/b\u003e\u003cspan\u003e \u003c\/span\u003e1.1 lbs\u003c\/p\u003e\n\u003cp\u003e- The design of the retractable bracket shows the versatility of the product and the ease of use.\u003c\/p\u003e\n\u003cp\u003e- Extra shoulder strap with pad releases the pressure around shoulder, provides stabilization of arm and comfort. You can take it off in the later stages of recovery.\u003c\/p\u003e\n\u003cp\u003e- Post-op elbow brace can be worn before and after surgery for maximum protection.\u003c\/p\u003e\n\u003cp\u003e- Can be used for conservative treatment of elbow dislocation or luxation; stable or internally fixed fractures of the distal humerus or proximal radius or ulna; external fixation with lateral instability of elbow joint and other symptoms of elbow joint.\u003c\/p\u003e\n\u003cp\u003e- Sticky buckle can be conglutinated willfully. If the straps are too long then can be cut by yourself.\u003c\/p\u003e\n\u003cp\u003e- The elbow brace flexion is limited to the range of 0 to 120 degrees. Ensure the flexibility in the early stage. Enhance elbow joint activity to speed up the recovery.\u003c\/p\u003e\n\u003cp\u003e- One Push Button can be release for length adjustment.\u003c\/p\u003e\n\u003cp\u003e-Simply press and rotate hinge with lock\u003c\/p\u003e\n\u003cp\u003eExtensionlimitation at: 0°, 15°, 30°, 45°, 60°\u003c\/p\u003e\n\u003cp\u003eFlexion limitation at: 0°, 15°, 30°, 45°,60°,75°,90°,105°,120°\u003c\/p\u003e\n\u003cp\u003eImmobilizationlimitation at: 0°, 15°, 30°, 45°, 60°\u003c\/p\u003e\n\u003cp\u003e\u003cbr\u003e\u003c\/p\u003e\n\u003ch5\u003e\u003cspan\u003eReviews\u003c\/span\u003e\u003c\/h5\u003e\n[\/TABS]","published_at":"2020-10-23T21:34:39+08:00","created_at":"2020-10-23T21:34:46+08:00","vendor":"Medibot","type":"Elbow Brace","tags":[],"price":4997,"price_min":4997,"price_max":4997,"available":true,"price_varies":false,"compare_at_price":8997,"compare_at_price_min":8997,"compare_at_price_max":8997,"compare_at_price_varies":false,"variants":[{"id":31999671763042,"title":"Left","option1":"Left","option2":null,"option3":null,"sku":"B081ZNKLW5","requires_shipping":true,"taxable":true,"featured_image":null,"available":true,"name":"Hinged ROM Elbow Brace with Sling, Adjustable Post OP Elbow Brace Stabilizer Splint Arm Injury Recovery Support - Left","public_title":"Left","options":["Left"],"price":4997,"weight":0,"compare_at_price":8997,"inventory_quantity":9998,"inventory_management":"shopify","inventory_policy":"deny","barcode":"741722309872","requires_selling_plan":false,"selling_plan_allocations":[]},{"id":31999671795810,"title":"Right","option1":"Right","option2":null,"option3":null,"sku":"B081ZNKLW6","requires_shipping":true,"taxable":true,"featured_image":null,"available":true,"name":"Hinged ROM Elbow Brace with Sling, Adjustable Post OP Elbow Brace Stabilizer Splint Arm Injury Recovery Support - Right","public_title":"Right","options":["Right"],"price":4997,"weight":0,"compare_at_price":8997,"inventory_quantity":9997,"inventory_management":"shopify","inventory_policy":"deny","barcode":"741722309872","requires_selling_plan":false,"selling_plan_allocations":[]}],"images":["\/\/cdn.shopify.com\/s\/files\/1\/2463\/1595\/products\/51CcYzPpYeL._UL1500.jpg?v=1603460086","\/\/cdn.shopify.com\/s\/files\/1\/2463\/1595\/products\/513JDJUzzdL._UL1500.jpg?v=1603460086","\/\/cdn.shopify.com\/s\/files\/1\/2463\/1595\/products\/5116NcyElcL._UL1500.jpg?v=1603460086","\/\/cdn.shopify.com\/s\/files\/1\/2463\/1595\/products\/51bq6uR3CwL._UL1500.jpg?v=1603460086","\/\/cdn.shopify.com\/s\/files\/1\/2463\/1595\/products\/51YFKyIfidL._UL1500.jpg?v=1603460086","\/\/cdn.shopify.com\/s\/files\/1\/2463\/1595\/products\/51rf9zrO12L._UL1500.jpg?v=1603460086","\/\/cdn.shopify.com\/s\/files\/1\/2463\/1595\/products\/51WQyZZtVFL._UL1500.jpg?v=1603460086"],"featured_image":"\/\/cdn.shopify.com\/s\/files\/1\/2463\/1595\/products\/51CcYzPpYeL._UL1500.jpg?v=1603460086","options":["Size"],"media":[{"alt":"0","id":6602004463714,"position":1,"preview_image":{"aspect_ratio":1.0,"height":1500,"width":1500,"src":"https:\/\/cdn.shopify.com\/s\/files\/1\/2463\/1595\/products\/51CcYzPpYeL._UL1500.jpg?v=1603460086"},"aspect_ratio":1.0,"height":1500,"media_type":"image","src":"https:\/\/cdn.shopify.com\/s\/files\/1\/2463\/1595\/products\/51CcYzPpYeL._UL1500.jpg?v=1603460086","width":1500},{"alt":"1","id":6602004496482,"position":2,"preview_image":{"aspect_ratio":1.0,"height":1500,"width":1500,"src":"https:\/\/cdn.shopify.com\/s\/files\/1\/2463\/1595\/products\/513JDJUzzdL._UL1500.jpg?v=1603460086"},"aspect_ratio":1.0,"height":1500,"media_type":"image","src":"https:\/\/cdn.shopify.com\/s\/files\/1\/2463\/1595\/products\/513JDJUzzdL._UL1500.jpg?v=1603460086","width":1500},{"alt":"2","id":6602004529250,"position":3,"preview_image":{"aspect_ratio":1.0,"height":1500,"width":1500,"src":"https:\/\/cdn.shopify.com\/s\/files\/1\/2463\/1595\/products\/5116NcyElcL._UL1500.jpg?v=1603460086"},"aspect_ratio":1.0,"height":1500,"media_type":"image","src":"https:\/\/cdn.shopify.com\/s\/files\/1\/2463\/1595\/products\/5116NcyElcL._UL1500.jpg?v=1603460086","width":1500},{"alt":"3","id":6602004562018,"position":4,"preview_image":{"aspect_ratio":1.0,"height":1500,"width":1500,"src":"https:\/\/cdn.shopify.com\/s\/files\/1\/2463\/1595\/products\/51bq6uR3CwL._UL1500.jpg?v=1603460086"},"aspect_ratio":1.0,"height":1500,"media_type":"image","src":"https:\/\/cdn.shopify.com\/s\/files\/1\/2463\/1595\/products\/51bq6uR3CwL._UL1500.jpg?v=1603460086","width":1500},{"alt":"4","id":6602004594786,"position":5,"preview_image":{"aspect_ratio":1.0,"height":1500,"width":1500,"src":"https:\/\/cdn.shopify.com\/s\/files\/1\/2463\/1595\/products\/51YFKyIfidL._UL1500.jpg?v=1603460086"},"aspect_ratio":1.0,"height":1500,"media_type":"image","src":"https:\/\/cdn.shopify.com\/s\/files\/1\/2463\/1595\/products\/51YFKyIfidL._UL1500.jpg?v=1603460086","width":1500},{"alt":"5","id":6602004627554,"position":6,"preview_image":{"aspect_ratio":1.0,"height":1500,"width":1500,"src":"https:\/\/cdn.shopify.com\/s\/files\/1\/2463\/1595\/products\/51rf9zrO12L._UL1500.jpg?v=1603460086"},"aspect_ratio":1.0,"height":1500,"media_type":"image","src":"https:\/\/cdn.shopify.com\/s\/files\/1\/2463\/1595\/products\/51rf9zrO12L._UL1500.jpg?v=1603460086","width":1500},{"alt":"6","id":6602004660322,"position":7,"preview_image":{"aspect_ratio":1.0,"height":1500,"width":1500,"src":"https:\/\/cdn.shopify.com\/s\/files\/1\/2463\/1595\/products\/51WQyZZtVFL._UL1500.jpg?v=1603460086"},"aspect_ratio":1.0,"height":1500,"media_type":"image","src":"https:\/\/cdn.shopify.com\/s\/files\/1\/2463\/1595\/products\/51WQyZZtVFL._UL1500.jpg?v=1603460086","width":1500}],"requires_selling_plan":false,"selling_plan_groups":[],"content":"\u003cli style=\"list-style: none;\"\u003e*High strength aluminum bar with four padded Velcro straps, helps relieve pain from injured arm and provides stabilization and comfort.\u003c\/li\u003e\n\u003cli style=\"list-style: none;\"\u003e*Breathable and soft laminated foam material offers air permeability and moisture vapor transfer.\u003c\/li\u003e\n\u003cli style=\"list-style: none;\"\u003e*Rotate and press-lock setting to control range of motion. Flexion is limited to the range of 0°–120 °and 0°–60°of extension, adjustments in 15 degree increments.\u003c\/li\u003e\n\u003cli style=\"list-style: none;\"\u003e*Indicated for elbow injuries, elbow\/arm post-operative rehabilitation, dislocations, ligament injury, fractures, arthritis and more.\u003c\/li\u003e\n\u003cli style=\"list-style: none;\"\u003e\n\u003cb\u003e*Size\u003c\/b\u003e: Measure forearm circumference, size is up to 12.6".The length of the elbow brace is 13.5-17"(34-43 cm).\u003c\/li\u003e\n[TABS]\n\u003ch5\u003e\u003cspan\u003eDescription\u003c\/span\u003e\u003c\/h5\u003e\n\u003cp\u003e\u003cb\u003e\u003cspan\u003eUnavoidable Elbow injuries becomes the leading causes of chronic problem worldwide. Elbow braces prevent unnecessary movements from injuries and decrease the risk of tendonitis, especially some with interior pad to be ideal for managing debilitating health condition.\u003c\/span\u003e\u003c\/b\u003e\u003c\/p\u003e\n\u003cp\u003e\u003cb\u003e\u003cspan\u003e\u003cimg src=\"https:\/\/cdn.shopifycdn.net\/s\/files\/1\/2463\/1595\/files\/1_bf7a7a64-22c6-4a03-afae-228cbf481c89_1024x1024.jpg?v=1603461135\" alt=\"\"\u003e\u003c\/span\u003e\u003c\/b\u003e\u003c\/p\u003e\n\u003cp\u003e\u003cb\u003e\u003cspan\u003e\u003cimg src=\"https:\/\/cdn.shopifycdn.net\/s\/files\/1\/2463\/1595\/files\/2_f83d27c4-7e42-4076-82a7-4a3bc3cd75bd_1024x1024.jpg?v=1603461189\" alt=\"\"\u003e\u003c\/span\u003e\u003c\/b\u003e\u003c\/p\u003e\n\u003cp\u003e\u003cb\u003e\u003cspan\u003e\u003cimg src=\"https:\/\/cdn.shopifycdn.net\/s\/files\/1\/2463\/1595\/files\/3_e8656687-39fd-40f4-93cf-51af11934cdd_1024x1024.jpg?v=1603461208\" alt=\"\"\u003e\u003c\/span\u003e\u003c\/b\u003e\u003c\/p\u003e\n\u003cp\u003e\u003cb\u003eWeight:\u003c\/b\u003e\u003cspan\u003e \u003c\/span\u003e1.1 lbs\u003c\/p\u003e\n\u003cp\u003e- The design of the retractable bracket shows the versatility of the product and the ease of use.\u003c\/p\u003e\n\u003cp\u003e- Extra shoulder strap with pad releases the pressure around shoulder, provides stabilization of arm and comfort. You can take it off in the later stages of recovery.\u003c\/p\u003e\n\u003cp\u003e- Post-op elbow brace can be worn before and after surgery for maximum protection.\u003c\/p\u003e\n\u003cp\u003e- Can be used for conservative treatment of elbow dislocation or luxation; stable or internally fixed fractures of the distal humerus or proximal radius or ulna; external fixation with lateral instability of elbow joint and other symptoms of elbow joint.\u003c\/p\u003e\n\u003cp\u003e- Sticky buckle can be conglutinated willfully. If the straps are too long then can be cut by yourself.\u003c\/p\u003e\n\u003cp\u003e- The elbow brace flexion is limited to the range of 0 to 120 degrees. Ensure the flexibility in the early stage. Enhance elbow joint activity to speed up the recovery.\u003c\/p\u003e\n\u003cp\u003e- One Push Button can be release for length adjustment.\u003c\/p\u003e\n\u003cp\u003e-Simply press and rotate hinge with lock\u003c\/p\u003e\n\u003cp\u003eExtensionlimitation at: 0°, 15°, 30°, 45°, 60°\u003c\/p\u003e\n\u003cp\u003eFlexion limitation at: 0°, 15°, 30°, 45°,60°,75°,90°,105°,120°\u003c\/p\u003e\n\u003cp\u003eImmobilizationlimitation at: 0°, 15°, 30°, 45°, 60°\u003c\/p\u003e\n\u003cp\u003e\u003cbr\u003e\u003c\/p\u003e\n\u003ch5\u003e\u003cspan\u003eReviews\u003c\/span\u003e\u003c\/h5\u003e\n[\/TABS]"}
Hinged ROM Elbow Brace with Sling, Adjustable Post OP Elbow Brace Stabilizer Splint Arm Injury Recovery Support
Hinged ROM Elbow Brace with Sling, Adjustable Post OP Elbow Brace Stabilizer Splint Arm Injury Recovery Support
Unavoidable Elbow injuries becomes the leading causes of chronic problem worldwide. Elbow braces prevent unnecessary movements from injuries and decrease the risk of tendonitis, especially some with interior pad to be ideal for managing debilitating health condition.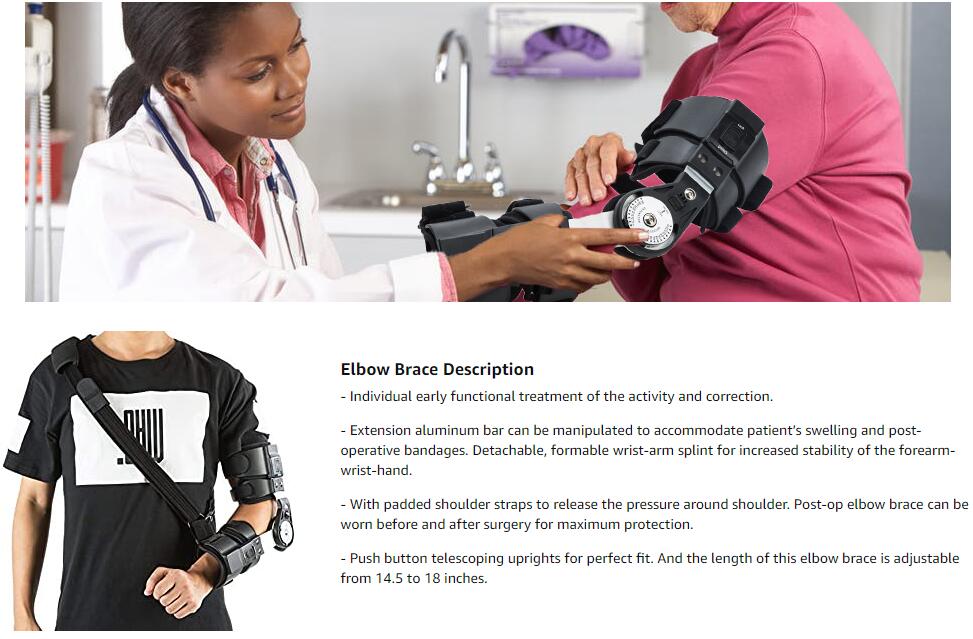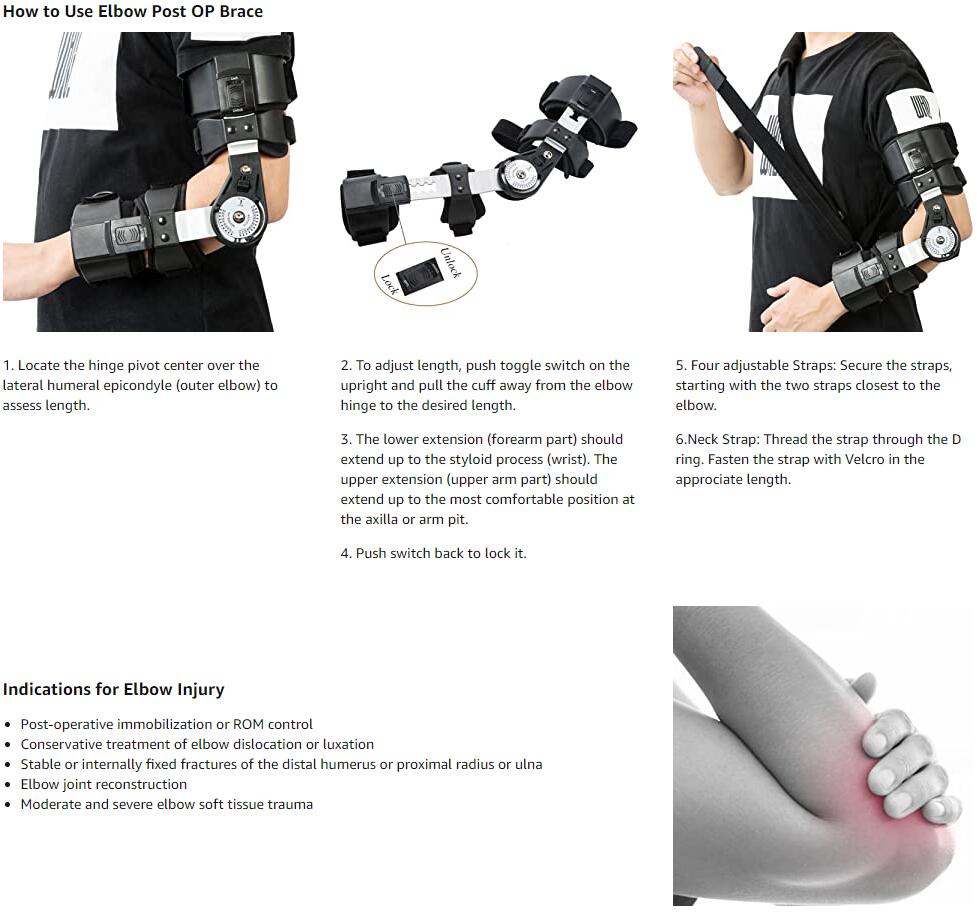 Weight: 1.1 lbs
- The design of the retractable bracket shows the versatility of the product and the ease of use.
- Extra shoulder strap with pad releases the pressure around shoulder, provides stabilization of arm and comfort. You can take it off in the later stages of recovery.
- Post-op elbow brace can be worn before and after surgery for maximum protection.
- Can be used for conservative treatment of elbow dislocation or luxation; stable or internally fixed fractures of the distal humerus or proximal radius or ulna; external fixation with lateral instability of elbow joint and other symptoms of elbow joint.
- Sticky buckle can be conglutinated willfully. If the straps are too long then can be cut by yourself.
- The elbow brace flexion is limited to the range of 0 to 120 degrees. Ensure the flexibility in the early stage. Enhance elbow joint activity to speed up the recovery.
- One Push Button can be release for length adjustment.
-Simply press and rotate hinge with lock
Extensionlimitation at: 0°, 15°, 30°, 45°, 60°
Flexion limitation at: 0°, 15°, 30°, 45°,60°,75°,90°,105°,120°
Immobilizationlimitation at: 0°, 15°, 30°, 45°, 60°