{"id":5981909549236,"title":"GreaterGoods Bluetooth Full Set Blood Pressure Monitor Cuff and Kit, Carrying Case, Batteries, Plug, Cuff, Monitor, Free iPhone Android","handle":"greatergoods-bluetooth-full-set-blood-pressure-monitor-cuff-and-kit-carrying-case-batteries-plug-cuff-monitor-free-iphone-android-app-included-full-kit-fba","description":"\u003cli style=\"list-style: none;\"\u003e\n\u003cb\u003eTHE RIGHT CHOICE\u003c\/b\u003e: Trends matter. Track them at home with a high-accuracy, Bluetooth-enabled monitor.\u003c\/li\u003e\n\u003cli style=\"list-style: none;\"\u003e\n\u003cb\u003eTHE FEATURES YOU NEED\u003c\/b\u003e: Connectivity, 2 power sources, premium cuff, \u0026amp; more. See Product Description.\u003c\/li\u003e\n\u003cli style=\"list-style: none;\"\u003e\n\u003cb\u003eBACKED BY REAL SUPPORT\u003c\/b\u003e: The friendly team at our St. Louis headquarters is here for whatever you need.\u003c\/li\u003e\n\u003cli style=\"list-style: none;\"\u003e\n\u003cb\u003eMADE THE RIGHT WAY\u003c\/b\u003e: Your purchase should have a positive impact on all the people involved.\u003c\/li\u003e\n\u003cli style=\"list-style: none;\"\u003e\n\u003cb\u003ePAY IT FORWARD\u003c\/b\u003e: A piece of your purchase helps Love146 fight trafficking \u0026amp; care for survivors.\u003c\/li\u003e\n[TABS]\n\u003ch5\u003e\u003cspan\u003eDescription\u003c\/span\u003e\u003c\/h5\u003e\n\u003cp\u003e\u003cimg alt=\"\" src=\"https:\/\/cdn.shopifycdn.net\/s\/files\/1\/2463\/1595\/files\/30_1024x1024.jpg?v=1603612532\"\u003e\u003c\/p\u003e\n\u003ch3 class=\"a-spacing-mini\"\u003eShop Without Compromise\u003c\/h3\u003e\n\u003cp class=\"a-spacing-base\"\u003eWhen you're shopping online, it's easy to get caught up comparing features and forget about the entire lifecycle of a product. Everything you buy is connected to hundreds of people who make, ship, and service it. When you purchase a product, you're supporting a company, which uses your dollars to make important decisions about how to treat all those people—and you. That's why who you buy from matters just as much as what you buy.\u003c\/p\u003e\n\u003ch3 class=\"a-spacing-mini\"\u003eWhat Makes This a Great Blood Pressure Monitor?\u003c\/h3\u003e\n\u003cp\u003e\u003cspan class=\"a-text-bold\"\u003eTHOUGHTFULLY DESIGNED:\u003c\/span\u003e\u003cspan\u003e \u003c\/span\u003eSince blood pressure changes so often, it can be hard to track the overall trends and understand what they mean for your health. We designed this monitor to make it easy. Our Bluetooth Monitor has the same high accuracy as our top-selling upper arm monitor, now with the ability to sync results to the device of your choice. When you take a measurement, your monitor sends it to the Balance Health app, where it is displayed in the context of your overall measurement history and healthy averages.\u003c\/p\u003e\n\u003cp\u003e\u003cspan class=\"a-text-bold\"\u003eFEATURES:\u003c\/span\u003e\u003cspan\u003e Once you download the free Balance Health app and pair your monitor, your results will transfer automatically when the app is open. Comes in a kit that has everything you need to get started, including 4 AAA batteries, a wall plug, a premium fabric upper arm cuff, and a storage case. Measures systolic and diastolic blood pressure as well as pulse with a single button. Hypertension indicator bar and irregular heartbeat sensor alert you to any issues. Large, backlit LCD display with oversized numbers. Adjustable cuff comfortably fits arm sizes from 8 3\/4\" to 16 1\/2\". 2 users can store up to 60 records each (120 total entries). Requires Bluetooth Smart technology (in most recent Android phones, and an iPhone 4S or beyond, running iOS 7.1 or later.) App works with iOS \u0026amp; Android only, and integrates with Apple Health.\u003c\/span\u003e\u003c\/p\u003e\n\u003cp\u003e\u003cspan\u003e\u003cimg alt=\"\" src=\"https:\/\/cdn.shopifycdn.net\/s\/files\/1\/2463\/1595\/files\/31_9500b243-f1dd-49d7-b1aa-610f1aed90b0_1024x1024.jpg?v=1603612569\"\u003e\u003c\/span\u003e\u003c\/p\u003e\n\u003ch5\u003e\u003cspan\u003eReviews\u003c\/span\u003e\u003c\/h5\u003e\n[\/TABS]","published_at":"2020-10-25T15:31:25+08:00","created_at":"2020-10-25T15:31:33+08:00","vendor":"Greater Goods","type":"Blood Pressure Monitors","tags":[],"price":5797,"price_min":5797,"price_max":5797,"available":true,"price_varies":false,"compare_at_price":11100,"compare_at_price_min":11100,"compare_at_price_max":11100,"compare_at_price_varies":false,"variants":[{"id":37144893391028,"title":"Default Title","option1":"Default Title","option2":null,"option3":null,"sku":"B082J823HV","requires_shipping":true,"taxable":true,"featured_image":null,"available":true,"name":"GreaterGoods Bluetooth Full Set Blood Pressure Monitor Cuff and Kit, Carrying Case, Batteries, Plug, Cuff, Monitor, Free iPhone Android","public_title":null,"options":["Default Title"],"price":5797,"weight":0,"compare_at_price":11100,"inventory_quantity":9998,"inventory_management":"shopify","inventory_policy":"deny","barcode":"875011006644","requires_selling_plan":false,"selling_plan_allocations":[]}],"images":["\/\/cdn.shopify.com\/s\/files\/1\/2463\/1595\/products\/51Nr4tOIVHL._UL1500.jpg?v=1603611093","\/\/cdn.shopify.com\/s\/files\/1\/2463\/1595\/products\/516_2BO4rGaML._UL1500.jpg?v=1603611093","\/\/cdn.shopify.com\/s\/files\/1\/2463\/1595\/products\/5190OCA_2BOCL._UL1500.jpg?v=1603611093","\/\/cdn.shopify.com\/s\/files\/1\/2463\/1595\/products\/51IlARnkZHL._UL1500.jpg?v=1603611093","\/\/cdn.shopify.com\/s\/files\/1\/2463\/1595\/products\/51lukHodXAL._UL1500.jpg?v=1603611093","\/\/cdn.shopify.com\/s\/files\/1\/2463\/1595\/products\/51rMmpnBDzL._UL1500.jpg?v=1603611093","\/\/cdn.shopify.com\/s\/files\/1\/2463\/1595\/products\/914eMo8iOUL.SS40_BG85_85_85_BR-120_PKdp-play-icon-overlay__.jpg._UL1500.jpg?v=1603611093"],"featured_image":"\/\/cdn.shopify.com\/s\/files\/1\/2463\/1595\/products\/51Nr4tOIVHL._UL1500.jpg?v=1603611093","options":["Title"],"media":[{"alt":"0","id":13737585737908,"position":1,"preview_image":{"aspect_ratio":1.0,"height":1500,"width":1500,"src":"https:\/\/cdn.shopify.com\/s\/files\/1\/2463\/1595\/products\/51Nr4tOIVHL._UL1500.jpg?v=1603611093"},"aspect_ratio":1.0,"height":1500,"media_type":"image","src":"https:\/\/cdn.shopify.com\/s\/files\/1\/2463\/1595\/products\/51Nr4tOIVHL._UL1500.jpg?v=1603611093","width":1500},{"alt":"1","id":13737585770676,"position":2,"preview_image":{"aspect_ratio":1.0,"height":1500,"width":1500,"src":"https:\/\/cdn.shopify.com\/s\/files\/1\/2463\/1595\/products\/516_2BO4rGaML._UL1500.jpg?v=1603611093"},"aspect_ratio":1.0,"height":1500,"media_type":"image","src":"https:\/\/cdn.shopify.com\/s\/files\/1\/2463\/1595\/products\/516_2BO4rGaML._UL1500.jpg?v=1603611093","width":1500},{"alt":"2","id":13737585803444,"position":3,"preview_image":{"aspect_ratio":1.0,"height":1500,"width":1500,"src":"https:\/\/cdn.shopify.com\/s\/files\/1\/2463\/1595\/products\/5190OCA_2BOCL._UL1500.jpg?v=1603611093"},"aspect_ratio":1.0,"height":1500,"media_type":"image","src":"https:\/\/cdn.shopify.com\/s\/files\/1\/2463\/1595\/products\/5190OCA_2BOCL._UL1500.jpg?v=1603611093","width":1500},{"alt":"3","id":13737585836212,"position":4,"preview_image":{"aspect_ratio":1.0,"height":1500,"width":1500,"src":"https:\/\/cdn.shopify.com\/s\/files\/1\/2463\/1595\/products\/51IlARnkZHL._UL1500.jpg?v=1603611093"},"aspect_ratio":1.0,"height":1500,"media_type":"image","src":"https:\/\/cdn.shopify.com\/s\/files\/1\/2463\/1595\/products\/51IlARnkZHL._UL1500.jpg?v=1603611093","width":1500},{"alt":"4","id":13737585868980,"position":5,"preview_image":{"aspect_ratio":1.0,"height":1500,"width":1500,"src":"https:\/\/cdn.shopify.com\/s\/files\/1\/2463\/1595\/products\/51lukHodXAL._UL1500.jpg?v=1603611093"},"aspect_ratio":1.0,"height":1500,"media_type":"image","src":"https:\/\/cdn.shopify.com\/s\/files\/1\/2463\/1595\/products\/51lukHodXAL._UL1500.jpg?v=1603611093","width":1500},{"alt":"5","id":13737585901748,"position":6,"preview_image":{"aspect_ratio":1.0,"height":1500,"width":1500,"src":"https:\/\/cdn.shopify.com\/s\/files\/1\/2463\/1595\/products\/51rMmpnBDzL._UL1500.jpg?v=1603611093"},"aspect_ratio":1.0,"height":1500,"media_type":"image","src":"https:\/\/cdn.shopify.com\/s\/files\/1\/2463\/1595\/products\/51rMmpnBDzL._UL1500.jpg?v=1603611093","width":1500},{"alt":"6","id":13737585934516,"position":7,"preview_image":{"aspect_ratio":1.0,"height":1500,"width":1500,"src":"https:\/\/cdn.shopify.com\/s\/files\/1\/2463\/1595\/products\/914eMo8iOUL.SS40_BG85_85_85_BR-120_PKdp-play-icon-overlay__.jpg._UL1500.jpg?v=1603611093"},"aspect_ratio":1.0,"height":1500,"media_type":"image","src":"https:\/\/cdn.shopify.com\/s\/files\/1\/2463\/1595\/products\/914eMo8iOUL.SS40_BG85_85_85_BR-120_PKdp-play-icon-overlay__.jpg._UL1500.jpg?v=1603611093","width":1500}],"requires_selling_plan":false,"selling_plan_groups":[],"content":"\u003cli style=\"list-style: none;\"\u003e\n\u003cb\u003eTHE RIGHT CHOICE\u003c\/b\u003e: Trends matter. Track them at home with a high-accuracy, Bluetooth-enabled monitor.\u003c\/li\u003e\n\u003cli style=\"list-style: none;\"\u003e\n\u003cb\u003eTHE FEATURES YOU NEED\u003c\/b\u003e: Connectivity, 2 power sources, premium cuff, \u0026amp; more. See Product Description.\u003c\/li\u003e\n\u003cli style=\"list-style: none;\"\u003e\n\u003cb\u003eBACKED BY REAL SUPPORT\u003c\/b\u003e: The friendly team at our St. Louis headquarters is here for whatever you need.\u003c\/li\u003e\n\u003cli style=\"list-style: none;\"\u003e\n\u003cb\u003eMADE THE RIGHT WAY\u003c\/b\u003e: Your purchase should have a positive impact on all the people involved.\u003c\/li\u003e\n\u003cli style=\"list-style: none;\"\u003e\n\u003cb\u003ePAY IT FORWARD\u003c\/b\u003e: A piece of your purchase helps Love146 fight trafficking \u0026amp; care for survivors.\u003c\/li\u003e\n[TABS]\n\u003ch5\u003e\u003cspan\u003eDescription\u003c\/span\u003e\u003c\/h5\u003e\n\u003cp\u003e\u003cimg alt=\"\" src=\"https:\/\/cdn.shopifycdn.net\/s\/files\/1\/2463\/1595\/files\/30_1024x1024.jpg?v=1603612532\"\u003e\u003c\/p\u003e\n\u003ch3 class=\"a-spacing-mini\"\u003eShop Without Compromise\u003c\/h3\u003e\n\u003cp class=\"a-spacing-base\"\u003eWhen you're shopping online, it's easy to get caught up comparing features and forget about the entire lifecycle of a product. Everything you buy is connected to hundreds of people who make, ship, and service it. When you purchase a product, you're supporting a company, which uses your dollars to make important decisions about how to treat all those people—and you. That's why who you buy from matters just as much as what you buy.\u003c\/p\u003e\n\u003ch3 class=\"a-spacing-mini\"\u003eWhat Makes This a Great Blood Pressure Monitor?\u003c\/h3\u003e\n\u003cp\u003e\u003cspan class=\"a-text-bold\"\u003eTHOUGHTFULLY DESIGNED:\u003c\/span\u003e\u003cspan\u003e \u003c\/span\u003eSince blood pressure changes so often, it can be hard to track the overall trends and understand what they mean for your health. We designed this monitor to make it easy. Our Bluetooth Monitor has the same high accuracy as our top-selling upper arm monitor, now with the ability to sync results to the device of your choice. When you take a measurement, your monitor sends it to the Balance Health app, where it is displayed in the context of your overall measurement history and healthy averages.\u003c\/p\u003e\n\u003cp\u003e\u003cspan class=\"a-text-bold\"\u003eFEATURES:\u003c\/span\u003e\u003cspan\u003e Once you download the free Balance Health app and pair your monitor, your results will transfer automatically when the app is open. Comes in a kit that has everything you need to get started, including 4 AAA batteries, a wall plug, a premium fabric upper arm cuff, and a storage case. Measures systolic and diastolic blood pressure as well as pulse with a single button. Hypertension indicator bar and irregular heartbeat sensor alert you to any issues. Large, backlit LCD display with oversized numbers. Adjustable cuff comfortably fits arm sizes from 8 3\/4\" to 16 1\/2\". 2 users can store up to 60 records each (120 total entries). Requires Bluetooth Smart technology (in most recent Android phones, and an iPhone 4S or beyond, running iOS 7.1 or later.) App works with iOS \u0026amp; Android only, and integrates with Apple Health.\u003c\/span\u003e\u003c\/p\u003e\n\u003cp\u003e\u003cspan\u003e\u003cimg alt=\"\" src=\"https:\/\/cdn.shopifycdn.net\/s\/files\/1\/2463\/1595\/files\/31_9500b243-f1dd-49d7-b1aa-610f1aed90b0_1024x1024.jpg?v=1603612569\"\u003e\u003c\/span\u003e\u003c\/p\u003e\n\u003ch5\u003e\u003cspan\u003eReviews\u003c\/span\u003e\u003c\/h5\u003e\n[\/TABS]"}
GreaterGoods Bluetooth Full Set Blood Pressure Monitor Cuff and Kit, Carrying Case, Batteries, Plug, Cuff, Monitor, Free iPhone Android
GreaterGoods Bluetooth Full Set Blood Pressure Monitor Cuff and Kit, Carrying Case, Batteries, Plug, Cuff, Monitor, Free iPhone Android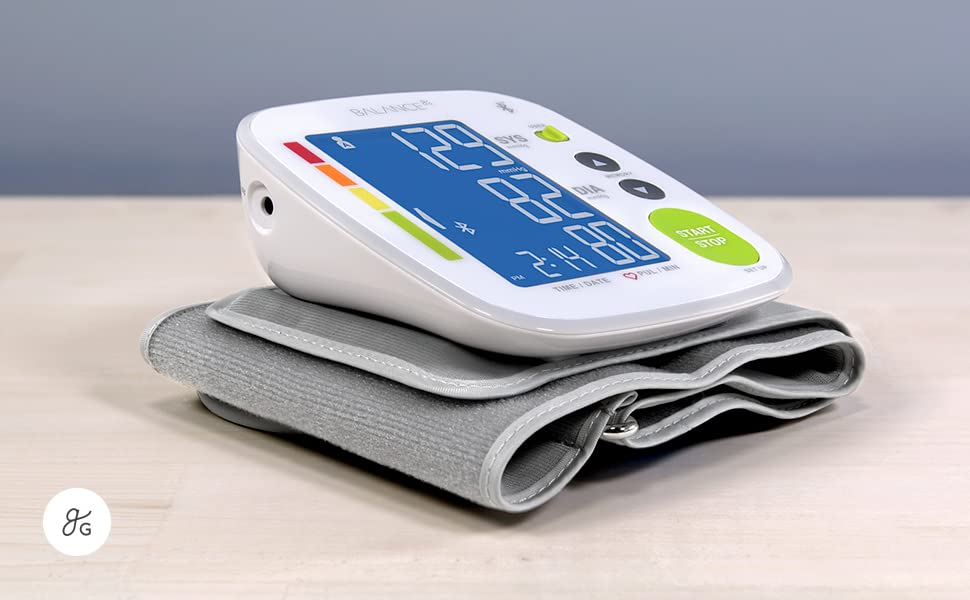 Shop Without Compromise
When you're shopping online, it's easy to get caught up comparing features and forget about the entire lifecycle of a product. Everything you buy is connected to hundreds of people who make, ship, and service it. When you purchase a product, you're supporting a company, which uses your dollars to make important decisions about how to treat all those people—and you. That's why who you buy from matters just as much as what you buy.
What Makes This a Great Blood Pressure Monitor?
THOUGHTFULLY DESIGNED: Since blood pressure changes so often, it can be hard to track the overall trends and understand what they mean for your health. We designed this monitor to make it easy. Our Bluetooth Monitor has the same high accuracy as our top-selling upper arm monitor, now with the ability to sync results to the device of your choice. When you take a measurement, your monitor sends it to the Balance Health app, where it is displayed in the context of your overall measurement history and healthy averages.
FEATURES: Once you download the free Balance Health app and pair your monitor, your results will transfer automatically when the app is open. Comes in a kit that has everything you need to get started, including 4 AAA batteries, a wall plug, a premium fabric upper arm cuff, and a storage case. Measures systolic and diastolic blood pressure as well as pulse with a single button. Hypertension indicator bar and irregular heartbeat sensor alert you to any issues. Large, backlit LCD display with oversized numbers. Adjustable cuff comfortably fits arm sizes from 8 3/4" to 16 1/2". 2 users can store up to 60 records each (120 total entries). Requires Bluetooth Smart technology (in most recent Android phones, and an iPhone 4S or beyond, running iOS 7.1 or later.) App works with iOS & Android only, and integrates with Apple Health.