{"id":5981909680308,"title":"Blood Pressure Monitor, RENPHO Blood Pressure Cuffs for Home Use with Speaker, Accurate Automatic Digital BP Machine","handle":"blood-pressure-monitor-renpho-blood-pressure-cuffs-for-home-use-with-speaker-accurate-automatic-digital-bp-machine-with-extra-large-cuff-16-5-inch-large-display-2-users-240-recordings","description":"\u003cli style=\"list-style: none;\"\u003eBlood pressure cuffs for home use\u003c\/li\u003e\n\u003cli style=\"list-style: none;\"\u003e\n\u003cb\u003eDigital Blood Pressure Machine for Home Use\u003c\/b\u003e: This talking blood pressure monitor comes with a clear voice that will walk you through the process of measuring your blood pressure and tells you the readings out loud with the built-in speaker. User-friendly and helpful for people with vision impaired. Choose between voice broadcast or silent mode, depending on your needs.\u003c\/li\u003e\n\u003cli style=\"list-style: none;\"\u003e\n\u003cb\u003eAccurate Readings Match Doctor's Office\u003c\/b\u003e: Clinically accurate, this home blood pressure machine features new oscillometric technology that provides higher accuracy. It automatically averages your last three readings for optimal precision. This blood pressure meter for home use delivers your results in 45-seconds or less and display your healthy range with the AHA indicator.\u003c\/li\u003e\n\u003cli style=\"list-style: none;\"\u003e\n\u003cb\u003e3.7\" Large Display Easy to Read \u0026amp; 240 Memories for 2 Users\u003c\/b\u003e: The large, bright, back-light LCD screen(2.36\"X2.91\") with large numbers displays all measurements clearly even in a dark room. Records and stores up to 120 readings each for 2 users with date and timestamp. Fully automatic with one-button operation to measurement.\u003c\/li\u003e\n\u003cli style=\"list-style: none;\"\u003e\n\u003cb\u003eLarge Cuff with Heart Rate Monitor\u003c\/b\u003e: The Wide-Range Easy-Wrap upper arm cuff will fit any adult's arms 8-3\/4\" to 16-1\/2\" (22 - 42 cm) in circumference. This device also detects the pulse and heart rate. It can detect arrhythmia(irregular heartbeats) and will alert you with a warning signal on the screen.\u003c\/li\u003e\n\u003cli style=\"list-style: none;\"\u003e\n\u003cb\u003eCompact \u0026amp; Portable\u003c\/b\u003e: The RENPHO digital blood pressure machine comes with a convenient carry case, share your automatic blood pressure cuff with a loved one at home or during travels. 4 AAA batteries, and a micro USB cable, self-check soft cuff, user manual. Professional local U.S. based customer care office.\u003c\/li\u003e\n[TABS]\n\u003ch5\u003e\u003cspan\u003eDescription\u003c\/span\u003e\u003c\/h5\u003e\n\u003ch3 class=\"a-spacing-mini\"\u003e\u003cimg alt=\"\" src=\"https:\/\/cdn.shopifycdn.net\/s\/files\/1\/2463\/1595\/files\/41_70f23368-d4d6-4f66-957a-ba5a1a6dec03_1024x1024.jpg?v=1603612782\"\u003e\u003c\/h3\u003e\n\u003ch3 class=\"a-spacing-mini\"\u003eRENPHO Talking Fully Automatic Upper Arm Blood Pressure Monitor RP-BPM001 for At-Home Use\u003c\/h3\u003e\n\u003cp class=\"a-spacing-base\"\u003e\u003cspan class=\"a-text-bold\"\u003eTake control of your health with ease. Doctor recommended, this blood pressure monitor gives you fast, reliable BP readings you can count on.\u003c\/span\u003e\u003c\/p\u003e\n\u003cp class=\"a-spacing-base\"\u003e\u003cspan class=\"a-text-italic\"\u003e\u003cspan class=\"a-text-bold\"\u003eWhat's BP machine talking?\u003c\/span\u003e\u003c\/span\u003e\u003c\/p\u003e\n\u003cp class=\"a-spacing-base\"\u003e \u003c\/p\u003e\n\u003cul class=\"a-unordered-list a-vertical\"\u003e\n\u003cli\u003e\u003cspan class=\"a-list-item\"\u003eStarting measurement, please remain still and quiet\u003c\/span\u003e\u003c\/li\u003e\n\u003cli\u003e\u003cspan class=\"a-list-item\"\u003eYour pressure is: 108\/62\u003c\/span\u003e\u003c\/li\u003e\n\u003cli\u003e\u003cspan class=\"a-list-item\"\u003ePulse is: 74\u003c\/span\u003e\u003c\/li\u003e\n\u003cli\u003e\u003cspan class=\"a-list-item\"\u003eover\u003c\/span\u003e\u003c\/li\u003e\n\u003c\/ul\u003e\n\u003cp\u003e\u003cspan class=\"a-list-item\"\u003e\u003cimg alt=\"\" src=\"https:\/\/cdn.shopifycdn.net\/s\/files\/1\/2463\/1595\/files\/42_60e122d3-b112-4122-b57f-8f62a3da706e_1024x1024.jpg?v=1603612755\"\u003e\u003c\/span\u003e\u003c\/p\u003e\n\u003cp\u003e\u003cimg alt=\"\" src=\"https:\/\/cdn.shopifycdn.net\/s\/files\/1\/2463\/1595\/files\/43_1ead4300-46d7-48a0-92d6-5988bc6ebe9b_1024x1024.jpg?v=1603612806\"\u003e\u003c\/p\u003e\n\u003cp\u003e\u003cimg alt=\"\" src=\"https:\/\/cdn.shopifycdn.net\/s\/files\/1\/2463\/1595\/files\/44_ea0c38c2-8a59-41f8-9af9-f1971a2e2d7e_1024x1024.jpg?v=1603612829\"\u003e\u003c\/p\u003e\n\u003cp\u003e\u003cimg alt=\"\" src=\"https:\/\/cdn.shopifycdn.net\/s\/files\/1\/2463\/1595\/files\/45_1024x1024.jpg?v=1603612961\"\u003e\u003c\/p\u003e\n\u003ch3 class=\"a-spacing-mini\"\u003eRENPHO Compact \u0026amp; Portable Digital Upper Arm Blood Pressure Machine RP-BPM001 for At-Home Use\u003c\/h3\u003e\n\u003cp class=\"a-spacing-base\"\u003eAt RENPHO, our goal is making sure the blood pressure monitors are portable and easy to use. Most importantly, our blood pressure monitors are recommended by doctors for providing accurate readings so you can count on.\u003c\/p\u003e\n\u003cp class=\"a-spacing-base\"\u003eYour numbers are not just numbers. They're information about your body. RENPHO digital blood pressure machine provides accurate readings you know exactly what's going on with your heart and your health.\u003c\/p\u003e\n\u003cp class=\"a-spacing-base\"\u003e\u003cspan class=\"a-text-bold\"\u003eTIPS\u003c\/span\u003e\u003c\/p\u003e\n\u003cp class=\"a-spacing-base\"\u003e \u003c\/p\u003e\n\u003col class=\"a-ordered-list a-vertical\"\u003e\n\u003cli\u003e\u003cspan class=\"a-list-item\"\u003eTake your reading at the same time each day.\u003c\/span\u003e\u003c\/li\u003e\n\u003cli\u003e\u003cspan class=\"a-list-item\"\u003eAvoid exercising, eating, smoking, bathing, and drinking alcohol or caffeinated beverages for 30 minutes prior. Ideally, rest 15 minutes before you begin.\u003c\/span\u003e\u003c\/li\u003e\n\u003cli\u003e\u003cspan class=\"a-list-item\"\u003eSit in a chair with your feet flat on the floor. Rest your arm on a table with your palm facing upward.\u003c\/span\u003e\u003c\/li\u003e\n\u003c\/ol\u003e\n\u003cp\u003e \u003c\/p\u003e\n\u003cp class=\"a-spacing-base\"\u003e\u003cspan class=\"a-text-bold\"\u003eSPECIFICATIONS:\u003c\/span\u003e\u003c\/p\u003e\n\u003cp class=\"a-spacing-base\"\u003e \u003c\/p\u003e\n\u003cul class=\"a-unordered-list a-vertical\"\u003e\n\u003cli\u003e\u003cspan class=\"a-list-item\"\u003ePower Supply: 6V (4×AAA) \/ DC 5V 1A(USB Cable Included)\u003c\/span\u003e\u003c\/li\u003e\n\u003cli\u003e\u003cspan class=\"a-list-item\"\u003eCuff Circumference: 8-3\/4\" to 16-1\/2\" (22 - 42 cm)\u003c\/span\u003e\u003c\/li\u003e\n\u003cli\u003e\u003cspan class=\"a-list-item\"\u003eDimensions: 3.66\"X5.12\"X1.28\" (93mm*130mm*32.5mm)\u003c\/span\u003e\u003c\/li\u003e\n\u003cli\u003e\u003cspan class=\"a-list-item\"\u003eDisplay: Size: 2.36\"X2.91\"(60mm*74mm)\u003c\/span\u003e\u003c\/li\u003e\n\u003cli\u003e\u003cspan class=\"a-list-item\"\u003eNet Weight: 0.41lb (187g)\u003c\/span\u003e\u003c\/li\u003e\n\u003cli\u003e\u003cspan class=\"a-list-item\"\u003eAutomatically Power OFF: 60 seconds\u003c\/span\u003e\u003c\/li\u003e\n\u003c\/ul\u003e\n\u003ch5\u003e\u003cspan\u003eReviews\u003c\/span\u003e\u003c\/h5\u003e\n[\/TABS]","published_at":"2020-10-25T15:31:49+08:00","created_at":"2020-10-25T15:31:56+08:00","vendor":"RENPHO","type":"Blood Pressure Monitors","tags":[],"price":3768,"price_min":3768,"price_max":3768,"available":true,"price_varies":false,"compare_at_price":5900,"compare_at_price_min":5900,"compare_at_price_max":5900,"compare_at_price_varies":false,"variants":[{"id":37144895750324,"title":"Default Title","option1":"Default Title","option2":null,"option3":null,"sku":"B07WFTQ94B","requires_shipping":true,"taxable":true,"featured_image":null,"available":true,"name":"Blood Pressure Monitor, RENPHO Blood Pressure Cuffs for Home Use with Speaker, Accurate Automatic Digital BP Machine","public_title":null,"options":["Default Title"],"price":3768,"weight":0,"compare_at_price":5900,"inventory_quantity":9999,"inventory_management":"shopify","inventory_policy":"deny","barcode":"630128806118","requires_selling_plan":false,"selling_plan_allocations":[]}],"images":["\/\/cdn.shopify.com\/s\/files\/1\/2463\/1595\/products\/51aXhg6iMTL._UL1500.jpg?v=1603611117","\/\/cdn.shopify.com\/s\/files\/1\/2463\/1595\/products\/51aullAPaiL._UL1500.jpg?v=1603611117","\/\/cdn.shopify.com\/s\/files\/1\/2463\/1595\/products\/51t-_2BCf0o6L._UL1500.jpg?v=1603611117","\/\/cdn.shopify.com\/s\/files\/1\/2463\/1595\/products\/51DYqu53z5L._UL1500.jpg?v=1603611117","\/\/cdn.shopify.com\/s\/files\/1\/2463\/1595\/products\/51RW5akKkGL._UL1500.jpg?v=1603611117","\/\/cdn.shopify.com\/s\/files\/1\/2463\/1595\/products\/51-5NmxS0WL._UL1500.jpg?v=1603611117","\/\/cdn.shopify.com\/s\/files\/1\/2463\/1595\/products\/51bp7PhQQ_2BL._UL1500.jpg?v=1603611117"],"featured_image":"\/\/cdn.shopify.com\/s\/files\/1\/2463\/1595\/products\/51aXhg6iMTL._UL1500.jpg?v=1603611117","options":["Title"],"media":[{"alt":"0","id":13737586196660,"position":1,"preview_image":{"aspect_ratio":1.0,"height":1500,"width":1500,"src":"https:\/\/cdn.shopify.com\/s\/files\/1\/2463\/1595\/products\/51aXhg6iMTL._UL1500.jpg?v=1603611117"},"aspect_ratio":1.0,"height":1500,"media_type":"image","src":"https:\/\/cdn.shopify.com\/s\/files\/1\/2463\/1595\/products\/51aXhg6iMTL._UL1500.jpg?v=1603611117","width":1500},{"alt":"1","id":13737586229428,"position":2,"preview_image":{"aspect_ratio":1.0,"height":1500,"width":1500,"src":"https:\/\/cdn.shopify.com\/s\/files\/1\/2463\/1595\/products\/51aullAPaiL._UL1500.jpg?v=1603611117"},"aspect_ratio":1.0,"height":1500,"media_type":"image","src":"https:\/\/cdn.shopify.com\/s\/files\/1\/2463\/1595\/products\/51aullAPaiL._UL1500.jpg?v=1603611117","width":1500},{"alt":"2","id":13737586262196,"position":3,"preview_image":{"aspect_ratio":1.0,"height":1500,"width":1500,"src":"https:\/\/cdn.shopify.com\/s\/files\/1\/2463\/1595\/products\/51t-_2BCf0o6L._UL1500.jpg?v=1603611117"},"aspect_ratio":1.0,"height":1500,"media_type":"image","src":"https:\/\/cdn.shopify.com\/s\/files\/1\/2463\/1595\/products\/51t-_2BCf0o6L._UL1500.jpg?v=1603611117","width":1500},{"alt":"3","id":13737586294964,"position":4,"preview_image":{"aspect_ratio":1.0,"height":1500,"width":1500,"src":"https:\/\/cdn.shopify.com\/s\/files\/1\/2463\/1595\/products\/51DYqu53z5L._UL1500.jpg?v=1603611117"},"aspect_ratio":1.0,"height":1500,"media_type":"image","src":"https:\/\/cdn.shopify.com\/s\/files\/1\/2463\/1595\/products\/51DYqu53z5L._UL1500.jpg?v=1603611117","width":1500},{"alt":"4","id":13737586327732,"position":5,"preview_image":{"aspect_ratio":1.0,"height":1500,"width":1500,"src":"https:\/\/cdn.shopify.com\/s\/files\/1\/2463\/1595\/products\/51RW5akKkGL._UL1500.jpg?v=1603611117"},"aspect_ratio":1.0,"height":1500,"media_type":"image","src":"https:\/\/cdn.shopify.com\/s\/files\/1\/2463\/1595\/products\/51RW5akKkGL._UL1500.jpg?v=1603611117","width":1500},{"alt":"5","id":13737586360500,"position":6,"preview_image":{"aspect_ratio":1.0,"height":1500,"width":1500,"src":"https:\/\/cdn.shopify.com\/s\/files\/1\/2463\/1595\/products\/51-5NmxS0WL._UL1500.jpg?v=1603611117"},"aspect_ratio":1.0,"height":1500,"media_type":"image","src":"https:\/\/cdn.shopify.com\/s\/files\/1\/2463\/1595\/products\/51-5NmxS0WL._UL1500.jpg?v=1603611117","width":1500},{"alt":"6","id":13737586393268,"position":7,"preview_image":{"aspect_ratio":1.0,"height":1500,"width":1500,"src":"https:\/\/cdn.shopify.com\/s\/files\/1\/2463\/1595\/products\/51bp7PhQQ_2BL._UL1500.jpg?v=1603611117"},"aspect_ratio":1.0,"height":1500,"media_type":"image","src":"https:\/\/cdn.shopify.com\/s\/files\/1\/2463\/1595\/products\/51bp7PhQQ_2BL._UL1500.jpg?v=1603611117","width":1500}],"requires_selling_plan":false,"selling_plan_groups":[],"content":"\u003cli style=\"list-style: none;\"\u003eBlood pressure cuffs for home use\u003c\/li\u003e\n\u003cli style=\"list-style: none;\"\u003e\n\u003cb\u003eDigital Blood Pressure Machine for Home Use\u003c\/b\u003e: This talking blood pressure monitor comes with a clear voice that will walk you through the process of measuring your blood pressure and tells you the readings out loud with the built-in speaker. User-friendly and helpful for people with vision impaired. Choose between voice broadcast or silent mode, depending on your needs.\u003c\/li\u003e\n\u003cli style=\"list-style: none;\"\u003e\n\u003cb\u003eAccurate Readings Match Doctor's Office\u003c\/b\u003e: Clinically accurate, this home blood pressure machine features new oscillometric technology that provides higher accuracy. It automatically averages your last three readings for optimal precision. This blood pressure meter for home use delivers your results in 45-seconds or less and display your healthy range with the AHA indicator.\u003c\/li\u003e\n\u003cli style=\"list-style: none;\"\u003e\n\u003cb\u003e3.7\" Large Display Easy to Read \u0026amp; 240 Memories for 2 Users\u003c\/b\u003e: The large, bright, back-light LCD screen(2.36\"X2.91\") with large numbers displays all measurements clearly even in a dark room. Records and stores up to 120 readings each for 2 users with date and timestamp. Fully automatic with one-button operation to measurement.\u003c\/li\u003e\n\u003cli style=\"list-style: none;\"\u003e\n\u003cb\u003eLarge Cuff with Heart Rate Monitor\u003c\/b\u003e: The Wide-Range Easy-Wrap upper arm cuff will fit any adult's arms 8-3\/4\" to 16-1\/2\" (22 - 42 cm) in circumference. This device also detects the pulse and heart rate. It can detect arrhythmia(irregular heartbeats) and will alert you with a warning signal on the screen.\u003c\/li\u003e\n\u003cli style=\"list-style: none;\"\u003e\n\u003cb\u003eCompact \u0026amp; Portable\u003c\/b\u003e: The RENPHO digital blood pressure machine comes with a convenient carry case, share your automatic blood pressure cuff with a loved one at home or during travels. 4 AAA batteries, and a micro USB cable, self-check soft cuff, user manual. Professional local U.S. based customer care office.\u003c\/li\u003e\n[TABS]\n\u003ch5\u003e\u003cspan\u003eDescription\u003c\/span\u003e\u003c\/h5\u003e\n\u003ch3 class=\"a-spacing-mini\"\u003e\u003cimg alt=\"\" src=\"https:\/\/cdn.shopifycdn.net\/s\/files\/1\/2463\/1595\/files\/41_70f23368-d4d6-4f66-957a-ba5a1a6dec03_1024x1024.jpg?v=1603612782\"\u003e\u003c\/h3\u003e\n\u003ch3 class=\"a-spacing-mini\"\u003eRENPHO Talking Fully Automatic Upper Arm Blood Pressure Monitor RP-BPM001 for At-Home Use\u003c\/h3\u003e\n\u003cp class=\"a-spacing-base\"\u003e\u003cspan class=\"a-text-bold\"\u003eTake control of your health with ease. Doctor recommended, this blood pressure monitor gives you fast, reliable BP readings you can count on.\u003c\/span\u003e\u003c\/p\u003e\n\u003cp class=\"a-spacing-base\"\u003e\u003cspan class=\"a-text-italic\"\u003e\u003cspan class=\"a-text-bold\"\u003eWhat's BP machine talking?\u003c\/span\u003e\u003c\/span\u003e\u003c\/p\u003e\n\u003cp class=\"a-spacing-base\"\u003e \u003c\/p\u003e\n\u003cul class=\"a-unordered-list a-vertical\"\u003e\n\u003cli\u003e\u003cspan class=\"a-list-item\"\u003eStarting measurement, please remain still and quiet\u003c\/span\u003e\u003c\/li\u003e\n\u003cli\u003e\u003cspan class=\"a-list-item\"\u003eYour pressure is: 108\/62\u003c\/span\u003e\u003c\/li\u003e\n\u003cli\u003e\u003cspan class=\"a-list-item\"\u003ePulse is: 74\u003c\/span\u003e\u003c\/li\u003e\n\u003cli\u003e\u003cspan class=\"a-list-item\"\u003eover\u003c\/span\u003e\u003c\/li\u003e\n\u003c\/ul\u003e\n\u003cp\u003e\u003cspan class=\"a-list-item\"\u003e\u003cimg alt=\"\" src=\"https:\/\/cdn.shopifycdn.net\/s\/files\/1\/2463\/1595\/files\/42_60e122d3-b112-4122-b57f-8f62a3da706e_1024x1024.jpg?v=1603612755\"\u003e\u003c\/span\u003e\u003c\/p\u003e\n\u003cp\u003e\u003cimg alt=\"\" src=\"https:\/\/cdn.shopifycdn.net\/s\/files\/1\/2463\/1595\/files\/43_1ead4300-46d7-48a0-92d6-5988bc6ebe9b_1024x1024.jpg?v=1603612806\"\u003e\u003c\/p\u003e\n\u003cp\u003e\u003cimg alt=\"\" src=\"https:\/\/cdn.shopifycdn.net\/s\/files\/1\/2463\/1595\/files\/44_ea0c38c2-8a59-41f8-9af9-f1971a2e2d7e_1024x1024.jpg?v=1603612829\"\u003e\u003c\/p\u003e\n\u003cp\u003e\u003cimg alt=\"\" src=\"https:\/\/cdn.shopifycdn.net\/s\/files\/1\/2463\/1595\/files\/45_1024x1024.jpg?v=1603612961\"\u003e\u003c\/p\u003e\n\u003ch3 class=\"a-spacing-mini\"\u003eRENPHO Compact \u0026amp; Portable Digital Upper Arm Blood Pressure Machine RP-BPM001 for At-Home Use\u003c\/h3\u003e\n\u003cp class=\"a-spacing-base\"\u003eAt RENPHO, our goal is making sure the blood pressure monitors are portable and easy to use. Most importantly, our blood pressure monitors are recommended by doctors for providing accurate readings so you can count on.\u003c\/p\u003e\n\u003cp class=\"a-spacing-base\"\u003eYour numbers are not just numbers. They're information about your body. RENPHO digital blood pressure machine provides accurate readings you know exactly what's going on with your heart and your health.\u003c\/p\u003e\n\u003cp class=\"a-spacing-base\"\u003e\u003cspan class=\"a-text-bold\"\u003eTIPS\u003c\/span\u003e\u003c\/p\u003e\n\u003cp class=\"a-spacing-base\"\u003e \u003c\/p\u003e\n\u003col class=\"a-ordered-list a-vertical\"\u003e\n\u003cli\u003e\u003cspan class=\"a-list-item\"\u003eTake your reading at the same time each day.\u003c\/span\u003e\u003c\/li\u003e\n\u003cli\u003e\u003cspan class=\"a-list-item\"\u003eAvoid exercising, eating, smoking, bathing, and drinking alcohol or caffeinated beverages for 30 minutes prior. Ideally, rest 15 minutes before you begin.\u003c\/span\u003e\u003c\/li\u003e\n\u003cli\u003e\u003cspan class=\"a-list-item\"\u003eSit in a chair with your feet flat on the floor. Rest your arm on a table with your palm facing upward.\u003c\/span\u003e\u003c\/li\u003e\n\u003c\/ol\u003e\n\u003cp\u003e \u003c\/p\u003e\n\u003cp class=\"a-spacing-base\"\u003e\u003cspan class=\"a-text-bold\"\u003eSPECIFICATIONS:\u003c\/span\u003e\u003c\/p\u003e\n\u003cp class=\"a-spacing-base\"\u003e \u003c\/p\u003e\n\u003cul class=\"a-unordered-list a-vertical\"\u003e\n\u003cli\u003e\u003cspan class=\"a-list-item\"\u003ePower Supply: 6V (4×AAA) \/ DC 5V 1A(USB Cable Included)\u003c\/span\u003e\u003c\/li\u003e\n\u003cli\u003e\u003cspan class=\"a-list-item\"\u003eCuff Circumference: 8-3\/4\" to 16-1\/2\" (22 - 42 cm)\u003c\/span\u003e\u003c\/li\u003e\n\u003cli\u003e\u003cspan class=\"a-list-item\"\u003eDimensions: 3.66\"X5.12\"X1.28\" (93mm*130mm*32.5mm)\u003c\/span\u003e\u003c\/li\u003e\n\u003cli\u003e\u003cspan class=\"a-list-item\"\u003eDisplay: Size: 2.36\"X2.91\"(60mm*74mm)\u003c\/span\u003e\u003c\/li\u003e\n\u003cli\u003e\u003cspan class=\"a-list-item\"\u003eNet Weight: 0.41lb (187g)\u003c\/span\u003e\u003c\/li\u003e\n\u003cli\u003e\u003cspan class=\"a-list-item\"\u003eAutomatically Power OFF: 60 seconds\u003c\/span\u003e\u003c\/li\u003e\n\u003c\/ul\u003e\n\u003ch5\u003e\u003cspan\u003eReviews\u003c\/span\u003e\u003c\/h5\u003e\n[\/TABS]"}
Blood Pressure Monitor, RENPHO Blood Pressure Cuffs for Home Use with Speaker, Accurate Automatic Digital BP Machine
Blood Pressure Monitor, RENPHO Blood Pressure Cuffs for Home Use with Speaker, Accurate Automatic Digital BP Machine

RENPHO Talking Fully Automatic Upper Arm Blood Pressure Monitor RP-BPM001 for At-Home Use
Take control of your health with ease. Doctor recommended, this blood pressure monitor gives you fast, reliable BP readings you can count on.
What's BP machine talking?
Starting measurement, please remain still and quiet

Your pressure is: 108/62

Pulse is: 74

over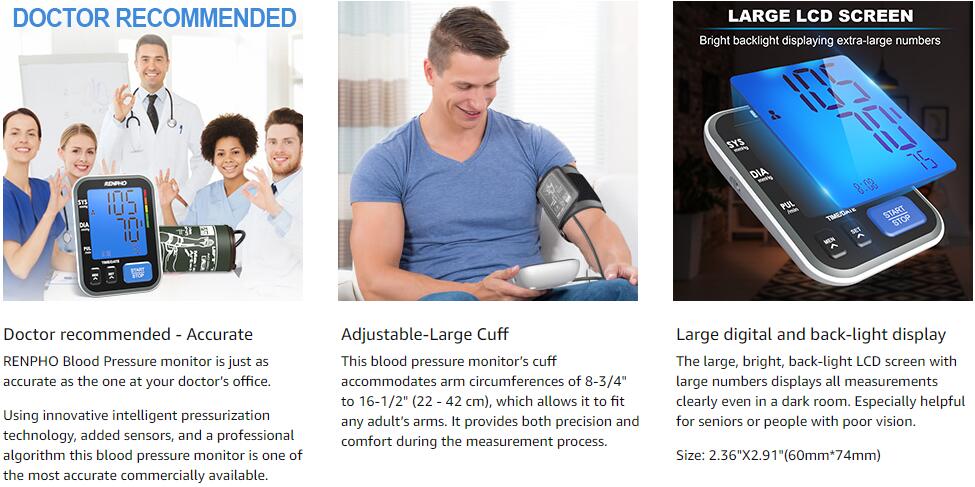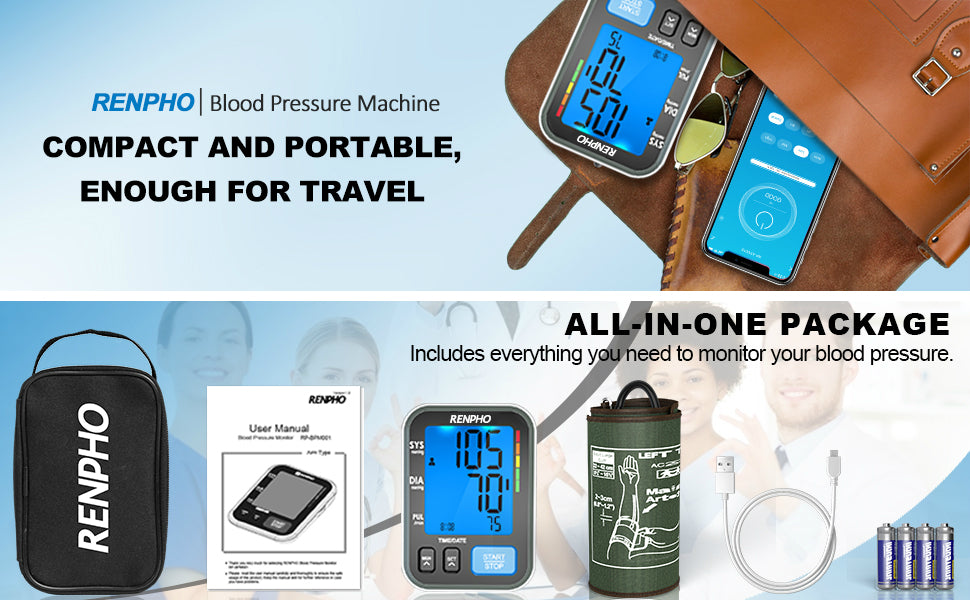 RENPHO Compact & Portable Digital Upper Arm Blood Pressure Machine RP-BPM001 for At-Home Use
At RENPHO, our goal is making sure the blood pressure monitors are portable and easy to use. Most importantly, our blood pressure monitors are recommended by doctors for providing accurate readings so you can count on.
Your numbers are not just numbers. They're information about your body. RENPHO digital blood pressure machine provides accurate readings you know exactly what's going on with your heart and your health.
TIPS
Take your reading at the same time each day.

Avoid exercising, eating, smoking, bathing, and drinking alcohol or caffeinated beverages for 30 minutes prior. Ideally, rest 15 minutes before you begin.

Sit in a chair with your feet flat on the floor. Rest your arm on a table with your palm facing upward.
SPECIFICATIONS:
Power Supply: 6V (4×AAA) / DC 5V 1A(USB Cable Included)

Cuff Circumference: 8-3/4" to 16-1/2" (22 - 42 cm)

Dimensions: 3.66"X5.12"X1.28" (93mm*130mm*32.5mm)

Display: Size: 2.36"X2.91"(60mm*74mm)

Net Weight: 0.41lb (187g)

Automatically Power OFF: 60 seconds