{"id":4514430943330,"title":"Back Stretcher, Lumbar Back Pain Relief, Multi-Level Lumbar Support Device, Back Massager Pain Relief, Lower and Upper Back Stretcher Support","handle":"back-stretcher-lumbar-back-pain-relief-multi-level-lumbar-support-device-back-massager-pain-relief-lower-and-upper-back-stretcher-support","description":"\u003cli style=\"list-style: none;\"\u003e【Back Stretcher \u0026amp; Correct Posture】The back stretcher has 88 massage points,which work like acupuncture by pressing deeply on specific area,helping loosen up the tight muscles.It can also help to correct postural imbalance, let the spinal return to the natural curvature.\u003c\/li\u003e\n\u003cli style=\"list-style: none;\"\u003e【Natural Traction Therapy】The back arch support is a home treatment .Lightweight and portable. Great for use at home, at the gym, in the car or at the office chair.Just 5-10 minutes a day - GET IT! !\u003c\/li\u003e\n\u003cli style=\"list-style: none;\"\u003e【Adjustable Design,Meet Different Needs】The back massage stretcher has 3 adjustable settings for use so that fit for all ages and ability.You can fix this back stretcher device at the most comfortable level for easy stretching.\u003c\/li\u003e\n\u003cli style=\"list-style: none;\"\u003e【High Quality \u0026amp; Durable】The back exerciser device is made of tough and environmentally friendly ABS materials.It can bear up to 300lbs,without damage for long-term use.The foam cushion let you exercise in a comfortable and give a good protection to your spinal.\u003c\/li\u003e\n\u003cli style=\"list-style: none;\"\u003e【100% Guaranteed Customer Satisfaction】CAMTOA Lumbar Support Device- ideal gift for those who suffering back pain.We have been working hard to provide you with the highest quality products and provide a 100% free money back guarantee.\u003c\/li\u003e\n[TABS]\n\u003ch5\u003e\u003cspan\u003eDescription\u003c\/span\u003e\u003c\/h5\u003e\n\u003cp\u003e\u003cimg alt=\"\" src=\"https:\/\/cdn.shopifycdn.net\/s\/files\/1\/2463\/1595\/files\/1_c52b5d6b-ae84-469d-9226-69d1d08e5a2b_1024x1024.jpg?v=1603552338\"\u003e\u003c\/p\u003e\n\u003cp\u003e\u003cu\u003eCAMTOA Back Support\u003cspan\u003e \u003c\/span\u003e\u003c\/u\u003e\u003cspan\u003eis a convenient at home back pain treatment and preventative care product. It's a simple way to gently stretch your entire back, helping to eliminate the source of your back pain and restore your natural back curve.\u003c\/span\u003e\u003c\/p\u003e\n\u003cp\u003e\u003cspan\u003e\u003cimg alt=\"\" src=\"https:\/\/cdn.shopifycdn.net\/s\/files\/1\/2463\/1595\/files\/2_7527bb0a-46ca-4d26-9e95-ec06686de6d0_1024x1024.jpg?v=1603552416\"\u003e\u003c\/span\u003e\u003c\/p\u003e\n\u003cp\u003e\u003cspan\u003e\u003cimg alt=\"\" src=\"https:\/\/cdn.shopifycdn.net\/s\/files\/1\/2463\/1595\/files\/3_140911ad-a65a-4b31-ba11-18d7ddadb516_1024x1024.jpg?v=1603552457\"\u003e\u003c\/span\u003e\u003c\/p\u003e\n\u003ch3 class=\"a-spacing-mini\"\u003eBenefits of Back Stretcher:\u003c\/h3\u003e\n\u003cul class=\"a-unordered-list a-vertical\"\u003e\n\u003cli\u003e\u003cspan class=\"a-list-item\"\u003eDevelop circulation within the regions of your body that limits blood flow.\u003c\/span\u003e\u003c\/li\u003e\n\u003cli\u003e\u003cspan class=\"a-list-item\"\u003eAwakens trigger points within the specific areas of the body cultivating and reviving stiff muscles to increase body awareness.\u003c\/span\u003e\u003c\/li\u003e\n\u003cli\u003e\u003cspan class=\"a-list-item\"\u003eHelps to improve flexibility of your joints targeting rehabilitation and enhanced range of motion.\u003c\/span\u003e\u003c\/li\u003e\n\u003c\/ul\u003e\n\u003cp\u003e\u003cimg alt=\"\" src=\"https:\/\/cdn.shopifycdn.net\/s\/files\/1\/2463\/1595\/files\/4_af6a91aa-9665-4236-92bc-35a1ecfb0ec8_1024x1024.jpg?v=1603552780\"\u003e\u003c\/p\u003e\n\u003cp\u003e\u003cimg alt=\"\" src=\"https:\/\/cdn.shopifycdn.net\/s\/files\/1\/2463\/1595\/files\/5_9cd2f004-fdb0-420a-9532-5eb6d3961844_1024x1024.jpg?v=1603552802\"\u003e\u003c\/p\u003e\n\u003ch5\u003e\u003cspan\u003eReviews\u003c\/span\u003e\u003c\/h5\u003e\n[\/TABS]","published_at":"2020-11-02T22:18:07+08:00","created_at":"2020-10-24T23:05:13+08:00","vendor":"CAMTOA","type":"Back Brace","tags":[],"price":2379,"price_min":2379,"price_max":2379,"available":true,"price_varies":false,"compare_at_price":4200,"compare_at_price_min":4200,"compare_at_price_max":4200,"compare_at_price_varies":false,"variants":[{"id":32001312718946,"title":"Default Title","option1":"Default Title","option2":null,"option3":null,"sku":"B089SYS5R5","requires_shipping":true,"taxable":true,"featured_image":null,"available":true,"name":"Back Stretcher, Lumbar Back Pain Relief, Multi-Level Lumbar Support Device, Back Massager Pain Relief, Lower and Upper Back Stretcher Support","public_title":null,"options":["Default Title"],"price":2379,"weight":0,"compare_at_price":4200,"inventory_quantity":9999,"inventory_management":"shopify","inventory_policy":"deny","barcode":"","requires_selling_plan":false,"selling_plan_allocations":[]}],"images":["\/\/cdn.shopify.com\/s\/files\/1\/2463\/1595\/products\/41TPnQqSO4L._UL1500.jpg?v=1603551913","\/\/cdn.shopify.com\/s\/files\/1\/2463\/1595\/products\/5148wVh6QAL._UL1500.jpg?v=1603551913","\/\/cdn.shopify.com\/s\/files\/1\/2463\/1595\/products\/51src8Z1gBL._UL1500.jpg?v=1603551913","\/\/cdn.shopify.com\/s\/files\/1\/2463\/1595\/products\/518LGrL5P5L._UL1500.jpg?v=1603551913","\/\/cdn.shopify.com\/s\/files\/1\/2463\/1595\/products\/51MbdXEJjgL._UL1500.jpg?v=1603551913","\/\/cdn.shopify.com\/s\/files\/1\/2463\/1595\/products\/41T7-6qSWIL._UL1500.jpg?v=1603551913","\/\/cdn.shopify.com\/s\/files\/1\/2463\/1595\/products\/51vj8LrUjsL._UL1500.jpg?v=1603551914"],"featured_image":"\/\/cdn.shopify.com\/s\/files\/1\/2463\/1595\/products\/41TPnQqSO4L._UL1500.jpg?v=1603551913","options":["Title"],"media":[{"alt":"0","id":6604818677858,"position":1,"preview_image":{"aspect_ratio":1.0,"height":1500,"width":1500,"src":"https:\/\/cdn.shopify.com\/s\/files\/1\/2463\/1595\/products\/41TPnQqSO4L._UL1500.jpg?v=1603551913"},"aspect_ratio":1.0,"height":1500,"media_type":"image","src":"https:\/\/cdn.shopify.com\/s\/files\/1\/2463\/1595\/products\/41TPnQqSO4L._UL1500.jpg?v=1603551913","width":1500},{"alt":"1","id":6604818710626,"position":2,"preview_image":{"aspect_ratio":1.0,"height":1500,"width":1500,"src":"https:\/\/cdn.shopify.com\/s\/files\/1\/2463\/1595\/products\/5148wVh6QAL._UL1500.jpg?v=1603551913"},"aspect_ratio":1.0,"height":1500,"media_type":"image","src":"https:\/\/cdn.shopify.com\/s\/files\/1\/2463\/1595\/products\/5148wVh6QAL._UL1500.jpg?v=1603551913","width":1500},{"alt":"2","id":6604818743394,"position":3,"preview_image":{"aspect_ratio":1.0,"height":1500,"width":1500,"src":"https:\/\/cdn.shopify.com\/s\/files\/1\/2463\/1595\/products\/51src8Z1gBL._UL1500.jpg?v=1603551913"},"aspect_ratio":1.0,"height":1500,"media_type":"image","src":"https:\/\/cdn.shopify.com\/s\/files\/1\/2463\/1595\/products\/51src8Z1gBL._UL1500.jpg?v=1603551913","width":1500},{"alt":"3","id":6604818776162,"position":4,"preview_image":{"aspect_ratio":1.0,"height":1500,"width":1500,"src":"https:\/\/cdn.shopify.com\/s\/files\/1\/2463\/1595\/products\/518LGrL5P5L._UL1500.jpg?v=1603551913"},"aspect_ratio":1.0,"height":1500,"media_type":"image","src":"https:\/\/cdn.shopify.com\/s\/files\/1\/2463\/1595\/products\/518LGrL5P5L._UL1500.jpg?v=1603551913","width":1500},{"alt":"4","id":6604818808930,"position":5,"preview_image":{"aspect_ratio":1.0,"height":1500,"width":1500,"src":"https:\/\/cdn.shopify.com\/s\/files\/1\/2463\/1595\/products\/51MbdXEJjgL._UL1500.jpg?v=1603551913"},"aspect_ratio":1.0,"height":1500,"media_type":"image","src":"https:\/\/cdn.shopify.com\/s\/files\/1\/2463\/1595\/products\/51MbdXEJjgL._UL1500.jpg?v=1603551913","width":1500},{"alt":"5","id":6604818841698,"position":6,"preview_image":{"aspect_ratio":1.0,"height":1500,"width":1500,"src":"https:\/\/cdn.shopify.com\/s\/files\/1\/2463\/1595\/products\/41T7-6qSWIL._UL1500.jpg?v=1603551913"},"aspect_ratio":1.0,"height":1500,"media_type":"image","src":"https:\/\/cdn.shopify.com\/s\/files\/1\/2463\/1595\/products\/41T7-6qSWIL._UL1500.jpg?v=1603551913","width":1500},{"alt":"6","id":6604818874466,"position":7,"preview_image":{"aspect_ratio":0.909,"height":1500,"width":1364,"src":"https:\/\/cdn.shopify.com\/s\/files\/1\/2463\/1595\/products\/51vj8LrUjsL._UL1500.jpg?v=1603551914"},"aspect_ratio":0.909,"height":1500,"media_type":"image","src":"https:\/\/cdn.shopify.com\/s\/files\/1\/2463\/1595\/products\/51vj8LrUjsL._UL1500.jpg?v=1603551914","width":1364}],"requires_selling_plan":false,"selling_plan_groups":[],"content":"\u003cli style=\"list-style: none;\"\u003e【Back Stretcher \u0026amp; Correct Posture】The back stretcher has 88 massage points,which work like acupuncture by pressing deeply on specific area,helping loosen up the tight muscles.It can also help to correct postural imbalance, let the spinal return to the natural curvature.\u003c\/li\u003e\n\u003cli style=\"list-style: none;\"\u003e【Natural Traction Therapy】The back arch support is a home treatment .Lightweight and portable. Great for use at home, at the gym, in the car or at the office chair.Just 5-10 minutes a day - GET IT! !\u003c\/li\u003e\n\u003cli style=\"list-style: none;\"\u003e【Adjustable Design,Meet Different Needs】The back massage stretcher has 3 adjustable settings for use so that fit for all ages and ability.You can fix this back stretcher device at the most comfortable level for easy stretching.\u003c\/li\u003e\n\u003cli style=\"list-style: none;\"\u003e【High Quality \u0026amp; Durable】The back exerciser device is made of tough and environmentally friendly ABS materials.It can bear up to 300lbs,without damage for long-term use.The foam cushion let you exercise in a comfortable and give a good protection to your spinal.\u003c\/li\u003e\n\u003cli style=\"list-style: none;\"\u003e【100% Guaranteed Customer Satisfaction】CAMTOA Lumbar Support Device- ideal gift for those who suffering back pain.We have been working hard to provide you with the highest quality products and provide a 100% free money back guarantee.\u003c\/li\u003e\n[TABS]\n\u003ch5\u003e\u003cspan\u003eDescription\u003c\/span\u003e\u003c\/h5\u003e\n\u003cp\u003e\u003cimg alt=\"\" src=\"https:\/\/cdn.shopifycdn.net\/s\/files\/1\/2463\/1595\/files\/1_c52b5d6b-ae84-469d-9226-69d1d08e5a2b_1024x1024.jpg?v=1603552338\"\u003e\u003c\/p\u003e\n\u003cp\u003e\u003cu\u003eCAMTOA Back Support\u003cspan\u003e \u003c\/span\u003e\u003c\/u\u003e\u003cspan\u003eis a convenient at home back pain treatment and preventative care product. It's a simple way to gently stretch your entire back, helping to eliminate the source of your back pain and restore your natural back curve.\u003c\/span\u003e\u003c\/p\u003e\n\u003cp\u003e\u003cspan\u003e\u003cimg alt=\"\" src=\"https:\/\/cdn.shopifycdn.net\/s\/files\/1\/2463\/1595\/files\/2_7527bb0a-46ca-4d26-9e95-ec06686de6d0_1024x1024.jpg?v=1603552416\"\u003e\u003c\/span\u003e\u003c\/p\u003e\n\u003cp\u003e\u003cspan\u003e\u003cimg alt=\"\" src=\"https:\/\/cdn.shopifycdn.net\/s\/files\/1\/2463\/1595\/files\/3_140911ad-a65a-4b31-ba11-18d7ddadb516_1024x1024.jpg?v=1603552457\"\u003e\u003c\/span\u003e\u003c\/p\u003e\n\u003ch3 class=\"a-spacing-mini\"\u003eBenefits of Back Stretcher:\u003c\/h3\u003e\n\u003cul class=\"a-unordered-list a-vertical\"\u003e\n\u003cli\u003e\u003cspan class=\"a-list-item\"\u003eDevelop circulation within the regions of your body that limits blood flow.\u003c\/span\u003e\u003c\/li\u003e\n\u003cli\u003e\u003cspan class=\"a-list-item\"\u003eAwakens trigger points within the specific areas of the body cultivating and reviving stiff muscles to increase body awareness.\u003c\/span\u003e\u003c\/li\u003e\n\u003cli\u003e\u003cspan class=\"a-list-item\"\u003eHelps to improve flexibility of your joints targeting rehabilitation and enhanced range of motion.\u003c\/span\u003e\u003c\/li\u003e\n\u003c\/ul\u003e\n\u003cp\u003e\u003cimg alt=\"\" src=\"https:\/\/cdn.shopifycdn.net\/s\/files\/1\/2463\/1595\/files\/4_af6a91aa-9665-4236-92bc-35a1ecfb0ec8_1024x1024.jpg?v=1603552780\"\u003e\u003c\/p\u003e\n\u003cp\u003e\u003cimg alt=\"\" src=\"https:\/\/cdn.shopifycdn.net\/s\/files\/1\/2463\/1595\/files\/5_9cd2f004-fdb0-420a-9532-5eb6d3961844_1024x1024.jpg?v=1603552802\"\u003e\u003c\/p\u003e\n\u003ch5\u003e\u003cspan\u003eReviews\u003c\/span\u003e\u003c\/h5\u003e\n[\/TABS]"}
Back Stretcher, Lumbar Back Pain Relief, Multi-Level Lumbar Support Device, Back Massager Pain Relief, Lower and Upper Back Stretcher Support
Back Stretcher, Lumbar Back Pain Relief, Multi-Level Lumbar Support Device, Back Massager Pain Relief, Lower and Upper Back Stretcher Support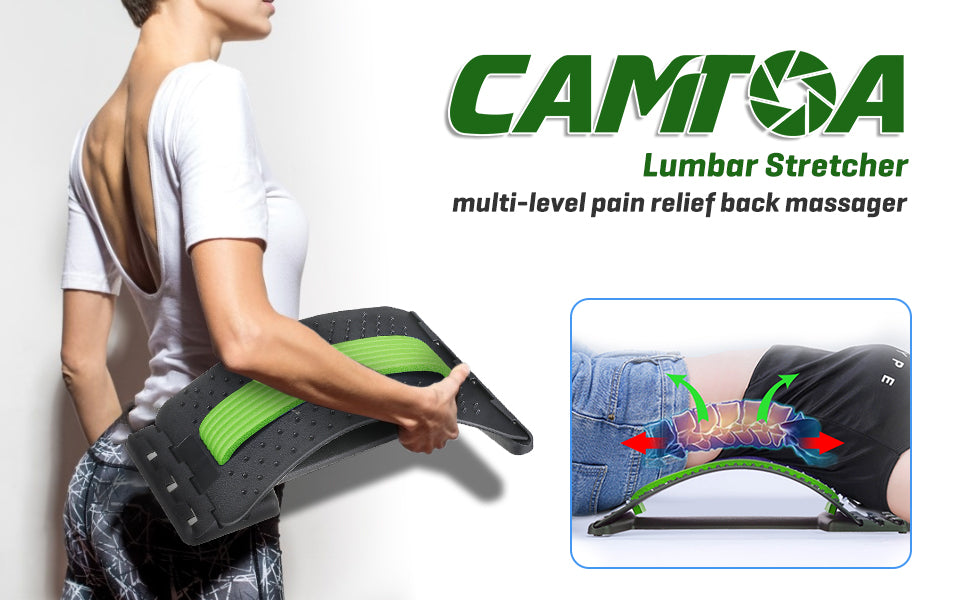 CAMTOA Back Support is a convenient at home back pain treatment and preventative care product. It's a simple way to gently stretch your entire back, helping to eliminate the source of your back pain and restore your natural back curve.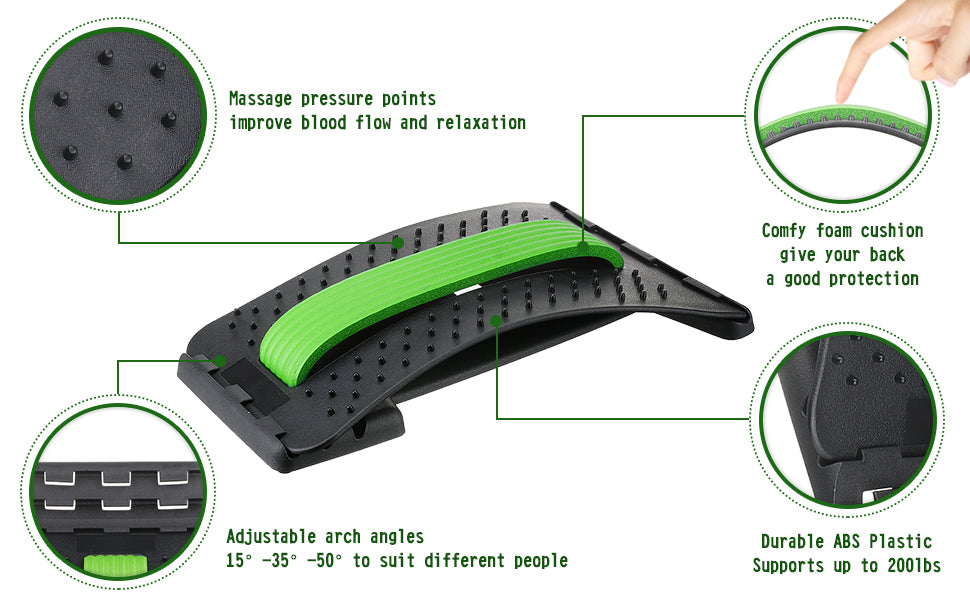 Benefits of Back Stretcher:
Develop circulation within the regions of your body that limits blood flow.

Awakens trigger points within the specific areas of the body cultivating and reviving stiff muscles to increase body awareness.

Helps to improve flexibility of your joints targeting rehabilitation and enhanced range of motion.