{"id":4514431074402,"title":"Back Stretcher, Lumbar Back Pain Relief Device, Multi-Level Back Massager Lumbar, Pain Relief for Herniated Disc, Sciatica, Scoliosis","handle":"back-stretcher-lumbar-back-pain-relief-device-multi-level-back-massager-lumbar-pain-relief-for-herniated-disc-sciatica-scoliosis-lower-and-upper-back-stretcher-support","description":"\u003cli style=\"list-style: none;\"\u003e\n\u003cb\u003e✔RELIEVE PAIN EFFECTIVELY \u0026amp; IMPROVED POSTURE\u003c\/b\u003e: The back massage stretcher bow has 88 plastic needles, which produces acupuncture effects by pressing deeply on specific points. Grants your back with the relaxation and relieve those aching muscles. And let the spinal return to the natural lines, help stabilize the spinal column and leadership position.\u003c\/li\u003e\n\u003cli style=\"list-style: none;\"\u003e\n\u003cb\u003e✔DOCTORS RECOMMEND\u003c\/b\u003e: Sitting all day, cross-legged or physical activities can lead to spine and posture imbalances. The Kinper Back Stretcher is designed to help correct and improve posture. Easy to use home treatment for Chronic Lumbar Support, Herniated Disc, Sciatica Nerve, Spinal Stenosis. Lumbar Support, Spine Stretcher, Relax your Back.\u003c\/li\u003e\n\u003cli style=\"list-style: none;\"\u003e\n\u003cb\u003e✔ADJUSTABLE DESIGN\u003c\/b\u003e: The back massage stretcher has 3 adjustable settings for use by any age or ability! You can fix this back stretcher device at the most comfortable level for easy stretching and effective pain relief. The higher the back stretcher, the more stretch you get.\u003c\/li\u003e\n\u003cli style=\"list-style: none;\"\u003e\n\u003cb\u003e✔HIGH QUALITY MATERIAL \u0026amp; DURABLE\u003c\/b\u003e: Made of very tough ABS and environmentally friendly NBR materials. The back stretcher device can bear up to 150kg, and the foam pad in the center of this lumbar back stretcher gives cushioning to ensure your spinal feel comfortable.\u003c\/li\u003e\n\u003cli style=\"list-style: none;\"\u003e\n\u003cb\u003e❥WHY CHOOSE US\u003c\/b\u003e: We Provide The High-Quality Health Care Products For You, Based On Our Own Factory And Professional Design Team!! Lightweight and portable. Great for use at home, at the gym, in the car or at the office chair. Reduce back pain - TRY IT! !\u003c\/li\u003e\n[TABS]\n\u003ch5\u003e\u003cspan\u003eDescription\u003c\/span\u003e\u003c\/h5\u003e\n\u003cp\u003e\u003cimg alt=\"\" src=\"https:\/\/cdn.shopifycdn.net\/s\/files\/1\/2463\/1595\/files\/11_8d8436d4-474f-455c-931e-ece3f152ba97_1024x1024.jpg?v=1603552972\"\u003e\u003c\/p\u003e\n\u003cp class=\"a-spacing-base\"\u003eFrom Kinper - Lumbar Back Pain Relief Device\u003c\/p\u003e\n\u003cp class=\"a-spacing-base\"\u003eIf your spine is not balanced, you will inevitably have problems in your back, your neck, your shoulders and even your joints. Kinper Back Stretcher is a product for lumbar back pain treatment and Prevention.\u003c\/p\u003e\n\u003cp class=\"a-spacing-base\"\u003e\u003cimg alt=\"\" src=\"https:\/\/cdn.shopifycdn.net\/s\/files\/1\/2463\/1595\/files\/12_220932a9-d18f-42b7-ac39-8f4601574f62_1024x1024.jpg?v=1603553009\"\u003e\u003c\/p\u003e\n\u003cp class=\"a-spacing-base\"\u003e\u003cimg alt=\"\" src=\"https:\/\/cdn.shopifycdn.net\/s\/files\/1\/2463\/1595\/files\/13_d9994d69-719e-4dd2-8447-cb2ffb228002_1024x1024.jpg?v=1603553054\"\u003e\u003c\/p\u003e\n\u003cdiv data-cel-widget=\"aplus-3p-module-b\" data-csa-c-id=\"yadupa-28ztx0-1y997s-k1npf5\" class=\"celwidget aplus-module 3p-module-b aplus-standard\" cel_widget_id=\"aplus-3p-module-b\"\u003e\n\u003cdiv class=\"aplus-3p-fixed-width\"\u003e\n\u003cp class=\"a-spacing-base\"\u003e\u003cspan class=\"a-text-bold\"\u003eHow do you install the tool? (The instructions are in the package)\u003c\/span\u003e\u003c\/p\u003e\n\u003cp class=\"a-spacing-base\"\u003e1. Use your knees against the bottom and press the shelf alignment slot with both hands.\u003c\/p\u003e\n\u003cp class=\"a-spacing-base\"\u003e2. Finger pressure on the lumber panel adjustment gently slides into the appropriate gear.\u003c\/p\u003e\n\u003cp class=\"a-spacing-base\"\u003e\u003cimg alt=\"\" src=\"https:\/\/cdn.shopifycdn.net\/s\/files\/1\/2463\/1595\/files\/14_e666e916-6a90-4b04-8afd-86069f66f437_1024x1024.jpg?v=1603553091\"\u003e\u003c\/p\u003e\n\u003cp class=\"a-spacing-base\"\u003e\u003cimg alt=\"\" src=\"https:\/\/cdn.shopifycdn.net\/s\/files\/1\/2463\/1595\/files\/15_97d6df2b-c3aa-4e7e-9651-79b639224c0d_1024x1024.jpg?v=1603553151\"\u003e\u003c\/p\u003e\n\u003c\/div\u003e\n\u003c\/div\u003e\n\u003ch5\u003e\u003cspan\u003eReviews\u003c\/span\u003e\u003c\/h5\u003e\n[\/TABS]","published_at":"2020-10-24T23:05:18+08:00","created_at":"2020-10-24T23:05:23+08:00","vendor":"Kinper","type":"Back Brace","tags":[],"price":2397,"price_min":2397,"price_max":2397,"available":true,"price_varies":false,"compare_at_price":3879,"compare_at_price_min":3879,"compare_at_price_max":3879,"compare_at_price_varies":false,"variants":[{"id":32001312948322,"title":"Default Title","option1":"Default Title","option2":null,"option3":null,"sku":"B084WVMV5Q","requires_shipping":true,"taxable":true,"featured_image":null,"available":true,"name":"Back Stretcher, Lumbar Back Pain Relief Device, Multi-Level Back Massager Lumbar, Pain Relief for Herniated Disc, Sciatica, Scoliosis","public_title":null,"options":["Default Title"],"price":2397,"weight":0,"compare_at_price":3879,"inventory_quantity":9997,"inventory_management":"shopify","inventory_policy":"deny","barcode":"303277267313","requires_selling_plan":false,"selling_plan_allocations":[]}],"images":["\/\/cdn.shopify.com\/s\/files\/1\/2463\/1595\/products\/41pgwjxAeuL._UL1500.jpg?v=1603551923","\/\/cdn.shopify.com\/s\/files\/1\/2463\/1595\/products\/514qNYtWawL._UL1500.jpg?v=1603551923","\/\/cdn.shopify.com\/s\/files\/1\/2463\/1595\/products\/519VHfuQyRL._UL1500.jpg?v=1603551923","\/\/cdn.shopify.com\/s\/files\/1\/2463\/1595\/products\/41Y0OjT1OIL._UL1500.jpg?v=1603551923","\/\/cdn.shopify.com\/s\/files\/1\/2463\/1595\/products\/518tGBC1tNL._UL1500.jpg?v=1603551923","\/\/cdn.shopify.com\/s\/files\/1\/2463\/1595\/products\/51IqdIPJsnL._UL1500.jpg?v=1603551924"],"featured_image":"\/\/cdn.shopify.com\/s\/files\/1\/2463\/1595\/products\/41pgwjxAeuL._UL1500.jpg?v=1603551923","options":["Title"],"media":[{"alt":"0","id":6604819497058,"position":1,"preview_image":{"aspect_ratio":1.0,"height":1500,"width":1500,"src":"https:\/\/cdn.shopify.com\/s\/files\/1\/2463\/1595\/products\/41pgwjxAeuL._UL1500.jpg?v=1603551923"},"aspect_ratio":1.0,"height":1500,"media_type":"image","src":"https:\/\/cdn.shopify.com\/s\/files\/1\/2463\/1595\/products\/41pgwjxAeuL._UL1500.jpg?v=1603551923","width":1500},{"alt":"1","id":6604819529826,"position":2,"preview_image":{"aspect_ratio":1.0,"height":1500,"width":1500,"src":"https:\/\/cdn.shopify.com\/s\/files\/1\/2463\/1595\/products\/514qNYtWawL._UL1500.jpg?v=1603551923"},"aspect_ratio":1.0,"height":1500,"media_type":"image","src":"https:\/\/cdn.shopify.com\/s\/files\/1\/2463\/1595\/products\/514qNYtWawL._UL1500.jpg?v=1603551923","width":1500},{"alt":"2","id":6604819562594,"position":3,"preview_image":{"aspect_ratio":1.0,"height":1500,"width":1500,"src":"https:\/\/cdn.shopify.com\/s\/files\/1\/2463\/1595\/products\/519VHfuQyRL._UL1500.jpg?v=1603551923"},"aspect_ratio":1.0,"height":1500,"media_type":"image","src":"https:\/\/cdn.shopify.com\/s\/files\/1\/2463\/1595\/products\/519VHfuQyRL._UL1500.jpg?v=1603551923","width":1500},{"alt":"3","id":6604819595362,"position":4,"preview_image":{"aspect_ratio":1.0,"height":1500,"width":1500,"src":"https:\/\/cdn.shopify.com\/s\/files\/1\/2463\/1595\/products\/41Y0OjT1OIL._UL1500.jpg?v=1603551923"},"aspect_ratio":1.0,"height":1500,"media_type":"image","src":"https:\/\/cdn.shopify.com\/s\/files\/1\/2463\/1595\/products\/41Y0OjT1OIL._UL1500.jpg?v=1603551923","width":1500},{"alt":"4","id":6604819628130,"position":5,"preview_image":{"aspect_ratio":1.0,"height":1500,"width":1500,"src":"https:\/\/cdn.shopify.com\/s\/files\/1\/2463\/1595\/products\/518tGBC1tNL._UL1500.jpg?v=1603551923"},"aspect_ratio":1.0,"height":1500,"media_type":"image","src":"https:\/\/cdn.shopify.com\/s\/files\/1\/2463\/1595\/products\/518tGBC1tNL._UL1500.jpg?v=1603551923","width":1500},{"alt":"5","id":6604819660898,"position":6,"preview_image":{"aspect_ratio":1.0,"height":1500,"width":1500,"src":"https:\/\/cdn.shopify.com\/s\/files\/1\/2463\/1595\/products\/51IqdIPJsnL._UL1500.jpg?v=1603551924"},"aspect_ratio":1.0,"height":1500,"media_type":"image","src":"https:\/\/cdn.shopify.com\/s\/files\/1\/2463\/1595\/products\/51IqdIPJsnL._UL1500.jpg?v=1603551924","width":1500}],"requires_selling_plan":false,"selling_plan_groups":[],"content":"\u003cli style=\"list-style: none;\"\u003e\n\u003cb\u003e✔RELIEVE PAIN EFFECTIVELY \u0026amp; IMPROVED POSTURE\u003c\/b\u003e: The back massage stretcher bow has 88 plastic needles, which produces acupuncture effects by pressing deeply on specific points. Grants your back with the relaxation and relieve those aching muscles. And let the spinal return to the natural lines, help stabilize the spinal column and leadership position.\u003c\/li\u003e\n\u003cli style=\"list-style: none;\"\u003e\n\u003cb\u003e✔DOCTORS RECOMMEND\u003c\/b\u003e: Sitting all day, cross-legged or physical activities can lead to spine and posture imbalances. The Kinper Back Stretcher is designed to help correct and improve posture. Easy to use home treatment for Chronic Lumbar Support, Herniated Disc, Sciatica Nerve, Spinal Stenosis. Lumbar Support, Spine Stretcher, Relax your Back.\u003c\/li\u003e\n\u003cli style=\"list-style: none;\"\u003e\n\u003cb\u003e✔ADJUSTABLE DESIGN\u003c\/b\u003e: The back massage stretcher has 3 adjustable settings for use by any age or ability! You can fix this back stretcher device at the most comfortable level for easy stretching and effective pain relief. The higher the back stretcher, the more stretch you get.\u003c\/li\u003e\n\u003cli style=\"list-style: none;\"\u003e\n\u003cb\u003e✔HIGH QUALITY MATERIAL \u0026amp; DURABLE\u003c\/b\u003e: Made of very tough ABS and environmentally friendly NBR materials. The back stretcher device can bear up to 150kg, and the foam pad in the center of this lumbar back stretcher gives cushioning to ensure your spinal feel comfortable.\u003c\/li\u003e\n\u003cli style=\"list-style: none;\"\u003e\n\u003cb\u003e❥WHY CHOOSE US\u003c\/b\u003e: We Provide The High-Quality Health Care Products For You, Based On Our Own Factory And Professional Design Team!! Lightweight and portable. Great for use at home, at the gym, in the car or at the office chair. Reduce back pain - TRY IT! !\u003c\/li\u003e\n[TABS]\n\u003ch5\u003e\u003cspan\u003eDescription\u003c\/span\u003e\u003c\/h5\u003e\n\u003cp\u003e\u003cimg alt=\"\" src=\"https:\/\/cdn.shopifycdn.net\/s\/files\/1\/2463\/1595\/files\/11_8d8436d4-474f-455c-931e-ece3f152ba97_1024x1024.jpg?v=1603552972\"\u003e\u003c\/p\u003e\n\u003cp class=\"a-spacing-base\"\u003eFrom Kinper - Lumbar Back Pain Relief Device\u003c\/p\u003e\n\u003cp class=\"a-spacing-base\"\u003eIf your spine is not balanced, you will inevitably have problems in your back, your neck, your shoulders and even your joints. Kinper Back Stretcher is a product for lumbar back pain treatment and Prevention.\u003c\/p\u003e\n\u003cp class=\"a-spacing-base\"\u003e\u003cimg alt=\"\" src=\"https:\/\/cdn.shopifycdn.net\/s\/files\/1\/2463\/1595\/files\/12_220932a9-d18f-42b7-ac39-8f4601574f62_1024x1024.jpg?v=1603553009\"\u003e\u003c\/p\u003e\n\u003cp class=\"a-spacing-base\"\u003e\u003cimg alt=\"\" src=\"https:\/\/cdn.shopifycdn.net\/s\/files\/1\/2463\/1595\/files\/13_d9994d69-719e-4dd2-8447-cb2ffb228002_1024x1024.jpg?v=1603553054\"\u003e\u003c\/p\u003e\n\u003cdiv data-cel-widget=\"aplus-3p-module-b\" data-csa-c-id=\"yadupa-28ztx0-1y997s-k1npf5\" class=\"celwidget aplus-module 3p-module-b aplus-standard\" cel_widget_id=\"aplus-3p-module-b\"\u003e\n\u003cdiv class=\"aplus-3p-fixed-width\"\u003e\n\u003cp class=\"a-spacing-base\"\u003e\u003cspan class=\"a-text-bold\"\u003eHow do you install the tool? (The instructions are in the package)\u003c\/span\u003e\u003c\/p\u003e\n\u003cp class=\"a-spacing-base\"\u003e1. Use your knees against the bottom and press the shelf alignment slot with both hands.\u003c\/p\u003e\n\u003cp class=\"a-spacing-base\"\u003e2. Finger pressure on the lumber panel adjustment gently slides into the appropriate gear.\u003c\/p\u003e\n\u003cp class=\"a-spacing-base\"\u003e\u003cimg alt=\"\" src=\"https:\/\/cdn.shopifycdn.net\/s\/files\/1\/2463\/1595\/files\/14_e666e916-6a90-4b04-8afd-86069f66f437_1024x1024.jpg?v=1603553091\"\u003e\u003c\/p\u003e\n\u003cp class=\"a-spacing-base\"\u003e\u003cimg alt=\"\" src=\"https:\/\/cdn.shopifycdn.net\/s\/files\/1\/2463\/1595\/files\/15_97d6df2b-c3aa-4e7e-9651-79b639224c0d_1024x1024.jpg?v=1603553151\"\u003e\u003c\/p\u003e\n\u003c\/div\u003e\n\u003c\/div\u003e\n\u003ch5\u003e\u003cspan\u003eReviews\u003c\/span\u003e\u003c\/h5\u003e\n[\/TABS]"}
Back Stretcher, Lumbar Back Pain Relief Device, Multi-Level Back Massager Lumbar, Pain Relief for Herniated Disc, Sciatica, Scoliosis
Back Stretcher, Lumbar Back Pain Relief Device, Multi-Level Back Massager Lumbar, Pain Relief for Herniated Disc, Sciatica, Scoliosis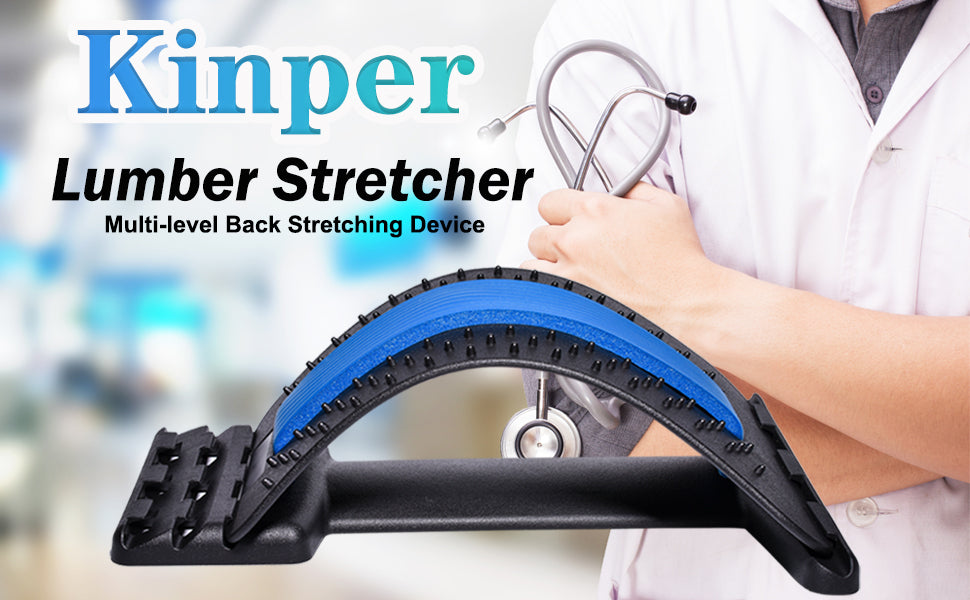 From Kinper - Lumbar Back Pain Relief Device
If your spine is not balanced, you will inevitably have problems in your back, your neck, your shoulders and even your joints. Kinper Back Stretcher is a product for lumbar back pain treatment and Prevention.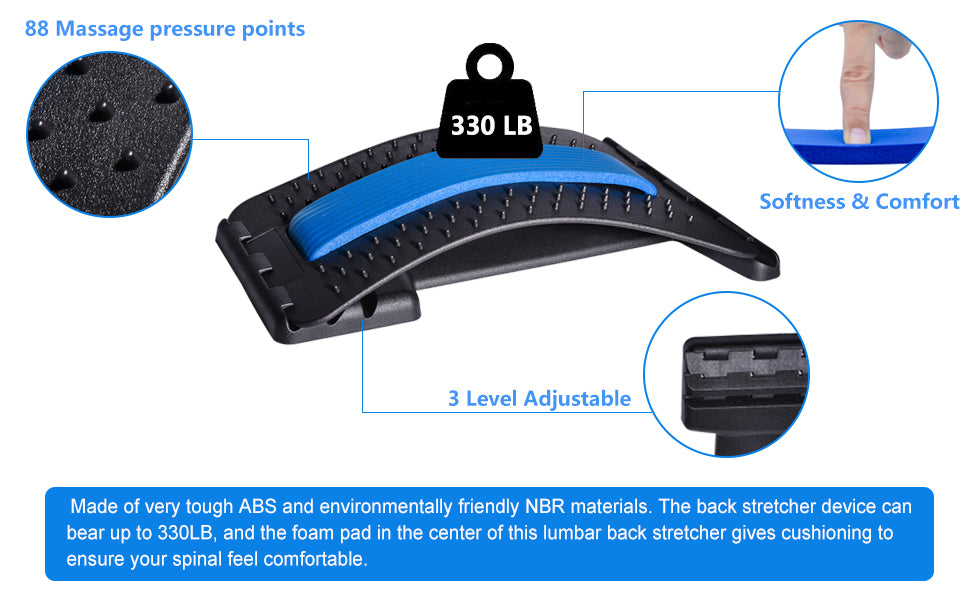 How do you install the tool? (The instructions are in the package)
1. Use your knees against the bottom and press the shelf alignment slot with both hands.
2. Finger pressure on the lumber panel adjustment gently slides into the appropriate gear.