{"id":4513815658594,"title":"Orthomen Plantar Fasciitis Night Splint with Pneumatic - 90 Degree Soft Leg Brace Support, Orthopedic Sleeping Immobilizer Stretch Boot","handle":"orthomen-plantar-fasciitis-night-splint-with-pneumatic-90-degree-soft","description":"\u003cli style=\"list-style: none;\"\u003e*Supporting a neutral foot position, soft night splint reduces pain and inflammation due to plantar fasciitis, drop foot and Achilles tendonitis.\u003c\/li\u003e\n\u003cli style=\"list-style: none;\"\u003e*Keeps the foot at a 90-degree angle stretch to the plantar fasciitis by holding the foot in dorsiflexion, which helps for better healing.\u003c\/li\u003e\n\u003cli style=\"list-style: none;\"\u003e*Do not walk in this boot. It is made for wear while sleeping, sitting, or reclining.\u003c\/li\u003e\n\u003cli style=\"list-style: none;\"\u003e*Internal air bladder beneath forefoot increases dorsiflexion. Inflate and deflate system can be easily operated with one hand.\u003c\/li\u003e\n\u003cli style=\"list-style: none;\"\u003e*Soft padded cover provides greater comfort and protection against irritation to the skin.\u003c\/li\u003e\n[TABS]\n\u003ch5\u003e\u003cspan\u003eDescription\u003c\/span\u003e\u003c\/h5\u003e\n\u003cp\u003e\u003cimg alt=\"\" src=\"https:\/\/cdn.shopifycdn.net\/s\/files\/1\/2463\/1595\/files\/1_8916dc6e-8e85-4257-8104-959d8fd6389e_1024x1024.jpg?v=1603468879\"\u003e\u003c\/p\u003e\n\u003cp\u003e\u003cimg alt=\"\" src=\"https:\/\/cdn.shopifycdn.net\/s\/files\/1\/2463\/1595\/files\/2_f33c24d7-bd9a-4e9e-ad84-05ff544f4b7a_1024x1024.jpg?v=1603468926\"\u003e\u003c\/p\u003e\n\u003ch3 class=\"a-spacing-mini\"\u003ePneumatic 90º degree night splint\u003c\/h3\u003e\n\u003cp class=\"a-spacing-base\"\u003ePneumatic version is designed to support and protect the foot and ankle comfortably while providing hook and loop straps and a pneumatic pump to suit the individual patient's needs. The fully-integrated inflation\/deflation system of the pneumatic version can easily be operated .Ideal for use in the treatment of heel pain associated with Plantar Fasciitis or Achilles Tendonitis, Foot Drop, Foot \u0026amp; Ankle Arthritis, Nerve Palsy or as a post operative support.\u003c\/p\u003e\n\u003cdiv class=\"amp-centerthirdcol-listbox\"\u003e\n\u003cdiv class=\"a-box a-spacing-small a-color-alternate-background apm-listbox amp-centerthirdcol-listbox\"\u003e\n\u003cdiv class=\"a-box-inner\"\u003e\n\u003cul class=\"a-unordered-list a-vertical\"\u003e\n\u003cli\u003e\u003cspan class=\"a-list-item\"\u003e\u003cspan class=\"a-size-base\"\u003eIt will be best to start wearing the night splint for a short period of time, perhaps only 1 hour the first night, then extending it gradually each night and week.\u003c\/span\u003e\u003c\/span\u003e\u003c\/li\u003e\n\u003cli\u003e\u003cspan class=\"a-list-item\"\u003e\u003cspan class=\"a-size-base\"\u003eMost splints are also adjustable, so you can alter the tension to suit. It may be that you need to start with it looser and make it tighter over time.\u003c\/span\u003e\u003c\/span\u003e\u003c\/li\u003e\n\u003cli\u003e\u003cspan class=\"a-list-item\"\u003e\u003cspan class=\"a-size-base\"\u003eThe ideal target will be to wear it overnight or for around 4 to 5 hours at a time. This is the perfect time period for the plantar fascia tissue to extend and begin to heal!\u003c\/span\u003e\u003c\/span\u003e\u003c\/li\u003e\n\u003c\/ul\u003e\n\u003cp\u003e\u003cspan class=\"a-list-item\"\u003e\u003cimg alt=\"\" src=\"https:\/\/cdn.shopifycdn.net\/s\/files\/1\/2463\/1595\/files\/3_910f07b8-b54e-421f-8931-29aae45c927e_1024x1024.jpg?v=1603468950\"\u003e\u003c\/span\u003e\u003c\/p\u003e\n\u003cp\u003e\u003cspan class=\"a-list-item\"\u003e\u003cimg alt=\"\" src=\"https:\/\/cdn.shopifycdn.net\/s\/files\/1\/2463\/1595\/files\/4_b7b1cd58-7a5b-4293-a47b-9fd6da908619_1024x1024.jpg?v=1603468973\"\u003e\u003c\/span\u003e\u003c\/p\u003e\n\u003cp\u003e\u003cspan class=\"a-list-item\"\u003e\u003cimg alt=\"\" src=\"https:\/\/cdn.shopifycdn.net\/s\/files\/1\/2463\/1595\/files\/5_6f7aaae0-d27b-4834-9cc7-5af289e13f9e_1024x1024.jpg?v=1603468996\"\u003e\u003c\/span\u003e\u003c\/p\u003e\n\u003c\/div\u003e\n\u003c\/div\u003e\n\u003c\/div\u003e\n\u003ch5\u003e\u003cspan\u003eReviews\u003c\/span\u003e\u003c\/h5\u003e\n[\/TABS]","published_at":"2020-10-23T23:56:23+08:00","created_at":"2020-10-23T23:56:29+08:00","vendor":"Orthomen","type":"Ankle Brace","tags":[],"price":4997,"price_min":4997,"price_max":4997,"available":true,"price_varies":false,"compare_at_price":16100,"compare_at_price_min":16100,"compare_at_price_max":16100,"compare_at_price_varies":false,"variants":[{"id":31999876202594,"title":"S","option1":"S","option2":null,"option3":null,"sku":"B07T8M2CL5","requires_shipping":true,"taxable":true,"featured_image":{"id":14429918953570,"product_id":4513815658594,"position":1,"created_at":"2020-10-23T23:56:29+08:00","updated_at":"2020-10-23T23:56:29+08:00","alt":"0","width":740,"height":1087,"src":"https:\/\/cdn.shopify.com\/s\/files\/1\/2463\/1595\/products\/612LMYSUhuL._AC_SL1200.jpg?v=1603468589","variant_ids":[31999876202594,31999876235362,31999876268130]},"available":true,"name":"Orthomen Plantar Fasciitis Night Splint with Pneumatic - 90 Degree Soft Leg Brace Support, Orthopedic Sleeping Immobilizer Stretch Boot - S","public_title":"S","options":["S"],"price":4997,"weight":0,"compare_at_price":16100,"inventory_quantity":9999,"inventory_management":"shopify","inventory_policy":"deny","barcode":"682670853454","featured_media":{"alt":"0","id":6602416390242,"position":1,"preview_image":{"aspect_ratio":0.681,"height":1087,"width":740,"src":"https:\/\/cdn.shopify.com\/s\/files\/1\/2463\/1595\/products\/612LMYSUhuL._AC_SL1200.jpg?v=1603468589"}},"requires_selling_plan":false,"selling_plan_allocations":[]},{"id":31999876235362,"title":"M","option1":"M","option2":null,"option3":null,"sku":"B07T8M2CL5","requires_shipping":true,"taxable":true,"featured_image":{"id":14429918953570,"product_id":4513815658594,"position":1,"created_at":"2020-10-23T23:56:29+08:00","updated_at":"2020-10-23T23:56:29+08:00","alt":"0","width":740,"height":1087,"src":"https:\/\/cdn.shopify.com\/s\/files\/1\/2463\/1595\/products\/612LMYSUhuL._AC_SL1200.jpg?v=1603468589","variant_ids":[31999876202594,31999876235362,31999876268130]},"available":true,"name":"Orthomen Plantar Fasciitis Night Splint with Pneumatic - 90 Degree Soft Leg Brace Support, Orthopedic Sleeping Immobilizer Stretch Boot - M","public_title":"M","options":["M"],"price":4997,"weight":0,"compare_at_price":16100,"inventory_quantity":9999,"inventory_management":"shopify","inventory_policy":"deny","barcode":"682670853454","featured_media":{"alt":"0","id":6602416390242,"position":1,"preview_image":{"aspect_ratio":0.681,"height":1087,"width":740,"src":"https:\/\/cdn.shopify.com\/s\/files\/1\/2463\/1595\/products\/612LMYSUhuL._AC_SL1200.jpg?v=1603468589"}},"requires_selling_plan":false,"selling_plan_allocations":[]},{"id":31999876268130,"title":"L","option1":"L","option2":null,"option3":null,"sku":"B07T8M2CL5","requires_shipping":true,"taxable":true,"featured_image":{"id":14429918953570,"product_id":4513815658594,"position":1,"created_at":"2020-10-23T23:56:29+08:00","updated_at":"2020-10-23T23:56:29+08:00","alt":"0","width":740,"height":1087,"src":"https:\/\/cdn.shopify.com\/s\/files\/1\/2463\/1595\/products\/612LMYSUhuL._AC_SL1200.jpg?v=1603468589","variant_ids":[31999876202594,31999876235362,31999876268130]},"available":true,"name":"Orthomen Plantar Fasciitis Night Splint with Pneumatic - 90 Degree Soft Leg Brace Support, Orthopedic Sleeping Immobilizer Stretch Boot - L","public_title":"L","options":["L"],"price":4997,"weight":0,"compare_at_price":16100,"inventory_quantity":9999,"inventory_management":"shopify","inventory_policy":"deny","barcode":"682670853454","featured_media":{"alt":"0","id":6602416390242,"position":1,"preview_image":{"aspect_ratio":0.681,"height":1087,"width":740,"src":"https:\/\/cdn.shopify.com\/s\/files\/1\/2463\/1595\/products\/612LMYSUhuL._AC_SL1200.jpg?v=1603468589"}},"requires_selling_plan":false,"selling_plan_allocations":[]}],"images":["\/\/cdn.shopify.com\/s\/files\/1\/2463\/1595\/products\/612LMYSUhuL._AC_SL1200.jpg?v=1603468589","\/\/cdn.shopify.com\/s\/files\/1\/2463\/1595\/products\/41IEsZhE4TL._UL1500.jpg?v=1603468589","\/\/cdn.shopify.com\/s\/files\/1\/2463\/1595\/products\/41u25R-RvSL._UL1500.jpg?v=1603468589","\/\/cdn.shopify.com\/s\/files\/1\/2463\/1595\/products\/41ddwB6UoyL._UL1500.jpg?v=1603468589","\/\/cdn.shopify.com\/s\/files\/1\/2463\/1595\/products\/41x0X1qzIOL._UL1500.jpg?v=1603468589","\/\/cdn.shopify.com\/s\/files\/1\/2463\/1595\/products\/418fHxOpayL._UL1500.jpg?v=1603468589","\/\/cdn.shopify.com\/s\/files\/1\/2463\/1595\/products\/91HFQ0mdHDL.SS40_BG85_85_85_BR-120_PKdp-play-icon-overlay__.jpg._UL1500.jpg?v=1603468589"],"featured_image":"\/\/cdn.shopify.com\/s\/files\/1\/2463\/1595\/products\/612LMYSUhuL._AC_SL1200.jpg?v=1603468589","options":["Size:"],"media":[{"alt":"0","id":6602416390242,"position":1,"preview_image":{"aspect_ratio":0.681,"height":1087,"width":740,"src":"https:\/\/cdn.shopify.com\/s\/files\/1\/2463\/1595\/products\/612LMYSUhuL._AC_SL1200.jpg?v=1603468589"},"aspect_ratio":0.681,"height":1087,"media_type":"image","src":"https:\/\/cdn.shopify.com\/s\/files\/1\/2463\/1595\/products\/612LMYSUhuL._AC_SL1200.jpg?v=1603468589","width":740},{"alt":"2","id":6602416423010,"position":2,"preview_image":{"aspect_ratio":1.0,"height":1500,"width":1500,"src":"https:\/\/cdn.shopify.com\/s\/files\/1\/2463\/1595\/products\/41IEsZhE4TL._UL1500.jpg?v=1603468589"},"aspect_ratio":1.0,"height":1500,"media_type":"image","src":"https:\/\/cdn.shopify.com\/s\/files\/1\/2463\/1595\/products\/41IEsZhE4TL._UL1500.jpg?v=1603468589","width":1500},{"alt":"3","id":6602416455778,"position":3,"preview_image":{"aspect_ratio":1.0,"height":1500,"width":1500,"src":"https:\/\/cdn.shopify.com\/s\/files\/1\/2463\/1595\/products\/41u25R-RvSL._UL1500.jpg?v=1603468589"},"aspect_ratio":1.0,"height":1500,"media_type":"image","src":"https:\/\/cdn.shopify.com\/s\/files\/1\/2463\/1595\/products\/41u25R-RvSL._UL1500.jpg?v=1603468589","width":1500},{"alt":"4","id":6602416488546,"position":4,"preview_image":{"aspect_ratio":1.0,"height":1500,"width":1500,"src":"https:\/\/cdn.shopify.com\/s\/files\/1\/2463\/1595\/products\/41ddwB6UoyL._UL1500.jpg?v=1603468589"},"aspect_ratio":1.0,"height":1500,"media_type":"image","src":"https:\/\/cdn.shopify.com\/s\/files\/1\/2463\/1595\/products\/41ddwB6UoyL._UL1500.jpg?v=1603468589","width":1500},{"alt":"5","id":6602416521314,"position":5,"preview_image":{"aspect_ratio":1.0,"height":1500,"width":1500,"src":"https:\/\/cdn.shopify.com\/s\/files\/1\/2463\/1595\/products\/41x0X1qzIOL._UL1500.jpg?v=1603468589"},"aspect_ratio":1.0,"height":1500,"media_type":"image","src":"https:\/\/cdn.shopify.com\/s\/files\/1\/2463\/1595\/products\/41x0X1qzIOL._UL1500.jpg?v=1603468589","width":1500},{"alt":"6","id":6602416554082,"position":6,"preview_image":{"aspect_ratio":1.0,"height":1500,"width":1500,"src":"https:\/\/cdn.shopify.com\/s\/files\/1\/2463\/1595\/products\/418fHxOpayL._UL1500.jpg?v=1603468589"},"aspect_ratio":1.0,"height":1500,"media_type":"image","src":"https:\/\/cdn.shopify.com\/s\/files\/1\/2463\/1595\/products\/418fHxOpayL._UL1500.jpg?v=1603468589","width":1500},{"alt":"7","id":6602416586850,"position":7,"preview_image":{"aspect_ratio":1.0,"height":1500,"width":1500,"src":"https:\/\/cdn.shopify.com\/s\/files\/1\/2463\/1595\/products\/91HFQ0mdHDL.SS40_BG85_85_85_BR-120_PKdp-play-icon-overlay__.jpg._UL1500.jpg?v=1603468589"},"aspect_ratio":1.0,"height":1500,"media_type":"image","src":"https:\/\/cdn.shopify.com\/s\/files\/1\/2463\/1595\/products\/91HFQ0mdHDL.SS40_BG85_85_85_BR-120_PKdp-play-icon-overlay__.jpg._UL1500.jpg?v=1603468589","width":1500}],"requires_selling_plan":false,"selling_plan_groups":[],"content":"\u003cli style=\"list-style: none;\"\u003e*Supporting a neutral foot position, soft night splint reduces pain and inflammation due to plantar fasciitis, drop foot and Achilles tendonitis.\u003c\/li\u003e\n\u003cli style=\"list-style: none;\"\u003e*Keeps the foot at a 90-degree angle stretch to the plantar fasciitis by holding the foot in dorsiflexion, which helps for better healing.\u003c\/li\u003e\n\u003cli style=\"list-style: none;\"\u003e*Do not walk in this boot. It is made for wear while sleeping, sitting, or reclining.\u003c\/li\u003e\n\u003cli style=\"list-style: none;\"\u003e*Internal air bladder beneath forefoot increases dorsiflexion. Inflate and deflate system can be easily operated with one hand.\u003c\/li\u003e\n\u003cli style=\"list-style: none;\"\u003e*Soft padded cover provides greater comfort and protection against irritation to the skin.\u003c\/li\u003e\n[TABS]\n\u003ch5\u003e\u003cspan\u003eDescription\u003c\/span\u003e\u003c\/h5\u003e\n\u003cp\u003e\u003cimg alt=\"\" src=\"https:\/\/cdn.shopifycdn.net\/s\/files\/1\/2463\/1595\/files\/1_8916dc6e-8e85-4257-8104-959d8fd6389e_1024x1024.jpg?v=1603468879\"\u003e\u003c\/p\u003e\n\u003cp\u003e\u003cimg alt=\"\" src=\"https:\/\/cdn.shopifycdn.net\/s\/files\/1\/2463\/1595\/files\/2_f33c24d7-bd9a-4e9e-ad84-05ff544f4b7a_1024x1024.jpg?v=1603468926\"\u003e\u003c\/p\u003e\n\u003ch3 class=\"a-spacing-mini\"\u003ePneumatic 90º degree night splint\u003c\/h3\u003e\n\u003cp class=\"a-spacing-base\"\u003ePneumatic version is designed to support and protect the foot and ankle comfortably while providing hook and loop straps and a pneumatic pump to suit the individual patient's needs. The fully-integrated inflation\/deflation system of the pneumatic version can easily be operated .Ideal for use in the treatment of heel pain associated with Plantar Fasciitis or Achilles Tendonitis, Foot Drop, Foot \u0026amp; Ankle Arthritis, Nerve Palsy or as a post operative support.\u003c\/p\u003e\n\u003cdiv class=\"amp-centerthirdcol-listbox\"\u003e\n\u003cdiv class=\"a-box a-spacing-small a-color-alternate-background apm-listbox amp-centerthirdcol-listbox\"\u003e\n\u003cdiv class=\"a-box-inner\"\u003e\n\u003cul class=\"a-unordered-list a-vertical\"\u003e\n\u003cli\u003e\u003cspan class=\"a-list-item\"\u003e\u003cspan class=\"a-size-base\"\u003eIt will be best to start wearing the night splint for a short period of time, perhaps only 1 hour the first night, then extending it gradually each night and week.\u003c\/span\u003e\u003c\/span\u003e\u003c\/li\u003e\n\u003cli\u003e\u003cspan class=\"a-list-item\"\u003e\u003cspan class=\"a-size-base\"\u003eMost splints are also adjustable, so you can alter the tension to suit. It may be that you need to start with it looser and make it tighter over time.\u003c\/span\u003e\u003c\/span\u003e\u003c\/li\u003e\n\u003cli\u003e\u003cspan class=\"a-list-item\"\u003e\u003cspan class=\"a-size-base\"\u003eThe ideal target will be to wear it overnight or for around 4 to 5 hours at a time. This is the perfect time period for the plantar fascia tissue to extend and begin to heal!\u003c\/span\u003e\u003c\/span\u003e\u003c\/li\u003e\n\u003c\/ul\u003e\n\u003cp\u003e\u003cspan class=\"a-list-item\"\u003e\u003cimg alt=\"\" src=\"https:\/\/cdn.shopifycdn.net\/s\/files\/1\/2463\/1595\/files\/3_910f07b8-b54e-421f-8931-29aae45c927e_1024x1024.jpg?v=1603468950\"\u003e\u003c\/span\u003e\u003c\/p\u003e\n\u003cp\u003e\u003cspan class=\"a-list-item\"\u003e\u003cimg alt=\"\" src=\"https:\/\/cdn.shopifycdn.net\/s\/files\/1\/2463\/1595\/files\/4_b7b1cd58-7a5b-4293-a47b-9fd6da908619_1024x1024.jpg?v=1603468973\"\u003e\u003c\/span\u003e\u003c\/p\u003e\n\u003cp\u003e\u003cspan class=\"a-list-item\"\u003e\u003cimg alt=\"\" src=\"https:\/\/cdn.shopifycdn.net\/s\/files\/1\/2463\/1595\/files\/5_6f7aaae0-d27b-4834-9cc7-5af289e13f9e_1024x1024.jpg?v=1603468996\"\u003e\u003c\/span\u003e\u003c\/p\u003e\n\u003c\/div\u003e\n\u003c\/div\u003e\n\u003c\/div\u003e\n\u003ch5\u003e\u003cspan\u003eReviews\u003c\/span\u003e\u003c\/h5\u003e\n[\/TABS]"}
Orthomen Plantar Fasciitis Night Splint with Pneumatic - 90 Degree Soft Leg Brace Support, Orthopedic Sleeping Immobilizer Stretch Boot
Orthomen Plantar Fasciitis Night Splint with Pneumatic - 90 Degree Soft Leg Brace Support, Orthopedic Sleeping Immobilizer Stretch Boot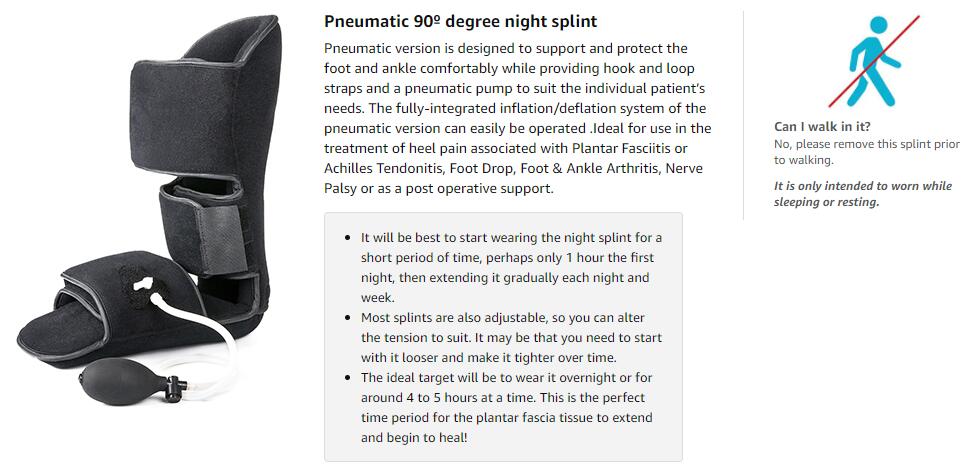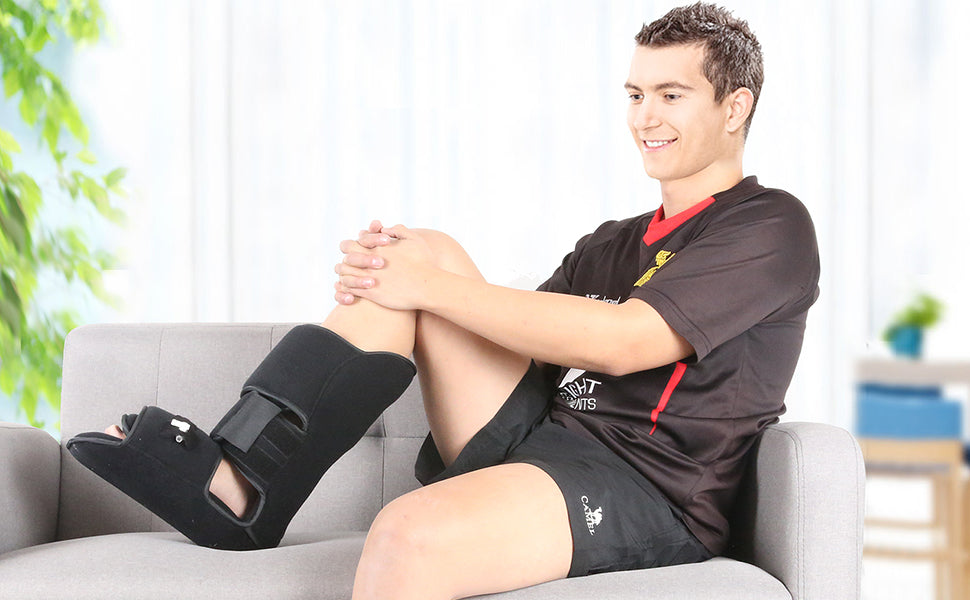 Pneumatic 90º degree night splint
Pneumatic version is designed to support and protect the foot and ankle comfortably while providing hook and loop straps and a pneumatic pump to suit the individual patient's needs. The fully-integrated inflation/deflation system of the pneumatic version can easily be operated .Ideal for use in the treatment of heel pain associated with Plantar Fasciitis or Achilles Tendonitis, Foot Drop, Foot & Ankle Arthritis, Nerve Palsy or as a post operative support.
It will be best to start wearing the night splint for a short period of time, perhaps only 1 hour the first night, then extending it gradually each night and week.

Most splints are also adjustable, so you can alter the tension to suit. It may be that you need to start with it looser and make it tighter over time.

The ideal target will be to wear it overnight or for around 4 to 5 hours at a time. This is the perfect time period for the plantar fascia tissue to extend and begin to heal!